Norma Miller is still 'Alive and Kicking' and the focus of a new documentary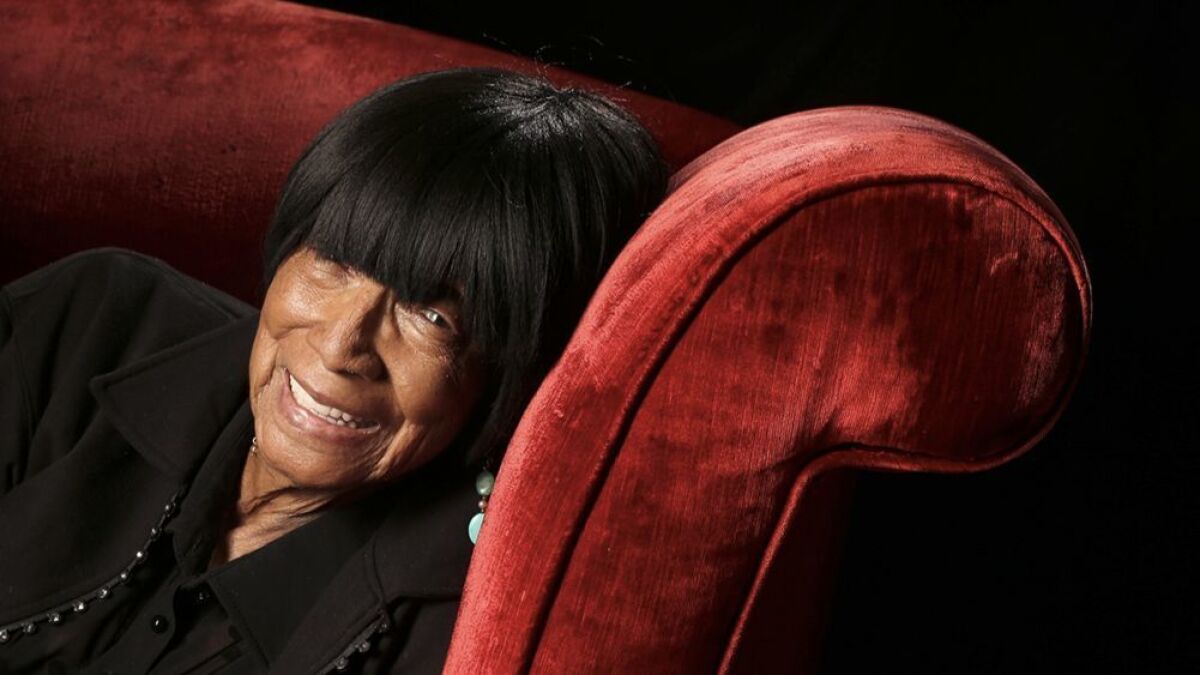 On YouTube there are clips of the Queen of Swing, Norma Miller, performing the Lindy Hop with her fellow members of Whitey's Lindy Hoppers in the Marx Brothers 1937 comedy, "A Day at the Races," and in the 1941 Ole Olsen and Chic Johnson comedy, "Hellzapoppin."
Miller, a wisp of a young woman with rubber band legs, dances at lightning speed as she gets tossed by her partner over his head among many gravity-defying stunts. It's exhilarating and exhausting just to watch.
Now 97, she's the only surviving member of the group but very much a force of nature in the new documentary "Alive and Kicking," which looks at the revival of swing dancing. Interspersed with footage and interviews of dancers are clips of Miller in her prime as well as recent interviews with the funny and outspoken legend who has written several books and even took a spin as a stand-up comedian. The film opened Friday.
"Alive and Kicking" director and swing dancer Susan Glatzer said she knew Miller before "but I really didn't get to know her until I started doing the film — and to know her is to love her. Swing dancers in general revere her crowd and her era."
Despite recovering from a broken patella, the petite Miller is full of pep as she arrived at a Mid-Wilshire taco bar and dance hall to chat about her life.
Q: You were discovered at age 12 dancing outside the Savoy Ballroom in Harlem near where you lived. Why did you go there?
A: The windows were open and an 18-piece band was playing on the bandstand. You could just stand downstairs [and dance]. That's what kids did. That is what everybody was doing.
Q: You danced the Lindy Hop there, which was named after Charles Lindbergh.
A: Well it became [the Lindy Hop] after Charles Lindbergh made the flight. Jazz was going from Dixieland and was moving into swing. So you had the first big bands coming in. That was the excitement. There was new music and remember everybody came to this one place. This was the first time dance music was being played. I saw Leopold Stokowski watching. Benny Goodman was there and Artie Shaw. They were hearing new music. Everybody wanted to be on the bandstand.
Q: Did the Savoy have a house band?
A: The house band was Chick Webb, whose singer was Ella Fitzgerald. She was the epitome of great swing.
Q: You were only around 15 when the Whitey's Lindy Hoppers went to Europe. How did that happen?
A: We won a contest and took Lindy around the world. They wanted to see what the Lindy looked like so we were the ones who brought it over to show it. We were the greatest dancers in the world. Only the best went to Europe.
Q: How were you and the rest of the Whitey's Lindy Hoppers treated in Hollywood?
A: We were given star treatment. You know what Olsen and Johnson did? They had us in a limo and were driving us, showing us the stars.
Q: You worked with the Marx Brothers. How did that come about?
A: We did "Day at the Races" because we had been at the Paramount Theater in Los Angeles with Ethel Waters. That's the first time the West Coast had seen swing. They had finished the movie and they brought the movie back to put our act in there.
Q: You also performed and lived in Las Vegas for a decade where racism was rampant. You weren't allowed to stay at the casinos but cabins on the west side of town.
A: Vegas was the Mississippi of the West.
Q: Is it true you had to go in the back way to perform?
A: We went in the kitchen. Nat King Cole had to go in the back. Dinah Washington had a trailer in the back of the Flamingo. The only person who didn't have to go in the back was Louis Armstrong. We came in with Bugsy Siegel. We were there when the gangsters were there. Do you know how many bodies are buried out there in Vegas?
Q: You became a stand-up comic in the 1970s working with Redd Foxx. That must have been fun.
A: I hated stand-up. I played the greatest theaters in the world, and when you are doing stand-up you were in joints — people were in jeans and raggedy clothes.
Q: You must be thrilled that swing dancing has made a comeback
A: It is the greatest social dance in the world. Swing is what we gave the world. We had Duke Ellington, Louis Armstrong, Count Basie, Chick Webb. This was the foursome who created this. Duke Ellington was the black Mozart. In his dressing room there always had to be a piano. Between shows that's where he sat, at the piano. Look at the songs he wrote.
Q: I know you don't dance anymore, but you certainly haven't stopped working.
A: I talk. I write books. I'll be 98 in December. And I'm booked up until my 100th birthday.
Get our L.A. Goes Out newsletter, with the week's best events, to help you explore and experience our city.
You may occasionally receive promotional content from the Los Angeles Times.