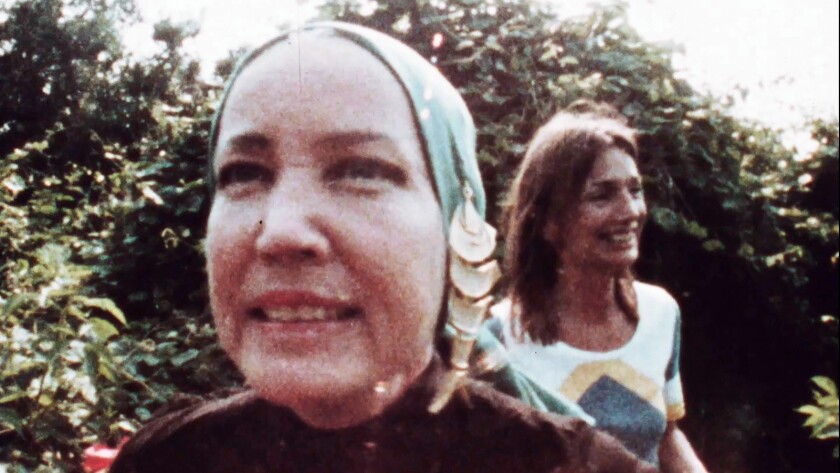 The strangely mesmerizing found-footage documentary "That Summer" is a kind of prequel to 1975's "Grey Gardens," Albert and David Maysles' landmark portrait of Jacqueline Kennedy Onassis' then-elderly aunt, Edith Ewing Bouvier Beale (a.k.a. Big Edie), and Edith's middle-aged daughter, Edie Bouvier Beale (Little Edie), who lived together in eccentric squalor in East Hampton, Long Island.
The Maysles movie sparked a cultish fascination with the Edies, belatedly serving as the basis for the 2006 Tony Award-winning musical and an acclaimed 2009 HBO film starring Jessica Lange and Drew Barrymore. All in, it was a pretty good run for such a quirky, esoteric and disturbing American tale.
But before all that, in the summer of 1972, socialite Lee Radziwill, Big Edie's other famous niece (and Jackie's younger sister), paired with writer-photographer Peter Beard to shoot a documentary about, among other things, the gentrification of the increasingly tony Hamptons and Radziwill's family's place within the community.
At the same time, due to Suffolk County health inspectors' threat to evict the Beales from their dangerously neglected mansion, Radziwill, funded by brother-in-law Aristotle Onassis, hired workmen to clean up the home's longtime filth and decay and return its broken water and power sources to reasonable working order. Don't even ask about the collection of cats and family of raccoons that had taken up residence there. (Amazingly, as bad as the house looked in the "Grey Gardens" documentary, it's in even worse condition here.)
Beard, Radziwill and their film crew, which included the Maysles brothers (who'd already made such seminal verité docs as "Salesman" and "Gimme Shelter") descended upon chez Beale and, "using one camera and filming truth and reality," shot four reels of 16-millimeter stock. Beard directed and the Maysleses worked behind the camera, with additional footage taken by Beale visitors and avant-garde filmmakers Jonas Mekas and Andy Warhol and Warhol collaborator Vincent Fremont.
The project was eventually abandoned by Beard and Radziwill, which, from the scattered approach seen and heard here (OK, it was the early '70s) is no great surprise. The Maysleses, intrigued by the Big Edie-Little Edie spectacle, would return the next year to shoot their own film.
The long-lost 1972 footage was unearthed after more than 40 years, although the circumstances of its premature burial — and recent rediscovery — are a bit vague. (Radziwill was reportedly unhappy with what the Maysleses had shot.)
Enter producers Joslyn Barnes, Tobias Janson and Signe Byrge Sørensen and director Göran Hugo Olsson ("The Black Power Mixtape 1967-1975"), who took Beard and company's old fly-on-the-wall, at times voyeuristic footage and made it the centerpiece of "That Summer."
If you've seen any of the other filmed or staged Beale reveals, much of this rough archival material, often presented in long, patience-testing takes (Olsson purposely kept the reels largely intact), may feel awfully familiar, though no less train-wreck watchable and bizarrely amusing. The Edies were nothing if not camera-ready: If reality TV was a thing back then, they would have been small-screen superstars.
The women's now-legendary singing, prancing, prattling, squabbling, hoarding and ice cream scarfing, along with their nutty fashion sense, dubious hygiene, incongruous Brahmin accents, forays into French and generally slothful ways are on full and raw display. So is the crazy codependency and memory-lane madness that seemed to fuel their one-of-a-kind dynamic.
Watching these weirdly quotable ladies in action constantly raises the question of who's loopier, with Little Edie winning that contest here by a turbaned hair thanks, perhaps, to her improvised song stylings of a little something called "My Adobe Hacienda."
Still, much of this plays more like extended outtakes from dysfunction junction than fully intriguing scenes worthy of a film's final cut. In truth, there's not enough "there there," which likely accounts for bookend sequences featuring a 2016-shot Beard in his Montauk studio weighing in — with corresponding photographs — on the Beales as well as on 1970s-era Hamptons jet-setters such as Mick and Bianca Jagger, Truman Capote, Warhol and his Factory folks, and others.
What does feel fresher are the images of a sleek and stylish Radziwill as she gently, affectionately interacts with her reclusive aunt and cousin (Radziwill's father was Edith's alcoholic, womanizing brother "Black Jack" Bouvier III), appearing genuinely committed to their well-being.
Repurposed audio bits from a 2013 interview by-then raspy-voiced Radziwill did with filmmaker Sofia Coppola provide an extra layer of latter-day insight.
At its best, "That Summer" proves an effective time capsule aimed squarely at Beale devotees, adding light and context to the saga of this endlessly baffling and singularly captivating mother-daughter duo.
-------------
"That Summer."
Not rated.
Running time: 1 hour, 20 minutes.
Playing: Laemmle Royal Theatre, West Los Angeles
See the most-read stories in Entertainment this hour »
---