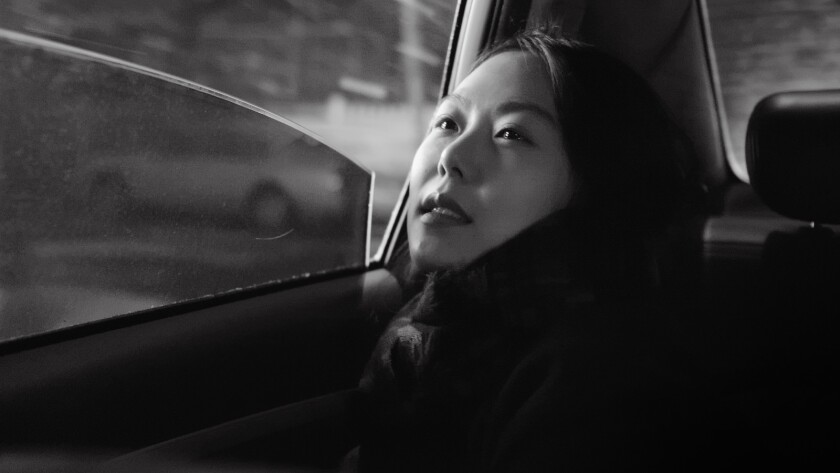 The latest addition to South Korean filmmaker Hong Sang-soo's cinematic house of talk, drink, time shifts, repetitions and romantic fumblings is the amusingly bittersweet yet quietly resplendent "The Day After." A black-and-white space decorated with regret and possibility, it's where you'll find a sad sack, middle-aged book publisher and three women whose personalities and desires both animate and derail him.
Bongwan (Kwon Haehyo), droopy-eyed and needy, has been having an affair with his assistant Changsook (Kim Saebyuk), and although that relationship has seemingly run its course, his wife, Haejoo (Cho Yunhee), has picked up on the signs of infidelity (like his constant desire to get to work early, as in, still-dark-out early).
But on the first day at work for Bongwan's new employee — a young, smart, aspiring writer named Areum (Kim Minhee) who immediately becomes the target of his flirtations over a boozy, intellectually probing lunch — Haejoo angrily barges in and mistakes Areum for Bongwan's girlfriend.
The machination is comic, and the repercussions carry the awkward tinge of threadbare farce, but the vibe is pure melancholy, echoed in the clinically beautiful monochromatic cinematography and the tinny, weeping musical phrase Hong often leans on to close his extended takes of dialogue.
This being a Hong Sang-soo film, "The Day After" hops in chronology, but here it doesn't disorient so much as create a minor-key overlay to what subtly emerges as a two-character study in how we process life's fulcrums. Kwon's Bongwan becomes an intricately miserable portrait in untrustworthy shallowness and the futility in shaping reality as a way to forget. But it's Areum — exquisitely rendered by Hong favorite Kim — who walks away (literally, in the closing moments) as one of Hong's most incandescent characters: a sharp-eyed but deeply reflective woman with an abiding faith in the grace of life's randomness.
-------------
'The Day After'
In Korean with English subtitles
Not rated
Running time: 1 hour, 32 minutes
Playing: Laemmle Music Hall, Beverly Hills
See the most-read stories in Entertainment this hour »
---