Q&A: Alison Brie, Aubrey Plaza and Molly Shannon talk f-bombs and faith in 'The Little Hours'
If you went to Catholic school, you remember the nuns. But you definitely don't remember nuns like the ones played by Alison Brie, Aubrey Plaza and Molly Shannon in the quirky comedy "The Little Hours."
Based on Giovanni Boccaccio's 14th-century classic "The Decameron," the film is a straight-faced sex romp from indie director Jeff Baena ("Life After Beth," "Joshy") and also stars Dave Franco as a stable boy who comes between three ladies of the habit played by Brie, Plaza and Kate Micucci.
Shannon plays the convent's mother superior, while John C. Reilly, Nick Offerman, Jemima Kirke, Lauren Weedman, Fred Armisen and Paul Reiser costar in the project, which is equal parts bedroom farce and exploitation satire. It's also surprisingly grounded in an understanding of the period; Baena, who is Plaza's off-screen partner, minored in medieval studies at New York University, and he shot "The Little Hours" on location in Tuscany.
On a hot day in mid-June, Brie, Plaza and Shannon sat down with The Times at the Four Seasons in Beverly Hills to talk about wardrobe challenges, Catholicism and working with the ones you love (Brie and Franco were married earlier this year).
---
This is not the typical movie about nuns. Is that because it's based on "The Decameron"?
Alison Brie: Yes, and we read books on nuns and nunneries and medieval times to prepare for this film. In medieval times women were made to be nuns. [Maybe] because they reached a certain age and they weren't wed, or because their family couldn't afford to keep them home. Parents sent their daughters there just to have socioeconomic gains. What we're sort of playing with in this movie is the idea that these women are trapped in this lifestyle that they didn't choose, and they do have sexual desires and anger and resentment and different things, which at first we see them taking out on each other. Then when Dave Franco's character arrives at the convent, there's a new outlet for them to channel these frustrations.
What was it like to work on a movie with so many female leads?
Molly Shannon: It was fantastic. It's such a great idea to have a movie taking place in a convent — what a great place to have a bunch of super-talented women. It reminded me of movies in the 1930s and '40s with so many strong females in the cast. Old Rosalind Russell movies — it reminded me of that. We need to make more of these kinds of movies.
Brie: It's nice that the women have the upper hand in the movie. Dave's character is the perfect foil for their aggressions, but really, it's about the inner workings of their relationships with each other and things they're trying to discover about themselves. That, I find empowering.
History and comedy collide in Sundance premiere 'The Little Hours' »
Tell me about the process of making the movie and the language. There's a lot of cursing.
Brie: There was no script for this movie. There was a 20-page outline, so in a way, it was fully improvised. But it was really much more like collaborative dialogue, where we would spend our first couple takes improvising dialogue, and Jeff would come in and streamline what we were saying and direct it in the very specific direction that he wanted it to go.
Shannon: You would have to remember not to say modern things, like "OK" or "cool."
Brie: We had a lot of rules.
Shannon: That is a lot harder than when you're improvising in modern day.
Brie: You couldn't say "like," you couldn't say "you guys." So there was still a reverence for the way that these people were speaking.
Aubrey Plaza: But you could say pretty much every curse word.
Brie: Oh, yeah.
Plaza: Those were encouraged.
Brie: Jeff described [the approach to dialogue] as it should just sound normal to us. It should feel accessible, rather than us doing British accents, which wouldn't make any sense, or trying to speak in old English or something. This is Italy, if we were going to go there we'd be speaking Italian.
What was it like wearing a habit?
Brie: Terrible.
Shannon: You're really neutered. You feel like the only part of you, all your expression, is just in this little window, so it's all your eyes and your face, and everything else is cloaked. So you feel kind of cut off from your body.
Plaza: It's very oppressive.
Brie: But it did pose an interesting challenge, as Molly said. Using your face in a minimal way a lot of the time to convey emotion. And not really having your body as a tool.
Plaza: It's an equalizer, where you kind of feel like, "OK, we're all kinda in this together."
[The movie] is based on a historical book, literature. It's not an attack on Catholicism in any way. It's just about a couple of nuns.

— Aubrey Plaza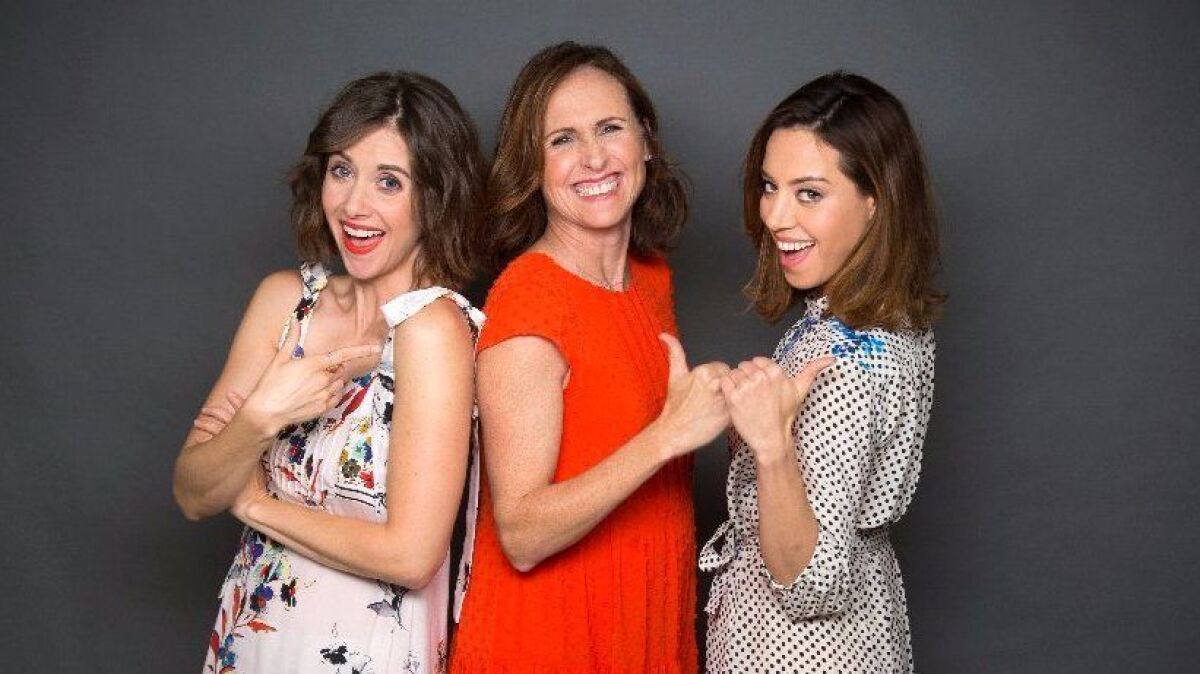 Are any of you Catholic?
Shannon: I was raised Catholic, but I'm not a practicing Catholic. I went to Catholic school for eight years.
Plaza: Me too. Same.
Do you think you'll get excommunicated for this?
Plaza: No. [The movie] is based on a historical book, literature. It's not an attack on Catholicism in any way. It's just about a couple of nuns.
Brie: Just a fun story.
Alison and Aubrey, what was it like to work with your partners?
Brie: I love it. More than anything it's just nice to be together. You spend so much time apart when you're shooting on location and in different cities, so to be able to go together to Italy for a month in the springtime was great. The same thing just even about working with friends and people that I know and love — it's just so much more fun, you get to skip that period of time where you're trying to get to know everyone and being polite. You just get to be intimate with each other and have a great time.
Plaza: Yeah, I feel the same way. This is our third time [Baena and I] have worked together, so I feel like our working relationship is always evolving and changing. It's really rewarding to get to see him totally in his element and to be a part of it, and to collaborate with him. It can be challenging at times, but I think working together sometimes makes you stronger by the end of it.
---
Get the Indie Focus newsletter, Mark Olsen's weekly guide to the world of cinema.
You may occasionally receive promotional content from the Los Angeles Times.