Review: Guillermo del Toro's 'The Shape of Water' is the true wonder of awards season
Film Critic
"The Shape of Water" is a wonder to behold.
Magical, thrilling and romantic to the core, a sensual and fantastical fairy tale with moral overtones, it's a film that plays by all the rules and none of them, going its own way with fierce abandon.

For the record:
1:30 p.m. Dec. 8, 2017
An earlier version of this review misattributed the quote, "we export decency, we sell it, but we don't use it," to the character Strickland. It's actually spoken in the film by General Hoyt.
More than that, "Shape of Water" is both grounded in the fertile soil of genre filmmaking and elevated to unexpected heights by the transcendent imagination of director and co-writer Guillermo del Toro.
FULL COVERAGE: Golden Globes 2018
Del Toro works well in many genres, from horror to science fiction to gothic melodrama, but as 2006's brilliant "Pan's Labyrinth" made clear, his facility as modern cinema's most accomplished fantasy filmmaker trumps everything else.
"Shape of Water," which took home the Golden Lion at Venice, is more than that film's equal, it echoes its legendary predecessor, Jean Cocteau's "Beauty and the Beast," in its ability to simultaneously call forth a spectacular imaginary world and make it heartbreakingly believable.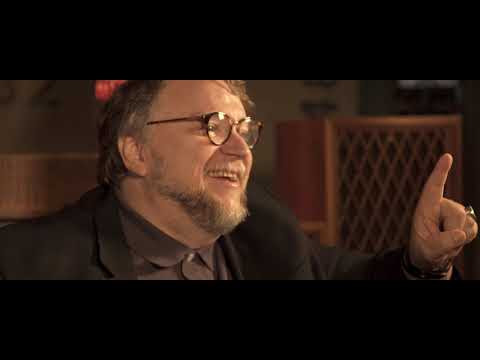 "The Shape of Water's" Guillermo del Toro and Michael Shannon on taking a big risk by flipping the hero on the monster movie and asking, "What if the creature got the girl?"
There's no separation between reality and fantasy here, between the achingly human heroine Elisa Esposito and Amphibian Man, the mind-warping, nameless creature she finds herself attracted to against all reason. "Shape of Water's" secret — and Del Toro's — is the belief in both sides of the equation with equal fervor.
Sharing in that belief are the piece's actors. These include expert supporting players like Michael Shannon, Richard Jenkins, Michael Stuhlbarg and Octavia Spencer, but most of all the two stars.
Both Sally Hawkins as Elisa and Doug Jones as Amphibian Man come to "Shape of Water" with extensive and impressive credits in the past, but both come away having done perhaps the best work of their careers.
Hawkins, Oscar nominated for "Blue Jasmine," broke through with Mike Leigh's "Happy-Go-Lucky" and had an earlier success this year with "Maudie." But the conviction she brings to Elisa is piercing and deeply felt, all without speaking a word (the character is mute).
Though he works as an actor in his own skin, Jones is best known for the half-dozen times — most notably as both the Faun and Pale Man in "Pan's Labyrinth" — he's done otherworldly work for Del Toro.
Even for Jones, "Shape of Water" offers an unprecedented deep dive into a singular creature and a spectacular costume, which Del Toro spent hundreds of thousands of dollars of his own money to help conceptualize before production began.
Written by Del Toro and former "Game of Thrones" producer Vanessa Taylor from an idea by another of the director's writing partners, Daniel Kraus, "Shape of Water" doesn't waste any time immersing us in its heady mixture of the strange and the familiar.
Danish cinematographer Dan Laustsen, working with Del Toro for the third time, begins with an arresting image.
It's an apparently ordinary room, complete with a bank of overhead lights, but as we can see from the chairs and table blithely floating around, it's completely submerged in water even though the lights are on.
Just as we're trying to make sense of this, an alarm goes off and we realize we've been watching Elisa's dream. As she gets up and prepares to go to work, we admire another of the film's strengths, its fanaticism of detail (Paul Denham Austerberry is the production designer) in presenting the furnishings and appliances of 1962 America in general and the city of Baltimore in particular.
Living across the hall is Elisa's friend Giles (Richard Jenkins), a struggling commercial illustrator whose meticulous paintings are gradually being replaced in ads by photography.
He and Elisa share a love of similarly outmoded vintage Hollywood movies, which is a good thing because their apartments are located above a classic old-school movie palace called the Orpheum.
The neighbors frequently communicate through American Sign Language (the words appear on the screen in bright yellow type) because a mysterious early childhood incident has left Elisa without the ability to speak.
Every morning Elisa takes a long bus ride to a sinister-looking government facility called the Occam Aerospace Research Center, where her close friend Zelda Fuller (Octavia Spencer), as garrulous as Elisa is silent, has her back.
Zelda and Elisa are part of the center's taken-for-granted cleaning crew, hard-working and all but ignored as they scrub bathrooms, pick up trash and dig up encrusted gum.
No one even notices that Elisa is in the room when an ominous transport chamber is rolled into view, a massive steel cylinder containing what's described obliquely as "the most sensitive asset ever to be housed in this facility."
Accompanying the chamber all the way from its Amazon River origins in South America is the spit-and-polish Army colonel and Cold War zealot Richard Strickland.
The unnerving Michael Shannon, who exemplifies authoritarian menace as well as any actor can, plays Strickland, rarely seen without the electronic cattle prod (he calls it an "Alabama howdy-do") he freely uses to keep the creature he calls "an affront" in line.
Also involved but for different reasons is scientist Dr. Robert Hoffstetler. As played by the protean Michael Stuhlbarg (the understanding father in "Call Me by Your Name"), Hoffstetler, like many elements in "Shape of Water," has aspects to his character that do not neatly pencil out.
Elisa is drawn to the agonizing sounds the creature makes and soon enough, circumstances conspire to give her, and us, a chance to see what all the fuss is about.
As played by the 6-foot-3 Jones, whose hours in the makeup chair were supplemented by CGI touches, the half-amphibian, half-matinee-idol creature looks every inch the magnetic ancient water god Amazon dwellers considered him to be. (Many individuals had a hand in creating this glorious presence, but Legacy Effects and creature designer and sculptor Mike Hill are credited with the heavy lifting.)
It's not just the amphibian — all of "Shape of Water," both underwater and on land, looks this good. As shot by cinematographer Laustsen, the film's ability to light and coordinate color, the way it, for instance, creates a virtual symphony composed of an almost infinite variety of greenish hues, is extraordinary.
Given that the creature and Elisa do not share a spoken language, the passion and gift for wordless emotional connection, reminiscent of the great stars of the silent era, that Hawkins and Jones bring to their parts are the reason the story's unforeseen complications are as convincing as they are.
What's especially interesting about the film's trajectory is the way Del Toro, echoing his personal interests, combines recognizable elements from a wide range of humble genres like creature features, Cold War spy dramas, film noir and even musicals into a project that soars.
More than that, without making a big deal about it, plot elements involving racial and sexual differences allow "Shape of Water" to deftly work in a subtext about how society treats the other in its midst, whether it be otherworldly or the ordinary folks next door.
Not for nothing is the Orpheum Theater showing "The Story of Ruth," and it's no accident that Strickland's supervisor, General Hoyt (Nick Searcy), bitingly says of decency, "we export it, we sell it, but we don't use it."
The most obvious influence on "The Shape of Water" is 1954's classic "Creature From the Black Lagoon," a film whose spell Del Toro fell under when he was but a small boy. Why — he wondered even then — did the creature never get the girl? Why, indeed.
------------
'The Shape of Water'
Rating: R for sexual content, graphic nudity, violence and language
Running time: 2 hours, 3 minutes
Playing: Arclight, Hollywood; Landmark, West Los Angeles
See the most-read stories in Entertainment this hour »
Get the Indie Focus newsletter, Mark Olsen's weekly guide to the world of cinema.
You may occasionally receive promotional content from the Los Angeles Times.