As new CEO takes the reins, Time's Up leaders look to Christine Blasey Ford for inspiration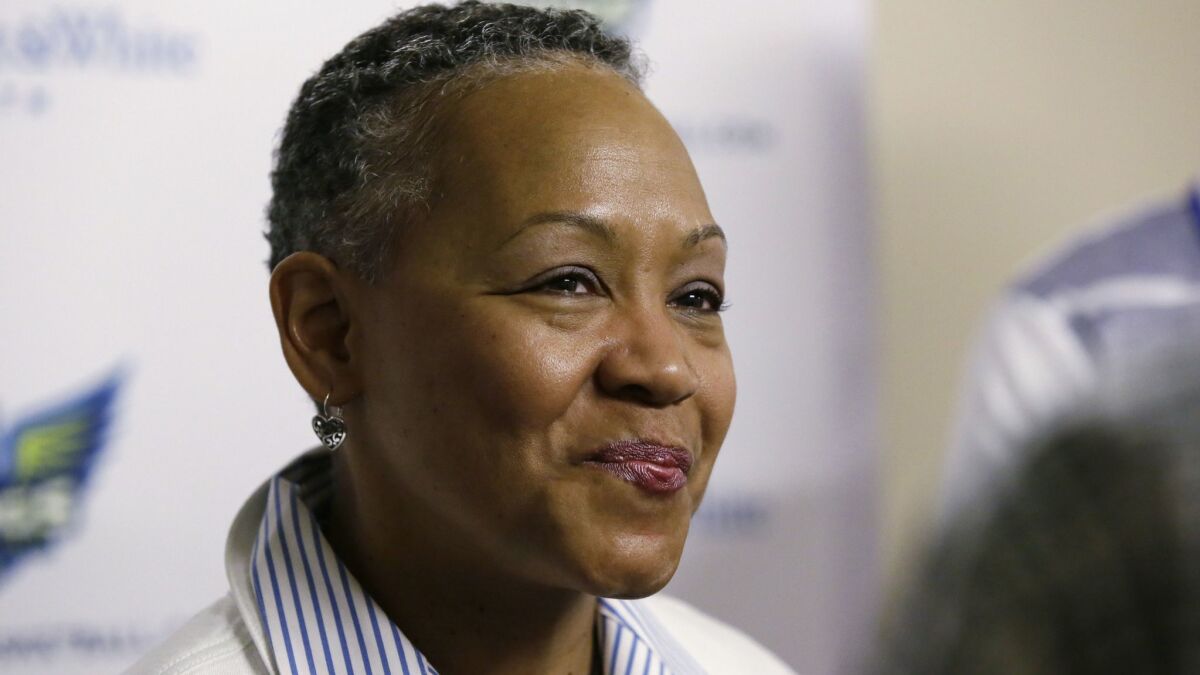 With just 30 hours' notice, a dozen influential female executives — founding members of the Time's Up organization — gathered Tuesday evening in Hollywood to introduce their newly hired president and chief executive, Lisa Borders, to ten members of the media.
Borders will take up that post next month after stepping down from a three-year tenure as head of the Women's National Basketball Assn. The other Time's Up executives present on Tuesday, including high-powered producers, agents, attorneys, a venture capitalist, a communications strategist and a top advertising executive, were visibly relieved to finally have a leader and a chief spokesperson for an organization that is often confused with a movement. Though formed in the wake of #MeToo, Time's Up has a broad mandate — to insist on "safe, fair and dignified work for women of all kinds" — which includes issues beyond sexual harassment.
Still, almost as soon as Borders had explained this mission, the discussion veered into the hot topic of the day: How the U.S. Senate handled allegations of sexual assault against Brett Kavanaugh, who on Tuesday spent his first full day on the U.S. Supreme Court.
"We only have to look back at last week to realize that the world is not in a great place for women," she said. "We sat in absolute disbelief at what happened last week. We can no longer stand by and tolerate women's voices not being heard. ...We are not an afterthought. Period. Full stop.
"People were deeply traumatized by what happened," she continued. "People were truly disappointed — that's an understatement. People were horrified by what happened. And my family said to me: 'When are we going to fix it? How fast are we going to fix it?' "
Though many of the organizers work in the entertainment industry — Tuesday's news conference was held in a conference room at Sunshine Sachs public relations firm — they do not consider the Supreme Court off topic; the group has expanded to include other industries and other countries. Time's Up has raised more than $22 million, money that has gone to the National Women's Law Center, which, according to the group, has fielded more than 3,500 inquiries from women in many professions and is currently helping to provide legal assistance, and in some cases PR representation, to more than 50 individuals.
In August, Time's Up made $750,000 worth of grants to 18 community organizations, including the YWCA of Greater Los Angeles, to help ensure that low-wage women, particularly those who have faced sexual harassment and in many cases retaliation, could benefit from the money that has been raised. The grants were provided to nonprofits that provide assistance to immigrants, poultry workers, retail workers, domestic workers and restaurant workers. Grants ranged from $35,000 to $50,000 for each organization.
Borders was joined Tuesday by leaders from a variety of industries, including Sunshine Sachs partner Keleigh Morgan, CAA agent Maha Dahkil, venture capital fund manager Kara Nortman and four co-founders of the Time's Up Legal Defense Fund: Robbie Kaplan, Fatima Goss Graves, Tina Tchen and Hilary Rosen.
Rosen, a partner at the consulting firm SKDKnickerbocker, which represented accuser Christine Blasey Ford, said the Kavanaugh hearing had created "a new standard of proof that is not the standard of proof in society that we want. We have to attack that."
Tchen, a Chicago attorney who served as Michelle Obama's chief of staff, said there was much about the Kavanaugh confirmation process that was broken.
"This idea that they stood up and said there was no evidence," Tchen said. "When you have a woman under oath testifying, that is evidence. Man up and say you are not going to believe her, that you are rejecting that evidence, but don't say that it is no evidence."
The group suggested that it might register people to vote as the midterm elections next month will decide the makeup of Congress for the next two years, and possibly future Supreme Court justices.
"The critical difference that we are looking for with Time's Up is that we not just raise our consciousness but that we actually provide people with tools and to make change," Rosen said.
Borders agreed.
"We really want to be value-add to a lot of the conversations that are happening post-Kavanaugh," she said. "And we think we have some opportunities to do that."
Borders said she hoped what happened to Ford would serve as "perverse fuel for the rocket ship here we are calling Time's Up," advocating for safe workplaces for women. She noted that the group was not necessarily advocating for the punishment of sexual offenders but rather eliminating the behavior altogether.
"And if one gender happens to do that behavior more than the other, then if the Buster Brown fits, you need to wear it," she said with a laugh.
"We want to create this change, cultivate this change and curate this change," Borders continued. "It must be enduring and sustainable. This will take some time. We do not have a silver bullet. We want to move as fast as we possibly can, but we will do this the right way. We will not rush. And we appreciate your indulgence in advance."
Follow me on Twitter @AmyKinLA
---
Get our L.A. Goes Out newsletter, with the week's best events, to help you explore and experience our city.
You may occasionally receive promotional content from the Los Angeles Times.