Natalie Portman, Alfre Woodard, Olivia Munn and more bring Time's Up fire to Women's March in L.A.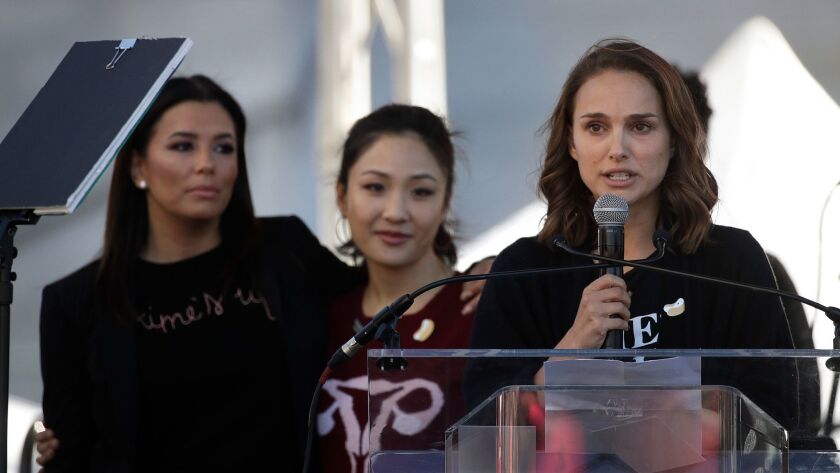 Backstage at the Los Angeles Women's March, near the steps of City Hall, a star-studded assembly of powerful Hollywood women including Eva Longoria, Scarlett Johansson, Alfre Woodard, Olivia Munn, Natalie Portman and Viola Davis took turns delivering fiery political speeches to a crowd of 600,000 (according to Mayor Eric Garcetti's Twitter feed).
A year after Donald Trump's inauguration, the Women's March in L.A. had a focused directive — voter mobilization — and the palpable flames of the #MeToo and Time's Up movements stoking its fire, as well as many of the prominent actresses and Time's Up signees who have been using their platforms to bring abuse to light.
Some pointed to history; others, like Viola Davis, delivered devastatingly powerful testimonies revealing their own survivor stories. "I am speaking today not just for the Me Toos, because I was a Me Too; but when I raise my hand, I am aware of all the women who are still in silence," Davis said.
Between speeches, Elizabeth Banks chatted excitedly with Longoria; Mira Sorvino, Allison Janney and Marisa Tomei made their way through the bustling wings; Portman came offstage and greeted friends with her baby daughter in her arms.
Celebrating with Jurnee Smollett-Bell, Lupita Nyong'o and Yvette Nicole Brown, Oscar-nominated actress and longtime activist Woodard described feeling the magnitude of this year's march when, during her speech, she asked the crowd to lift their hands in solidarity — and saw arms raise across the span of Grand Park, into the distance.
"That's who we are," she told The Times. "That's our humanity. We're not a crowd, we're individuals with individual histories, standing together to make real what we profess. I wanted people to feel personally charged, and I wanted them to know that activism — and resisting, and building — is a joyful enterprise. It's a privilege."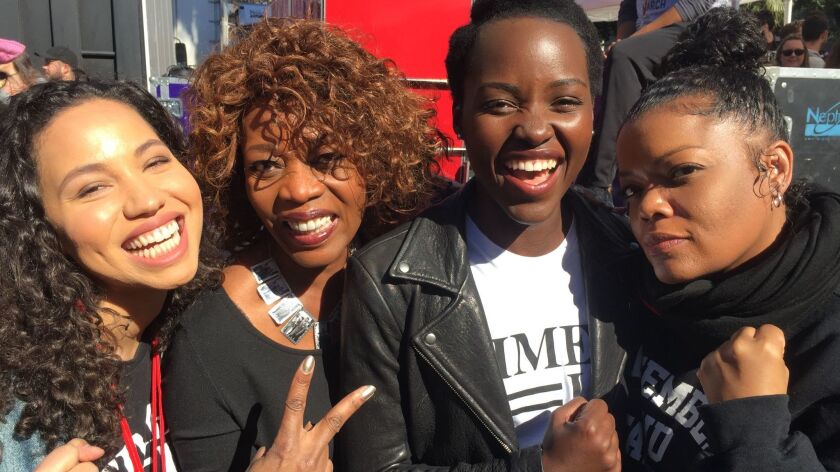 Woodard has worked on every presidential election since 2000, knocking on doors to encourage people to get out to vote. This year's Women's March, with the mantra "Power to the polls," is aimed at mobilizing American voters toward the 2018 midterm elections — and a growing emphasis on intersectionality has Woodard energized.
"One thing I learned growing up as a woman of color was that when anybody's rights are compromised, that means that your rights are at risk as well," Woodard said, pausing to listen to Melissa Etheridge perform onstage. "The other thing I learned from my mom was if anybody's telling the truth, you never let them stand alone."
In her speech, Munn called out misogyny that begins early in life, highlighting "Audrie and Daisy," the 2016 documentary about two teenage victims of abuse and bullying.
"I'm asking all of you to be the team member of every woman in your life," she told the crowd. "Refrain from judgment. Be the rock of understanding. Be the well of empathy. We all have the power to make sure that our daughters, nieces, granddaughters, great-granddaughters grow up with the mentality that if you come for one of us — you come for all of us."
Munn, one of six women who told The Times in November that they had been victims of sexual harassment by director Brett Ratner, later described how bolstering it's been to receive support not just today, but during this time of solidarity among and for women.
"I feel so much love and support and it's not just me that feels this. I know that so many girls and women around the world in every profession feel that our voices matter, and what happens to us matters," she told The Times as the sound of Idina Menzel singing "Defying Gravity" rang through the air.
"There's been a collective unconscious in the world that's gone on for too long, where it's been made to seem as if women are inferior to men," Munn said. "Our voices matter now, and I'm so thankful and grateful that they do."
Those voices spoke boldly and unwaveringly. "Recently I've heard a lot of men say that our movement makes them uncomfortable and paranoid," said "Fresh Off the Boat" star Constance Wu. "And to them I say, this movement is not about catering our voices to accommodate your comfort. We are not here to suppress our perspectives for your relief. We are here because we deserve our voices and our perspectives, too."
Portman applauded the vocal marchers in attendance. "You told the world that time's up on violence," she said, opening the program as Longoria and Wu stood by her side. "You told the world that time's up on silence. You told the world that it's time for a new day, time for a new locker room culture, and time to think about every person's desires and needs, wants and pleasure."
Like Portman, who cited her experience of being objectified at a young age with her role in "The Professional," and Wu, who opened the Women's March stage with a too-familiar anecdote of harassment by a man whose advances she rejected, Johansson took the opportunity to share her personal reflections onstage.
Wearing a Time's Up T-shirt, she spoke of feeling anger for victims of harassment and abuse, and also for her younger self: "Suddenly I was 19 again and I began to remember all the men who had taken advantage of the fact that I was a young woman who didn't yet have the tools to say no, or understand the value of my own self-worth."
Afterward Johansson explained why, after speaking at the 2017 Women's March in Washington, D.C., it was imperative to show up and speak out at this year's event.
"This movement is so unstoppable, and in order to continue to be progressive we have to keep the momentum going," she told The Times. "We have to show up, we have to support one another, we have to speak out, and continue to be active. That's how change really comes about. It's about trying to continue to push the needle forward, to continue to activate people, and to let the current administration know that we're not going anywhere."
The Time's Up movement launched in January is "still trying to find our footing," Johansson admitted, "but I think it's given all the women in the organization a sense of unity, which I think in turns brings a sense of relief just in terms of knowing you're not alone. There's a safe place to share and a collective desire to move forward. It's been very powerful."
ALSO
Yes, Scarlett Johansson was calling out James Franco in her Women's March speech
Riding with Jane Fonda to the Sundance Film Festival's Respect Rally
Olivia Munn doesn't understand why anyone is still working with Brett Ratner
---
The complete guide to home viewing
Get Screen Gab for weekly recommendations, analysis, interviews and irreverent discussion of the TV and streaming movies everyone's talking about.
You may occasionally receive promotional content from the Los Angeles Times.