Olivia Munn doesn't understand why anyone is still working with Brett Ratner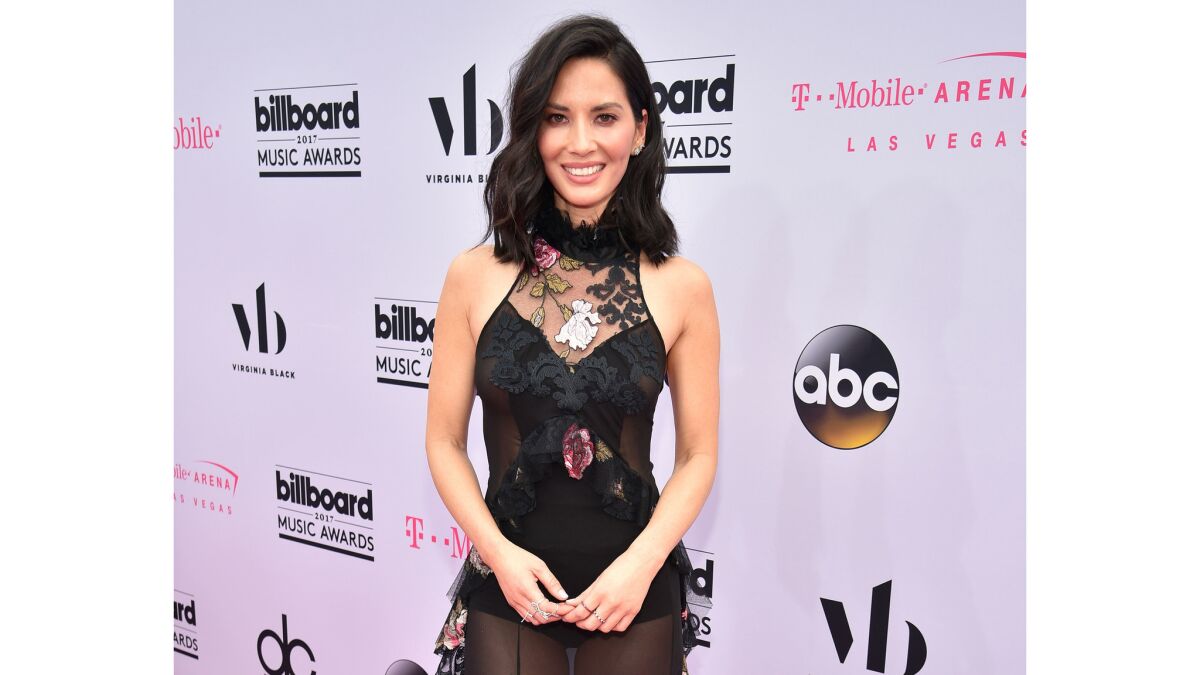 It should have been a proud moment. After enduring what she described as sexual harassment by Brett Ratner, Olivia Munn felt she had finally shared her story, on the record and in the proper context.
Munn was one of six women who told The Times in a Nov. 1 report that they had been the victims of Ratner's alleged sexual misconduct. The 37-year-old star of "The Daily Show," "The Newsroom" and "X-Men Apocalypse" said the "Rush Hour" director once masturbated in front of her, then he alternately claimed that the two had been lovers and friends, both of which Munn vehemently denies. On at least one occasion since then, she said, Ratner has made sexually aggressive comments to her in public.
The piece also included accusations of a range of sexual misconduct; actress Natasha Henstridge said Ratner forced her to perform oral sex on him, which Ratner denies.
The fallout appeared to be swift. Hours after The Times published the six sexual misconduct allegations, a person with knowledge of the matter said Warner Bros. would not renew the filmmaker's production deal with the studio. Ratner will no longer have an office on the lot, the source said — a sought-after space that was once inhabited by Frank Sinatra.
But the $450-million co-financing deal that Ratner's film investment company, RatPac-Dune Entertainment, currently has with the studio through spring 2018 remains intact. Under terms of the pact, which covers up to 75 films, RatPac-Dune helps pay for most movies made by Warner Bros., reaping the financial benefits or losses. After the current deal expires, the fate of the two companies' relationship is unclear. (The studio did not immediately respond to a request for comment.) But as of right now, Ratner, via his company, continues to be in business with Warner Bros.
And that deeply disturbs Munn.
"I want Warner Bros. to sever all ties and relationships with Brett Ratner," said the actress, sitting in her Lake Hollywood home.
"If you ask me, now, do I feel good? Do I feel like I have justice? No," she said. "I'm thankful that we're in this moment where our voices actually matter. But I don't feel like there's actually an awakening of consciousness in Hollywood. There's an understanding that there will be backlash in the marketplace and to their bottom line if they don't make these big announcements. They aren't woke; they're scared."
Over the course of six hours at her home earlier this month, Munn described the shadow Ratner has cast over her career since he allegedly pleasured himself in front of her in 2004. Dressed in sweatpants and seated on the couch with her two dogs, Chance and Frankie, she was at turns grateful, upset and angry as she reflected on the last few weeks.
Munn's public battle with Ratner began in 2010, when she published a book, "Suck It, Wonder Woman!: The Misadventures of a Hollywood Geek" — a collection of stories whose theme was "that there are crappy people you meet in life, but try your best and don't let that knock you down," she recalled.
One of the tales she recounted in the book was how an anonymous director had masturbated in front of her on the set of a 2004 film. Gossip blogs speculated, but it wasn't until 2011 that Ratner himself took credit for the incident. During an appearance on "Attack of the Show" in the year following the book's publication, Ratner acknowledged that Munn had been referring to him in her book, though he denied that he had pleasured himself in front of her.
"I used to date Olivia Munn, I will be honest with everybody here," he said on the television program. "I banged her a few times ... but I forgot her … I get it. She's bitter."
Days later, however, Ratner reversed course, telling Howard Stern that this was not true, that the two had never slept together or dated, that they were friendly (which Munn denies) and he "felt horrible" because he made the actress look like "a whore."
(Recently, however, Ratner said through attorney Martin Singer that he had an "intimate relationship" with her, which Munn says "is a complete lie.")
At the time of the Stern interview, Ratner had been tapped to produce the upcoming 2012 Academy Awards. Before he made his remarks about Munn, Ratner had used a gay slur during the same press tour for his film "Tower Heist." Subsequently, he resigned from the Oscars gig.
Munn was angry that Ratner claimed they were friends because, she says now, they were not, but "I was so grateful that my name was cleared. There seemed to be proof that bad guys also face consequences. That's a world I can live in."
Meanwhile, Ratner began working to improve his reputation. He aligned himself with GLAAD, creating several PSAs that led to the organization presenting him with its Ally Award in 2013. Just a few months after the honor, RatPac-Dune landed the financing deal with Warner Bros.
If I wanted to keep going, it felt like I had to bury it and just be OK with everything.
— Olivia Munn, on her experience with Brett Ratner
At the time, Munn was perplexed by the industry's willingness to welcome Ratner back with open arms. But she feared speaking out, she says now, because she had her own career to manage and she didn't want to be labeled as "somebody who was just looking for publicity, which is how women who come forward about sexual harassment are often marked."
"This experience chipped away at my character and my integrity," she said. "It didn't make me question my own worth, but it made me question if I had a worth to other people. I was always tough and strong, and I would tell anybody who would listen. But there was always that feeling of: 'Do I have worth to the public, or to Hollywood?' If I wanted to keep going, it felt like I had to bury it and just be OK with everything."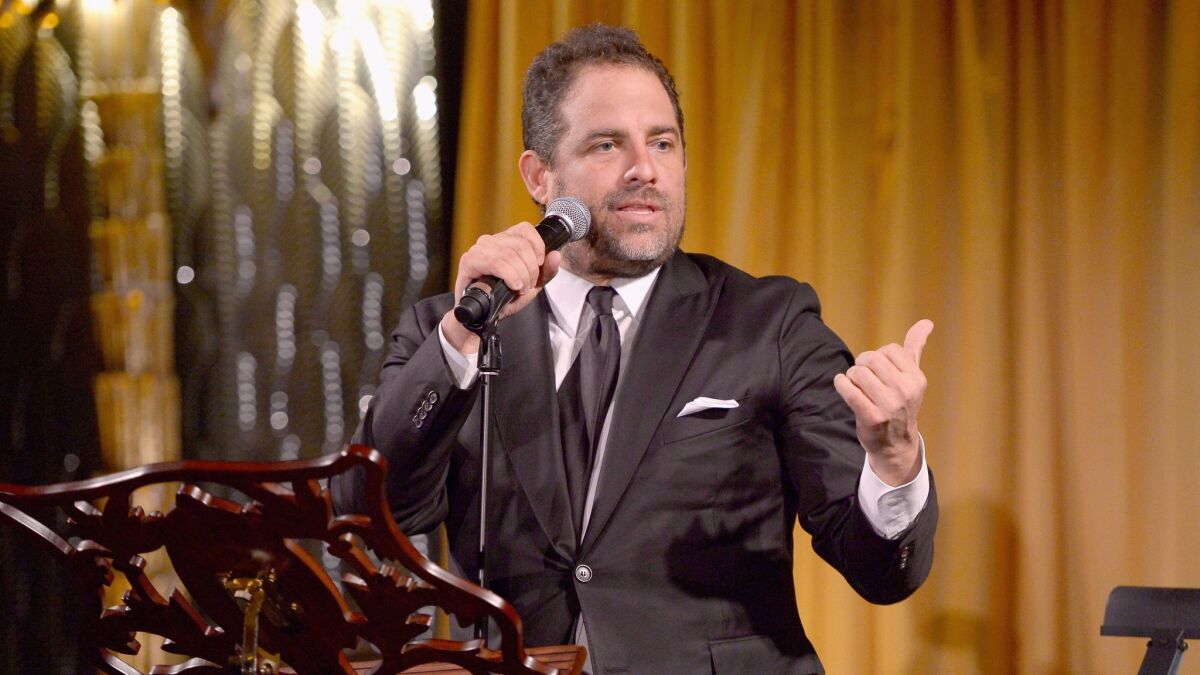 Still, she tried to stand her ground privately, sharing her experience with Ratner with those she knew had working relationships with him, including producer Brian Grazer.
Grazer, who co-founded the production company Imagine Entertainment with Ron Howard, has known Ratner since the director was just an aspiring filmmaker at NYU. After he graduated, Ratner was offered a job as Grazer's assistant, but turned it down because of the paltry salary -- $27,000. The two would go on to work together, teaming for 2011's "Tower Heist"; when Ratner vacated his Oscar producing duties, Grazer replaced him.
Munn was invited to Imagine's offices in 2015 to discuss a role on the television series "Empire," on which Grazer serves as executive producer. She took the meeting, but before they even started talking about "Empire," Munn says she posed this question: "Why do you work with Brett Ratner?"
"Oh, that's right. You used to date Brett, right?" she says Grazer responded.
"The sadness that comes up in a moment like that is indescribable," she said. "Because this was not a secret story. This was a very public story that resulted in him having to take over the Academy Awards telecast for Brett Ratner. And yet he remembers Brett's lie."
So she told him that no, she had never dated Ratner. In fact, she said, he had sexually harassed her in a trailer in 2004 and again in 2010, when at a CAA party he allegedly told her he had bought 10 magazines she was on the cover of "and came all over them." (Through his lawyer, Marty Singer, Ratner "vehemently denied" both accounts.)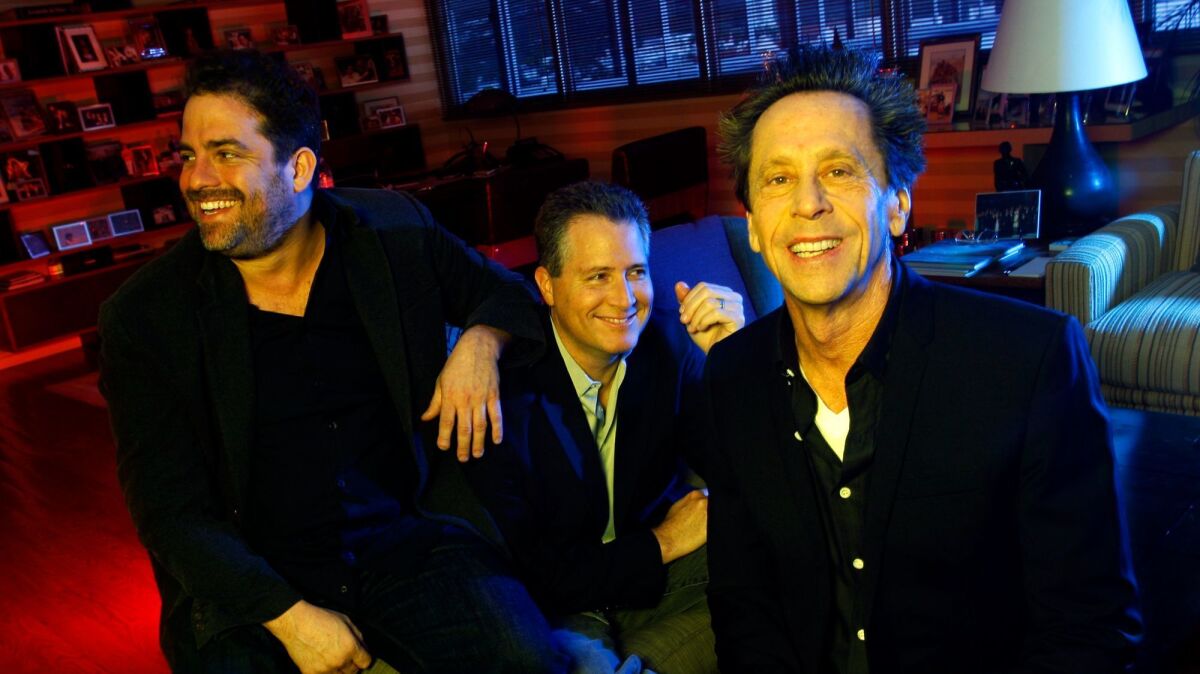 Grazer was stunned, Munn recalled: "The sentiment was, 'I knew he was rough around the edges, but I didn't know he was that bad.'"
"Well, now you do," she replied. "So will you continue to work with him?"
"Well, I'll definitely try not to work with him," she said Grazer answered.
"What do you mean 'try?' Why don't you just stop?" she asked. "You are very powerful and successful, and you don't need to work with him."
Grazer told her she made good points, and then the two discussed the potential part on "Empire," according to Munn. The actress was later offered a recurring role on the series, she said, but turned it down.
(When contacted by The Times, Grazer declined to comment.)
"I stuck up for myself in the only way I knew how," she said. "I've never been afraid to lose a job or lose a connection over calling somebody out for something that I think is immoral. And clearly, everybody had moved on. Ratner was making big moves in Hollywood. I'd managed to keep doing my thing, but I didn't forget. And I didn't forget how Hollywood forgot."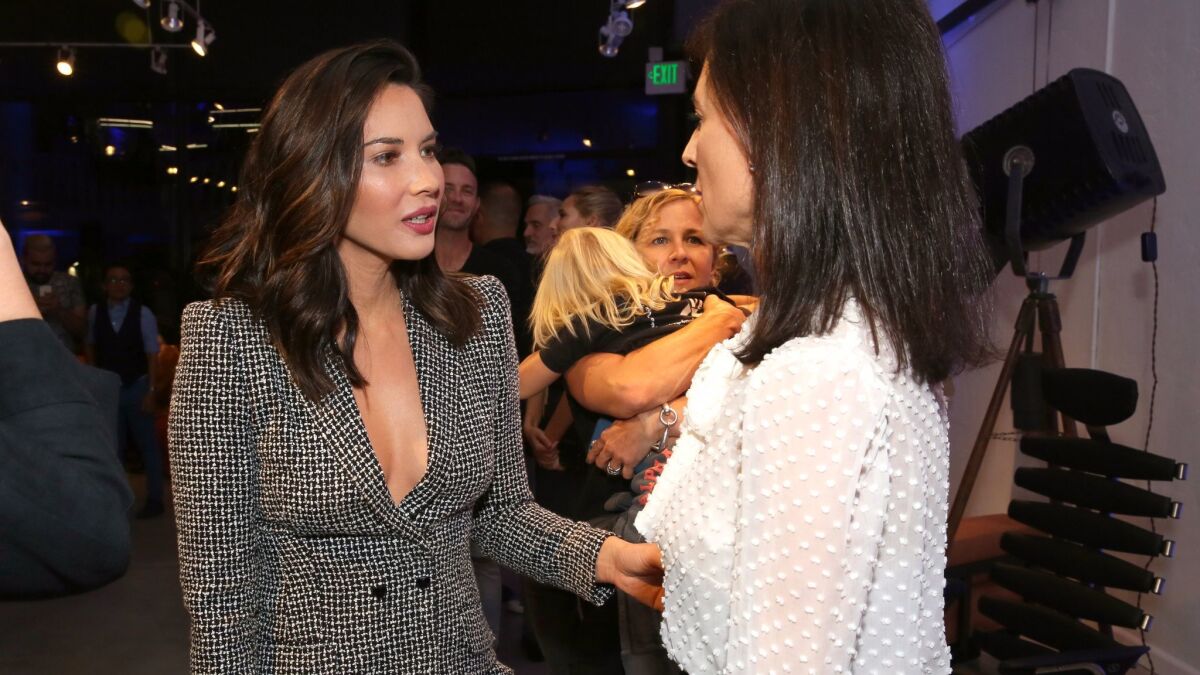 Even with all the allegations against Ratner and others, Munn is not convinced that things will change, for individuals or the industry.
"There seems to be a formula for redemption: apologize, put your head down, remove yourself from the public eye, come back up after enough time has passed, align yourself with the people that you've wronged and then resume your place back in line exactly where you were kicked out," Munn said.
"I'm not saying that people don't deserve second chances," she added, "or that we should hold people in purgatory. But why does a second chance for them mean resuming a position of power instead of going to the back of the line, where they have to earn their way back up?"
Even if Ratner were to offer her an apology, Munn said she wouldn't want it. "Sorry doesn't do anything for me, or all of the other victims," she said. Instead, she said, she hopes the public will not be satisfied with rapid-fire PR responses and continue to hold powerful figures accountable.
"What we're seeing now ... canceling shows, publicly condemning these acts — it's papering over a much more deceitful and rotten infrastructure," she said. "The incredibly gross people will be thrown into the fire in the hopes that the masses will quiet down.
But what they're doing is pruning the tree — cutting off the wilder vines. And the disease still remains in the tree."
Times staff writer Daniel Miller contributed to this report.
Follow me on Twitter @AmyKinLA
ALSO
Gal Gadot's reported ultimatum to Warner Bros. over Brett Ratner's involvement in 'Wonder Woman 2' is likely moot
Brett Ratner and Russell Simmons were investigated by police in 2001 after alleged sexual battery
---
Get our L.A. Goes Out newsletter, with the week's best events, to help you explore and experience our city.
You may occasionally receive promotional content from the Los Angeles Times.