Blythe Danner and John Lithgow find love late in life in 'The Tomorrow Man'
If there's one thing we've learned from movies and TV in recent years, it's this: There is no age limit to falling in love.
A romantic subgenre has developed over the last few years in which older people fall in love — often to their own surprise — including the 2015 hit indie "I'll See You in My Dreams" with Blythe Danner and Sam Elliott and the Jane Fonda-Lily Tomlin Netflix comedy "Grace and Frankie."
Now, Tony and Emmy winners Danner and John Lithgow are struck by Cupid's arrow in the quirky independent comedy-drama "The Tomorrow Man," which opens Wednesday.
In "The Tomorrow Man," the first feature film from music video director Noble Jones, Lithgow plays a divorced retiree with a grown son who spends a lot of his time watching Fox News-style TV and preparing for the end of the world. Danner's Ronnie is a sweet widow who works in a knickknack store and has been a hoarder since her infant daughter died years before.
"These are two people who really need somebody else to come into their lives and break them of this cycle," Lithgow, who is currently on Broadway in "Hillary and Clinton," said in a recent phone interview. "And that's what happens. That's what the movie's about — two people who really change each other and move each other."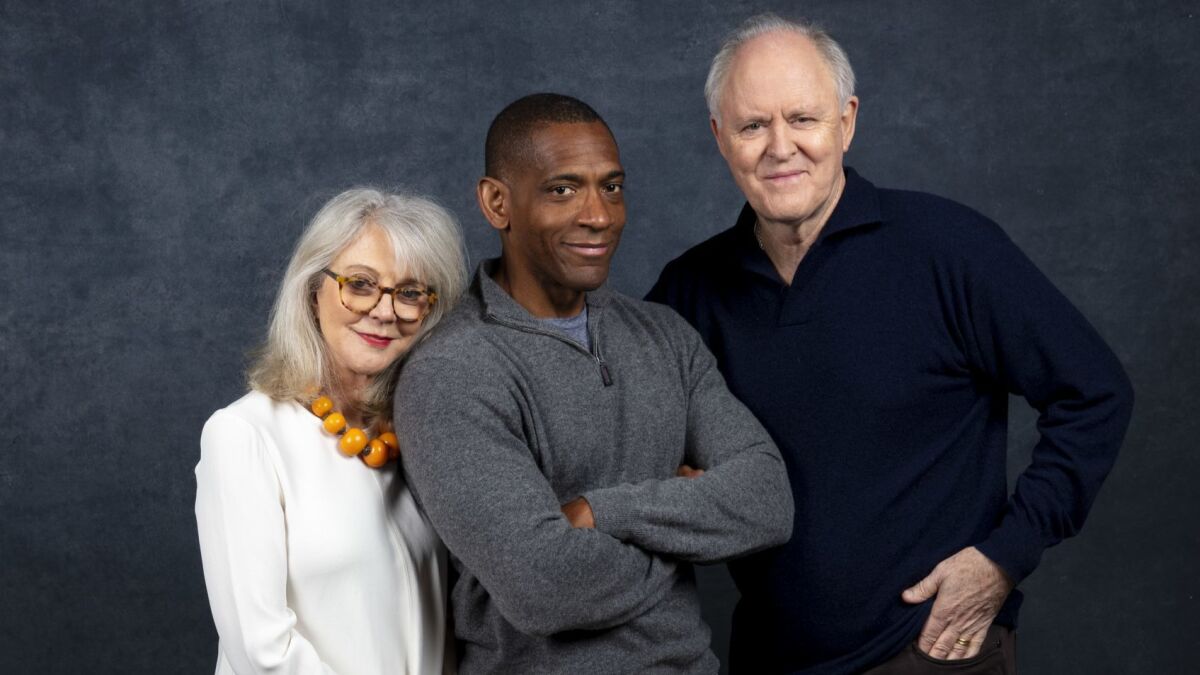 In a separate phone interview, Danner noted that one of the main attractions of doing the film was to play people "who were so different from what we had ever played."
"After these long years of working," she said, "it's such a gift to be able to do things that I haven't done before."
For decades, Danner, 76, and Lithgow, 73, have been trying to work together. They nearly did in 1980, when Lithgow was asked to appear opposite her in the Broadway production of Harold Pinter's "Betrayal."
"Very stupidly, I turned it down because I had a committed to do a friend's play off-Broadway," Lithgow said. "My friend's play was a huge flop. I won't even tell you the name. I was so tormented by my mistake."
But fate had something even better in store for him. "Because of that, I was pretty available to do a very short job in Los Angeles, which I went and did. That was when I met my wife, Mary, of 38 years. It's the opposite of a cautionary tale."
Danner, who made her feature film debut more than 45 years ago, is pleased that she's finally playing the female lead in movies. "I had to wait until my 70s to capture all these gorgeous men," she said, laughing.
"I thought, 'Oh, thank God. Here we are in our 70s, and I finally get to work with [John]."
Jones didn't write Ed and Ronnie for the two actors. "I don't really write for people," the director said. "I have characters of people that pop up in my head and then you try to find the most appropriate person in the world to make sense."
Lithgow was first cast as Ed, and it was his and Danner's mutual manager who suggested the actress.
"I have to be honest," said Jones. "I was a little too dumb to realize how brilliant a choice she would be. In my head and my mind's eye was someone a little more obvious."
Obvious?
"I don't know, maybe like a Kathy Bates from 'Misery.' That kind of overly quirky and odd. I'm so glad that didn't happen."
Danner said she watched the A&E reality series "Hoarders" to help get into Ronnie's mind-set. "Clearly, she was wounded. I think in her case, it was just deep, deep grief. There's one scene where I'm talking about my life to John in a restaurant. I thought it was funny, because he asks about my husband and I say, 'Oh, no. He's dead too,' just off the cuff.' I think grief shuts people down."
"Ninety percent of love stories are about people much, much younger than the two of them," said Lithgow. "But they go through the same process of exploration. Exploration of each other and exploration of themselves."
Jones' script, noted Lithgow, was unique and surprising. "It sort of surprises the main characters themselves, and that's always a great thing. I just found these two people so intriguing and eccentric. And mysterious. I think it's also fascinating to set a love story against the background of two people's deep and genuine fears. Fears a lot of people share."
Particularly in the case of Ed, whom Lithgow notes, "can't stop thinking about the fact the world could end at any moment."
"Whether we admit it or not, all of us are facing those issues," he added. "I thought that was very daring of Noble Jones to go right ahead and put that into play in the course of the love story."
Get our L.A. Goes Out newsletter, with the week's best events, to help you explore and experience our city.
You may occasionally receive promotional content from the Los Angeles Times.