Review: An elite cast and gritty direction lift the bad-cops tale 'Triple 9'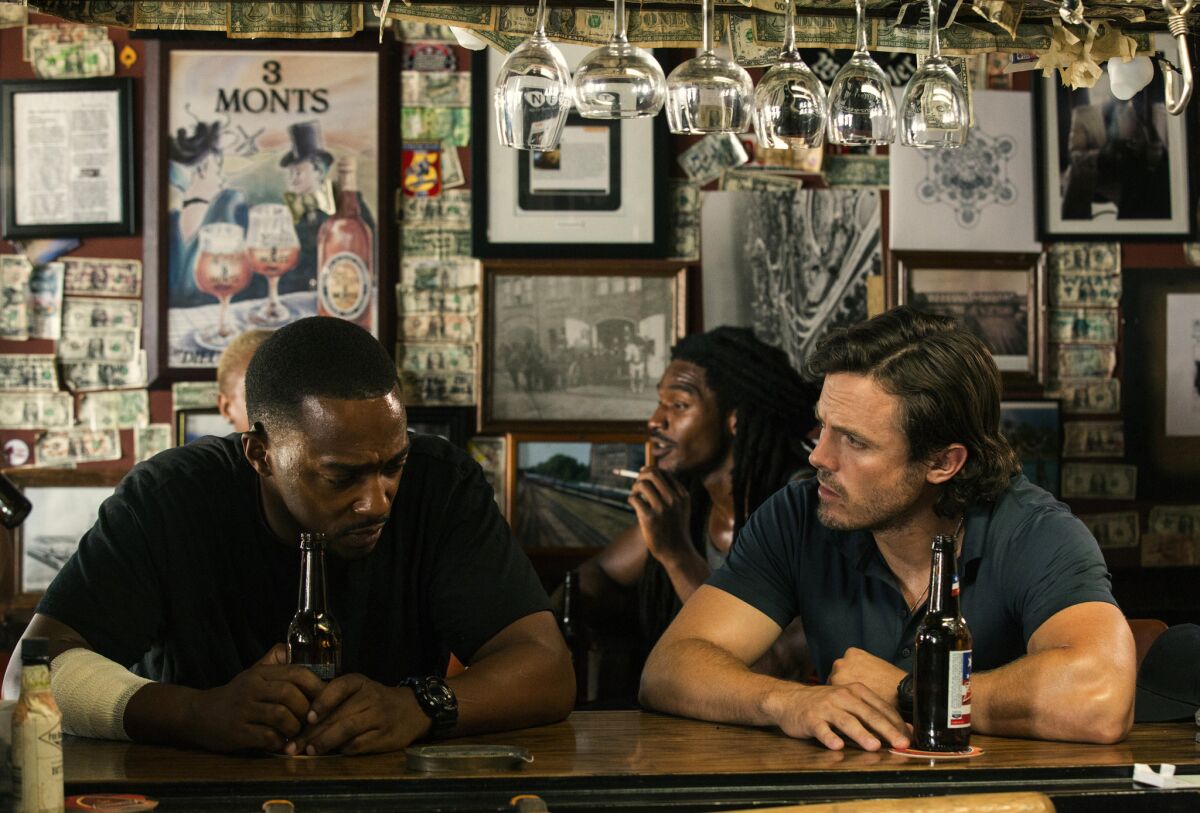 Red light dimly illuminates the inhabitants of a parked car, discussing "Russians," "this job" and "inside three minutes." It's a scene that sparks instant genre recognition, and as the opening to John Hillcoat's "Triple 9," is an effective expository piece for this twisted tale of dirty cops, mobsters and thieves. Set in Atlanta, the film has a steamy, humid quality; sweat glistens on the skin of morally corrupt men as they do dirty work for others, and themselves.
With a screenplay by up-and-coming writer Matt Cook, "Triple 9" imagines a world where vets of the war in Iraq, whether private security contractors or official military personnel, become cops and crooks, sometimes putting their tactical training to use for nefarious, profit-driven purposes. But they aren't the ones pulling the strings — that would be the mafia led by Irina (Kate Winslet), the Machiavellian wife of an imprisoned mob boss, her hair teased to the heavens.
See more of Entertainment's top stories on Facebook >>
The heist crew is Mike (Chiwetel Ejiofor), Marcus (Anthony Mackie), Franco (Clifton Collins Jr.), Russell (Norman Reedus) and his brother Gabe (Aaron Paul). Before the opening credits have finished, they've pulled off a shockingly bold bank robbery, but though they make off with the bounty, turns out they need one more thing before they can get paid by Irina. It's a file of some sort to unlock another file, but that's of no consequence to the story. What matters is that they decide the only way to pull off the task is to trigger a 999 — "officer down" in police parlance.
While the band of cops and robbers make their plans, Marcus and Franco still have to do their detective day jobs. Within "Triple 9," there's a subplot reminiscent of "Training Day," as Marcus takes on a new partner, Chris (Casey Affleck), teaching him that the rules of the streets are far from police protocol. The newbie and streetwise detective tangle with Latino gangs and drug dealers, to bloody and violent consequences. The role of Marcus is worthy of Mackie's talents — a morally complex cop balancing his base instincts and outward persona.
Chris, with a wife and son and family connections to the force — Woody Harrelson plays his uncle Jeff, a senior officer, giving a totally compelling "Bad Lieutenant" by way of "True Detective" performance — is positioned as the rule follower, the moral compass. But Ejiofor's Mike is the emotional center of the story, struggling to keep his crew from imploding, trying to retain contact with a son he has with Irina's sister Yelena (Gal Gadot), a convenient pawn for Irina.
Hillcoat directs with a sense of immediacy and grimy realism, bringing the audience into the shootouts and bloodshed on the streets. Atlanta becomes another war zone for the men who have seen war, battling an enemy of a different race and culture. Simultaneously, Hillcoat infuses the story with a sense of epic, nearly Greek, tragedy and symbolism. Red light bathes the characters when they're touched by evil, an effective narrative harbinger.
With so much drama and tension developed from minute one, "Triple 9" loses steam as it attempts to wrap up the complicated character arcs. But with a stacked cast and skillful filmmaking, "Triple 9" proves to be a satisfying crooked-cop heist thriller, imbued with complicated topical issues that last long after the adrenaline rush.
Walsh is a Tribune News Service film critic.
-----------------
'Triple 9'
MPAA rating: R, for sequences of strong violence, language throughout and some sexuality/nudity
Running time: 1 hour, 55 minutes
Playing: In general release
Get our L.A. Goes Out newsletter, with the week's best events, to help you explore and experience our city.
You may occasionally receive promotional content from the Los Angeles Times.