Review: Long-delayed romantic drama 'Tulip Fever' arrives, clipped to the bone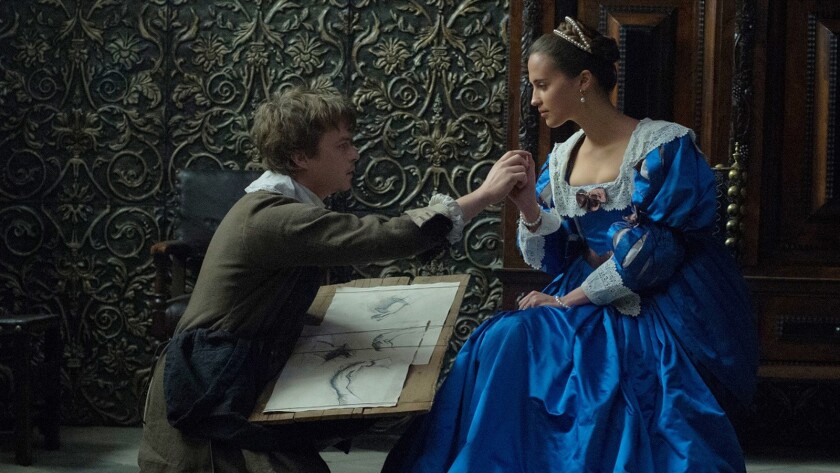 The off-screen drama around "Tulip Fever" and its much-delayed release threatens to tarnish the film before audiences see a single frame. However, director Justin Chadwick's movie is neither the disaster the Weinstein Co.'s strategy portends nor the masterpiece the studio would have hoped for with its period setting, strong cast and script by Tom Stoppard from Deborah Moggach's novel. Instead, it's simply a minor mess of a film that exhibits evidence of Harvey Weinstein's notoriously enthusiastic editing.
Set in 17th century Amsterdam, "Tulip Fever" begins with narration from Maria (Holliday Grainger). She explains the economics of the tulip market, where a single rare bulb can send bidders into a frenzy with hopes over what color might bloom. Meanwhile, orphan Sophia (Alicia Vikander) is pushed into a marriage with Cornelis Sandvoort (Christoph Waltz), a wealthy spice merchant desperate for an heir from his much younger wife. Maria, their servant, longs for visits from fishmonger Willem (Jack O'Connell), who begins betting on tulips to save money for their wedding. When he inexplicably disappears, Maria is despondent.
Her mistress' life gets more exciting when Cornelis hires a painter to capture himself and Sophia on canvas for posterity. Jan Van Loos (Dane DeHaan) is a struggling artist, and he and Sophia quickly begin an affair. Together with Maria, the lovers concoct an elaborate scheme that will free Sophia from her boorish husband and allow her to be with Jan.
At 107 minutes, "Tulip Fever" has been trimmed of every ounce of fat. But connective tissue, muscle and even the heart are gone too, leaving a lifeless frame. There's no character development; we're not invested in Sophia and Jan because they aren't fully formed people and there's little time for chemistry to develop between them. Despite evidence of their talent in other films, Vikander is simply a mannequin for exquisite dresses, and DeHaan is merely a goatee. What Chadwick's film misses in its bare-bones approach is that passion doesn't reside just in skin-filled sex scenes. There's no romance in this period romance.
The costume drama careens from brief scene to brief scene, never giving the story time to breathe. Each transition leaves viewers dizzy and dazed, wondering if they somehow missed an important look or line of dialogue that would support what's happening and the characters' choices. When Sofia tells her husband that she no longer wants Jan to paint their portrait, it surprises both Cornelis and the audience. There has been no on-screen evidence of her desire for the painter, and as good an actress as Vikander is, she doesn't communicate this feeling in the short time with DeHaan.
Where "Tulip Fever" is likely to evoke the most passion is its costumes. Designed by Oscar winner Michael O'Connor, the ruff collars, lace details and lush fabrics will garner a gasp quicker than any of the nudity that's exposed when they're removed. All this effort adds texture to the film, but it can't elevate the movie beyond what is essentially a museum exhibit. We get glimpses of Dutch life in 1634 but no real insight into who these people are or why they behave as they do.
-------------
'Tulip Fever'
Rating: R, for for sexual content and nudity
Running time: 1 hour, 47 minutes
Playing: In general release
See the most-read stories in Entertainment this hour »
---
The complete guide to home viewing
Get Screen Gab for weekly recommendations, analysis, interviews and irreverent discussion of the TV and streaming movies everyone's talking about.
You may occasionally receive promotional content from the Los Angeles Times.