Why Stephen Dorff went undercover to play an aspiring country singer in 'Wheeler'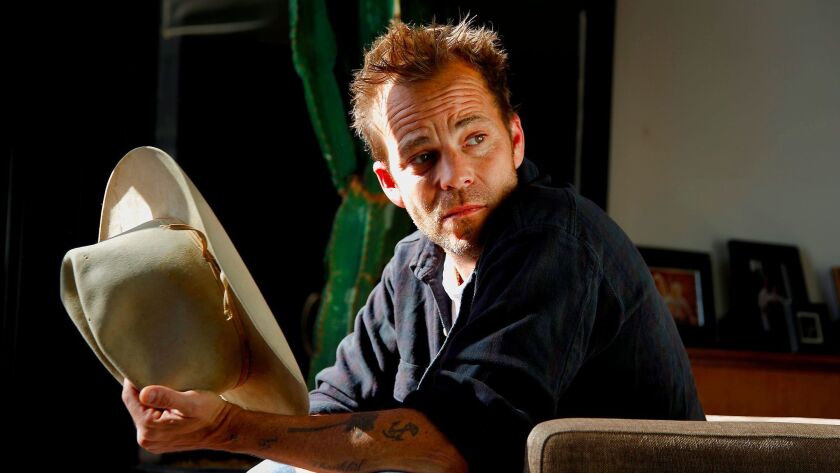 Pop Music Critic
Stephen Dorff wasn't wild about the idea of wearing a disguise. He just couldn't see another way to make the movie he wanted to make.
The film, opening Friday, is "Wheeler," in which Dorff — the stubbly bad-boy heartthrob known for his roles in "Backbeat," "Immortals" and Sofia Coppola's "Somewhere" — plays an aspiring country singer who leaves his home in small-town Texas to make a go of it in Nashville.
We've seen this story before, of course. Yet Dorff envisioned something grittier than "Nashville," the glossy CMT series, and more documentary-like than "Crazy Heart," the 2009 drama built around Jeff Bridges' Oscar-winning turn as the fictional Bad Blake.
He wanted real performances delivered in real time before real Music City audiences — the kind he'd seen while spending time in Nashville with his father, Steve, and brother Andrew, both established country songwriters with credits on hits by George Strait and Martina McBride.
But though he'd be singing songs he'd written himself, he definitely wasn't interested in a movie about a Hollywood star trying to break into music.
Thus the prosthetic nose and lip.
"Oh, it was horrible," Dorff, 43, said of the hours he spent sitting in a makeup chair. "And having all that stuff on your face makes your skin so raw. Sometimes while we were shooting my lip would start to come off a little bit, from smoking or drinking. Eventually I made up a little hand signal for my makeup guy, so he'd know when I needed help." He laughed.
"But I know what it would've been if it was me onstage: 'Wait, is that the guy from 'Blade'?'"
Directed by Ryan Ross, "Wheeler" is presented as a kind of faux-vérité experience in which the viewer follows Dorff's character, the sweet but rough-edged Wheeler Bryson, as he moves to Nashville and starts meeting people and gigging around town. (The camera, we're told, is being held by a friend who's tagged along from Texas to document Wheeler's journey.)
The locations, including iconic venues like the Ryman Auditorium and the Bluebird Cafe, are real; so are the folks Wheeler encounters, most of whom Dorff said didn't recognize him and merely took the guy with the camera as an indication of our content-obsessed era.
But even those who were in on the secret, such as the record executive who signs Wheeler to a deal, weren't actors but actual Nashvillians playing themselves.
With pride, Dorff pointed out: "The only people in SAG in this movie are me and Kris Kristofferson," who puts in a cameo.
The result was an acting experiment unlike any in his career, said Dorff, who's often cast in roles that play off his tabloid image. (The acclaimed "Somewhere," about a victim of fame searching for life's meaning at the Chateau Marmont, is a perfect example.)
Here, though, he was seeking to disappear — literally — into his character. Ross, who's worked with Dorff on a dozen films in various capacities, said the actor isn't one to insist on being called by his character's name while on set.
"But this time," the director recalled, "even texting him, I'd find myself like, 'Hey, Wheeler…'"
For Dorff, the movie also served as a tribute to his family. Between drags on a cigarette at his home in Malibu, he described his admiration for his dad's and brother's craft; his voice thickened when talking about Andrew, who died of an undisclosed cause in December at age 40.
"My first instinct when it happened was I wanted to push the movie," Dorff said. "It's still fresh, man — I just can't believe my little brother is gone. But I realized I had to do it for him.
"That songwriting community, that's where I come from," he continued, and indeed "Wheeler" depicts the creative process, with its false starts and slow advances, more convincingly than many films about musicians. There's a strong scene, for instance, where we see Wheeler working on a moving ballad called "Pour Me Out of This Town," which the actor wrote with his brother.
Not that the movie's credibility made it an easy sell. Dorff's initial goal with the film was to secure a distributor the same way he made it: by not revealing that it was him underneath that fake nose.
"We wanted to go Banksy with it," he said, referring to the celebrated street artist who refuses to identify himself. "We screened the movie for Ted Hope at Amazon. We screened it for Ted Sarandos at Netflix. All these heads of companies had no idea who Wheeler was. But it didn't get any traction."
Finally Dorff began shopping "Wheeler" around with his name attached, and Entertainment One snapped it up, agreeing to put the movie in theaters the same day it became available on demand.
"Look, I loved becoming Wheeler, but I'm an actor — I want to go on and play other parts," Dorff said. "I can't go on pretending he's this other guy who still exists."
But maybe he can for a little while. To promote the movie, Dorff's done a handful of live shows, playing "Pour Me Out of This Town" and some of the other songs he wrote for Wheeler. He's even got one lined up Friday night on Nashville's most prestigious stage, the Grand Ole Opry.
"I told them I could do it in makeup if they wanted, but I'm not sure if that's gonna happen," he said. "We'll see."
Twitter: @mikaelwood
ALSO
'I ain't got no love': Why Donald Trump's musical choices matter
Meet Busbee, the producer who helped Maren Morris get to the Grammys
'Nashville' heads to CMT: The show runners and songwriters who hope to make Season 5 sing
---
The complete guide to home viewing
Get Screen Gab for weekly recommendations, analysis, interviews and irreverent discussion of the TV and streaming movies everyone's talking about.
You may occasionally receive promotional content from the Los Angeles Times.