How Steve McQueen and Gillian Flynn updated a British TV show to create the urgent and resonant crime thriller 'Widows'
Steve McQueen knew "Widows" would be his next film nearly a decade ago — three years before his third feature, "12 Years a Slave," nabbed the best picture Oscar in 2014. But the idea has been with the now-49-year-old even longer than that.
"Thirty-five years ago I saw the TV show, and it just stuck with me," he said of the inspiration for "Widows," which has a gala screening Wednesday at AFI Fest and 20th Century Fox will release nationwide on Friday. "I immediately identified with these women."
Perhaps that's because, as a child, "you're very much aware of your surroundings and you carry things around with you," he said. And when you're growing up black, "you get criticized much, much earlier so that you're always asking yourself, 'How? Who? Why? and What?' "
He sees "Widows" being as much about him as it is about its female protagonists.
I wanted to raise the curtain on things people don't get to normally see and show that if everyone comes together, you can effect change.
Steve McQueen
"I loved the idea — about me in a way but obviously not about me — about this journey of overcoming and circumnavigating stereotypes put on me and these women," he said.
Based on the 1983 ITV series of the same name, "Widows" follows a group of women — an ensemble led by Oscar-winner Viola Davis and including Elizabeth Debicki, Michelle Rodriguez and Cynthia Erivo — who take on the final robbery job that their husbands died trying to complete. But the logline is basically the only thing McQueen's critically acclaimed film, which had its world premiere at September's Toronto International Film Festival, has in common with the original show.
For one, it was important to the director to "place that narrative into our reality today," he said. To that end, he chose "Gone Girl" scribe Gillian Flynn to help him make the intellectual heist thriller come to life. Unlike McQueen, she wasn't familiar with the original series.
"I really liked the idea of entering that traditional, very male dominion and seeing what we could do with it," Flynn said about signing on to the project. "And the idea that you can keep the audience excited and use the engine of a heist thriller to kind of keep them on the edge of their seats while you're talking about really interesting issues of the day, in this case race and gender and poverty and big-city corruption."
First, the pair had to choose an American city in which to set their film. McQueen selected the "heightened contemporary city" of Chicago, where his first footprint "was always about art and politics."
"It was fertile ground to take this story and place it into the reality of contemporary Chicago," he said, noting the area's history of governmental corruption, divided race relations and poverty — all major themes in the film.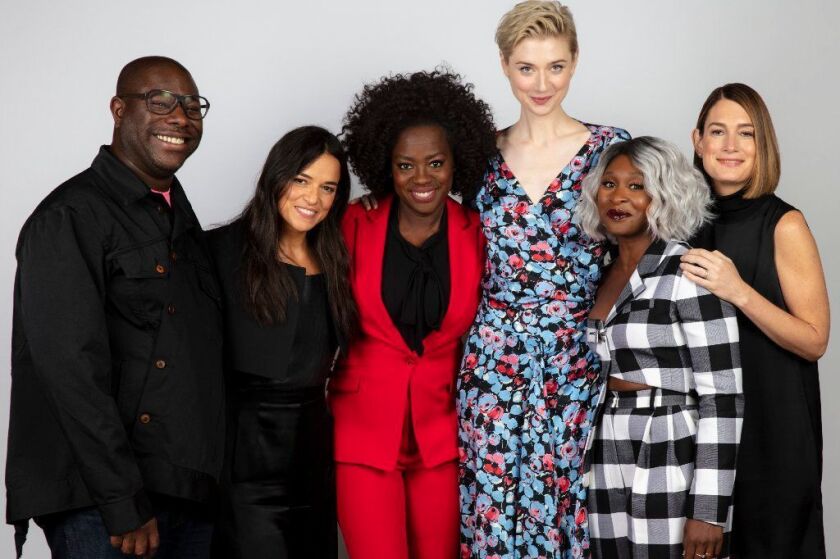 Flynn added: "It's hard to get elected without starting to feel dirty. It's a city of favors. We fell in love with the phrase 'I got a guy' because it's just such a Chicago phrase. … It's all about 'I know someone who knows someone who knows someone.' It's a city [where everyone is] very entwined with each other, and that would be kind of baked into our plot: Everyone is a couple degrees away from knowing someone else."
McQueen also thought "looking at Chicago with this microscope" allowed him to turn it "into a telescope to reflect the entire world — whether it's London, Paris or New York."
As Times critic Justin Chang wrote from Toronto, "In 'Widows,' diversity isn't an opportunity for showy tokenism or liberal pieties. It's a matter-of-fact reflection of a city's seething internal dynamics, an opportunity to probe inequities of race, class and gender that few American movies, let alone American genre movies, ever attempt to address."
Indeed once the adaptation's setting was in place, the true heart of the story would come to life as the McQueen and Flynn embarked on fleshing out the key female characters.
"Rather than what's in a traditional heist thriller, where this guy is our safecracker and this guy is our computer expert, we decided that it would be four women from different backgrounds and different races, and to use that as an opportunity ... not to just have four strong women on screen — which, how often do you get a chance to have that, period? — but four strong women of different colors," Flynn said.
"And I also said very early on that because they're women, I want some of them to have kids." Flynn, a mother of two, aimed to make sure the characters felt "as realistic as possible," so "childcare should be an issue" even while they're trying to plan an intricate and dangerous heist.
"We just tried to write them as people, not as cogs in the plot but to write them as people with pressures, with backgrounds and stories," she said. "It's so much more important for us that they feel like real, breathing human beings who have the pressure of the money, but there's so much more at work for them than that.
"And also it shouldn't feel glamorous," she added. "These were women who didn't have a lot of job prospects. They weren't coming from much and were barely making ends meet. This was not a chance to become incredibly wealthy, but a chance for a simple economic come-up."
Another decision that helps to set the film apart from any heist films that have come before was casting Davis in the lead role. Although the actress has proved she can carry a project for five seasons now on ABC's "How to Get Away With Murder," true leading roles have still eluded her on the big screen. (Even in her Oscar-nominated turn in "The Help," Davis' domestic character often felt secondary to Emma Stone's white aspiring journalist.)
For McQueen, the choice was simple. He wanted Davis to lead the cast because "she's like an iceberg."
"She has this huge depth to her [where] you see one thing, but she can galvanize so much within a movement, in a look," he said. "There's weight there and history there. … You look at her and you see yourself because she has this uncanny force in her. She can translate the human condition."
Such a skill was necessary for the role and for the film's ultimate message, which is one of love and uniting for a common cause.
"It's about how we're living today," McQueen said. "I wanted to raise the curtain on things people don't get to normally see and show that if everyone comes together, you can effect change. Forget your differences and find out we don't really have differences at all. Come together and gain power."
He pointed out that the entertainment industry is experiencing the very same thing with the #MeToo Movement, where "women are listening to each other, from different racial and social backgrounds and becoming a force.
"It's not perfect at all, but they are listening to each other and understanding each other and speaking for each other. I wish that was happening racially, where it's not 'their problem' or 'I wish they would do something.' But it's about us all — not them and us but us as a whole."
Get your life! Follow me on Twitter (@TrevellAnderson) or email me: trevell.anderson@latimes.com.
---
Inside the business of entertainment
The Wide Shot brings you news, analysis and insights on everything from streaming wars to production — and what it all means for the future.
You may occasionally receive promotional content from the Los Angeles Times.