How Ava DuVernay, Storm Reid and 'A Wrinkle in Time' light Hollywood's path forward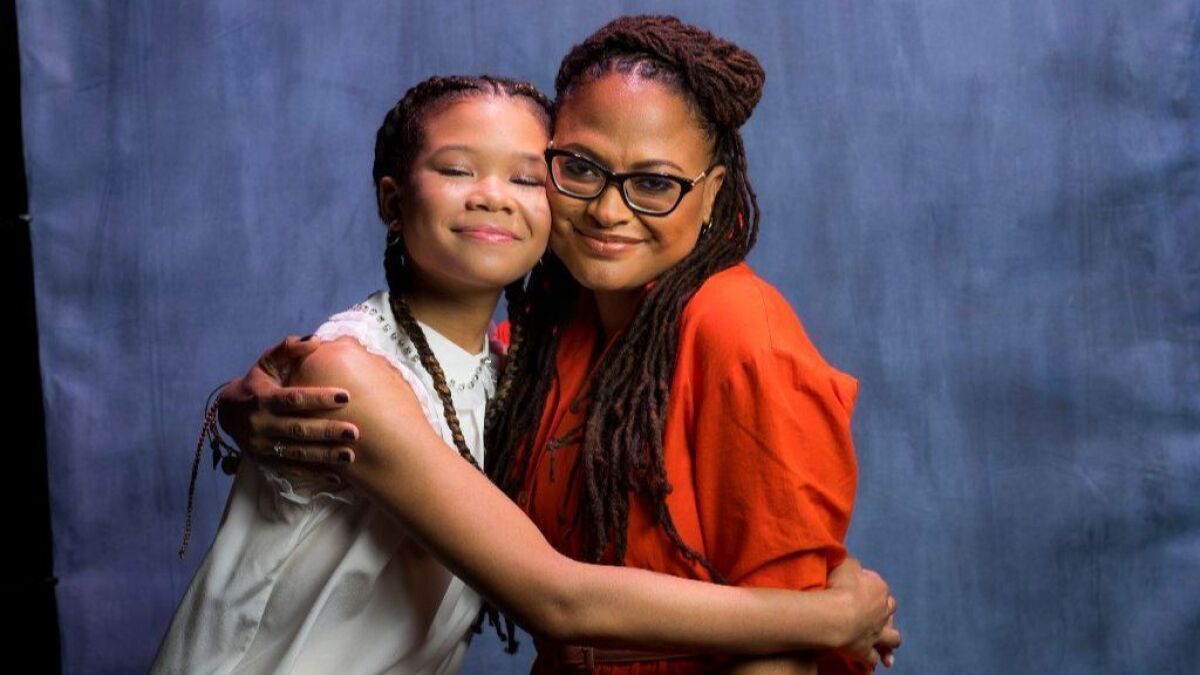 When Ava DuVernay was young girl, she found herself enraptured by films like "The NeverEnding Story" and "Escape to Witch Mountain," fantastical movies where kids were the center of the narrative. But never did she, as a black girl in South Los Angeles, actually see herself reflected on-screen.
"There's something about loving those types of films and being absent from them, and not even knowing that at that age," she said. "But you want to be the one who flies. You want to be the one who saves the world. And I think it's important to have those images with young people who aren't necessarily Jedis."
That's why when presented the opportunity to helm Disney's "A Wrinkle in Time," the writer-director jumped at the chance to make a girl like the one she once was the center of the tale.
We have great black and brown actresses who have been relegated to the best friend or the girlfriend or the wife or the nurse or the judge for generations.
— Ava DuVernay
"A Wrinkle in Time," adapted from Madeleine L'Engle's 1962 book of the same name, stars Storm Reid as Meg, a young girl tasked with transporting to other worlds to find her scientist father (Chris Pine), who's disappeared.
Assisting her in the mission is her younger brother (a scene-stealing Deric McCabe), a friend (Levi Miller) and three celestial beings played by Oprah Winfrey, Reese Witherspoon and Mindy Kaling. The film also stars Gugu Mbatha-Raw, Zach Galifianakis, Rowan Blanchard and André Holland.
From the outside looking in, "Wrinkle" is a very different movie for DuVernay. After all, the former publicist-turned-independent filmmaker raised her profile with the celebrated "Selma" and "13th," movies that contributed to historic and contemporary conversations involving race, marginalization and exclusion.
"I didn't want to be put in a box," she said about taking on the gig. "But even though this is for 8- to 12-year-olds, it's still speaking to the same things — parity and equality and justice… This movie is not 'Selma' in space. It's a movie for children that I had on my heart to make to tell young people some things that are important to me."
The film also allowed her to "bypass tension and turmoil and trauma," as she'd "been steeped in it for so long for '13th' and 'Selma' that I gave myself permission to not think about these things so deeply for a little while," she said.
And though "it's a dark time right now," she added, the film "gives us permission to tap into joy and self care," with Reid representing a candle in the dark — both in and out of the movie — lighting the path forward.
Now 14, Reid first encountered "Wrinkle" in book form in sixth grade. Just two years later, she auditioned for and was selected to play its lead, Meg, a character she found "so peculiar but cool at the same time," she said.
"I love that she didn't think she was cool but everybody else thought and saw that she was," Reid added. "Once I read the script, and knowing that she was Caucasian in the book and in the movie she'd be African American, I thought that was also really cool, [to see] Meg go on this journey of being a black girl who's getting criticized, has challenges in her life and doesn't think she's good enough.
"Eventually, she realizes she is the light. While playing the role, I kind of became that and grew with Meg. We went on this journey together."
DuVernay wanted her lead to be black to teach girls like her that they too can be a force for change in the world — without needing special powers like Wonder Woman or Daisy Ridley's Rey in "Star Wars."
Representing young black girls and giving them hope and the light ... is important to me as a little black girl too.
— Storm Reid
"They're beautiful, powerful depictions, but there's something about a little girl in a plaid shirt who lives in L.A. and gets to do all these things," she said. "That took ahold of my heart. I wanted a black girl to say to a Caucasian boy, 'Do you trust me?' and for him to say, 'Yes,' and follow her into danger as the leader."
Reid added: "I feel as if it's important, because we need to be represented… This movie and Meg are representing black girls in a way where they don't have to be the superhero or the best friend or the comic relief. They can be the lead and save the world, even though they're black and have curly hair and glasses and they aren't perfect.
"Representing young black girls and giving them hope and the light and letting them know that they can do anything is important to me as a little black girl too."
This idea of a black girl leading a group of boys, DuVernay said, "is my life every day."
"I lead on these sets, and I'm dealing with all kinds of people that are not used to that," she added. "A Wrinkle in Time" has made her the only black woman to have helmed a film with a budget of $100 million. "It's a new muscle that they have to exercise to look at me and hear what I'm saying, respect that I know what I'm doing and go and do that. It'd be a lot easier if they were trained as young boys to know that was OK to do.
"So as much as this is a story for our girls, it's a story for everyone who aren't our girls to know that our girls can do this."
In many ways, "A Wrinkle in Time" — like "Black Panther" weeks before it — is a light of its own for an industry seemingly open to grappling with representation issues in front of and behind the camera. But amid talk of inclusion riders and diversity initiatives, DuVernay asserts that what happens to her leading lady's career will be a tell-tale sign of progress.
"Let Storm Reid be the change," she said. "Can you take care of this girl? Can you give her the opportunities that you gave to a young Jennifer Lawrence or a young Reese Witherspoon or a young Jodie Foster? Will you be able to see this young girl with that kind of power in this town and make sure she has the roles that allow her to blossom and become one of the greats?
"So many of our actresses haven't had that. We have great black and brown actresses who have been relegated to the best friend or the girlfriend or the wife or the nurse or the judge for generations. For me, watching [Reid] and what's going to happen with her is an answer to [if the industry is changing]. Show and prove the change."
As a black female filmmaker, DuVernay knows the struggle personally, and she takes every opportunity she can to remind people that — the success of movies like "Black Panther," "Get Out" and "Moonlight" aside — Hollywood still has a long way to go to give filmmakers of color a permanent seat at the table and a microphone from which to speak.
"The few of us making these movies that you can count on two hands isn't the change," she said. "It might be a spark or a start, but there's been a number of these false starts before throughout cinematic history.
"We're not the first cadre of black filmmakers to be doing it. Me, Dee [Rees], Ryan [Coogler], Jordan [Peele] and Barry [Jenkins] — we stand on the shoulders of Kasi [Lemmons] and Gina [Prince-]Bythewood and Spike Lee and Matty [Rich] and John [Singleton], and before them, they stand on the shoulders of Haile Gerima and Charles Burnett and Julie Dash.
"It's a cyclical thing. 'When is it going to be fact?' is the question."
Get your life! Follow me on Twitter (@TrevellAnderson) or email me: trevell.anderson@latimes.com.
---
Get our L.A. Goes Out newsletter, with the week's best events, to help you explore and experience our city.
You may occasionally receive promotional content from the Los Angeles Times.