Singer-actress Alison Sudol returns to her first love — music — with two new, very personal albums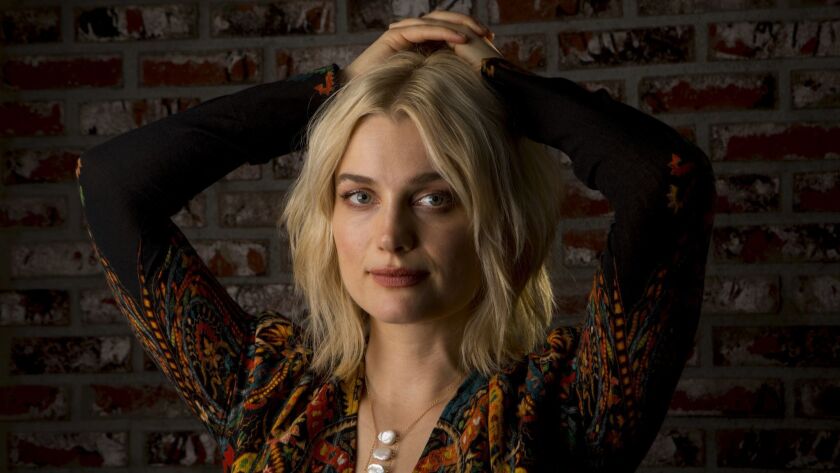 Things get personal in the songs of Alison Sudol.
She recorded three albums under the name A Fine Frenzy, singing of nature and nurturing and of love gone astray. Then, after her most ambitious recording, 2012's "Pines," she went quiet, as a crisis of confidence led Sudol to keep her new music private for nearly five years.
"I was making music consistently," Sudol, 33, said recently about that time. "I was just terrified to release it."
Five years is an eternity for a young artist, but then she found unexpected success as an actress, first with a recurring role in Season 1 of "Transparent," and now, more spectacularly, as the magical, empathetic Queenie in the "Fantastic Beasts" series of Harry Potter prequels. Her life in the J.K. Rowling universe is in full swing with the recent release of "Fantastic Beasts: The Crimes of Grindelwald," but she's also back as a musician with two EPs: the just-released "Moon" and, in early 2019, "Moonlite."
"For me, music is much more life and death," says Sudol, relaxed in a white top and jeans, her hair a pale blond, over lunch at the Sunset Tower Hotel. "It was as if part of me was dying, and I was trying to figure it out. My heart gets tight and it's almost like my soul gets congested if I'm not making music."
Now recording under her own name, the music on "Moon" and "Moonlite" balance the organic and postmodern, the atmospheric and heartfelt. Both were largely recorded in England during the making of 2016's "Fantastic Beasts and Where to Find Them," in collaboration with producer-musician Ali Chant. It was also a moment of extreme highs and lows in the singer's life and career.
A brief and too often long-distance marriage was coming apart, as she sings on "Lonely Love": "I'm slipping like petals from your fingers/I'm slipping this circle of metal off my hand..."
Recording sessions unfolded in-between her days working on the "Beasts" set, sometimes in Sudol's hotel room in overcast Bristol, while drinking sherry. "I can't begin to say what a disaster my life was in that moment," she recalls. "In order to play Queenie, I had to put aside everything in my personal life. I didn't want to bring that energy on the set. I didn't want people to be like, 'Are you OK?'"
Playing the optimistic, mind-reading Queenie brought her some sanity and joy, while the music-making allowed Sudol to explore the shadows.
The five-song "Moon" and four-song "Moonlite" were planned for a single album, but then split to focus on different sounds and moods: "Moon" the more understated, "Moonlight" louder and darker.
Last fall, she released the song "Enough Honey" (from "Moonlite") as a personal reaction to the eruption of scandal surrounding Harvey Weinstein and other major Hollywood figures accused of sexual misconduct by a growing chorus of women and men. The song was recorded more than a year earlier, but for Sudol it fit the #MeToo moment, as she sang to a shimmery, urgent rhythm: "Woman after woman in a line/You and I have been such good, good girls/It's hard to break a life of silence/The kind that takes your breath away."
"It's about this message we get as little girls: to be good, to be nice, to be sweet, to be easy, to be amenable, to not make waves. That message comes from everywhere, and it's so destructive," Sudol explained.
"I was like, no more. Done. The way that I sang it is the way that I feel about it. It doesn't have to be angry and mean. It's quiet and strong. You don't need to shout. Just hold your own space: No, I'm not going to do that."
In the first years of her own recording career, Sudol says she was preyed upon by a producer and by a label executive she prefers not to name publicly. She first detailed her experiences in an emotional online stream to her fans last year, and she tears up again now at Sunset Tower as she recounts that harassment.
"It happens a lot with young women who are in studios alone for long days at a time," said Sudol, who was in her early 20s and overestimated her ability to control her boundaries with these men. "I said a lot of very clever no's and flat-out no's. 'No' didn't matter."
While Sudol doesn't compare her experiences with the horror stories of sexual violence revealed in the last year, they attach some unhappy memories to her work as A Fine Frenzy, a name she has put behind her. Early next year, when she embarks on her first concert tour since 2012, she won't perform any songs from those three albums. Not yet.
She does acknowledge some irony that, despite its reputation for casting couches and other bad behavior, the filmmaking world has been no problem in her experience. "The movie business has been so upright and lovely," she said, smiling. "In some weird way, I feel like there's been a making up for it, somehow. I definitely asked the universe to bring me good men in my life."
Sudol grew up the daughter of actors, first in Seattle until she was 5, then, after her parents divorced, in Los Angeles and Burbank. She learned early that the acting life was full of disappointments. "It was a career that no one seemed to succeed in," she says, describing it from her child's perspective as "a profession that hurt people."
Whatever acting dreams she had as a child faded as she found her own creative path through music. She spent her time reading, singing and playing piano.
"I was a teenager with a lot of strangeness in me that I didn't know how to express," Sudol recalled. "I was trying hard on the outside to be very normal and fit in, but inside I was a big weirdo. Thank God that little weirdo persisted, otherwise I would be so sad."
With her first A Fine Frenzy album, 2007's "One Cell in the Sea," Sudol connected with an international audience with the romantic hit "Almost Lover," reaching No. 23 on Billboard's adult contemporary chart, and No. 20 on the alternative chart. The ballad was sad, pretty and precious, written when she was 19.
"I was very enamored with unrequited love and fantasy. I was very scared of real intimacy," she said. "Then I had some not great experiences not long after that."
At the same time, she got an early taste of acting by appearing on "CSI: NY" as a singer being stalked by a killer. It was less a TV career move than a promotional opportunity for her debut album encouraged by her label, Virgin Records. She accepted the challenge, but the desire to act in a serious way was years away.
"I was so afraid of being lumped into this category of female actresses trying to sing," she noted. "I was worried that acting would somehow ruin any credibility I had as a musician."
Her more uptempo second album, 2009's "Bomb in a Birdcage," wasn't able to build on that early success. But "Pines" was the full flowering of her early promise, a conceptual album on nature and humanity that was cinematic and emotional. With the help of multi-instrumentalist Jon Brion, the album was understated and sweeping, and accompanied by a 12-minute animated short film, "The Story of Pines," produced by the film company Participant Media.
A 26-date tour that paired her with singer-songwriter Joshua Radin didn't go well, as she too often played to a room of bored/confused/irritated strangers. Sudol managed to win fans over with the gentle, nearly eight-minute "Riversong," but it wasn't enough to rescue her confidence.
"I lost faith in myself. Writing and recording that album, and making that film ("The Story of Pines") I went a bit crazy," Sudol remembered. "That period was burning creativity, and there was so much passion. Then when everything went down after, I lost steam. OK, I don't have any reserves left to make another record."
Even so, six months later, Sudol was working up new music with new collaborators, but could never bring herself to share any of it. She also suffered a mental block from making music or, especially, performing live, that she later discovered was clinical. She was only recently diagnosed with depression and anxiety, which she revealed in an essay to her fans online.
"I want to help erase the stigma. I didn't get help until this year, and I have been seriously ... depressed for a long time," she said. "I wanted it to be a dialogue. I wanted to create a safer environment for me to sing. I want people to know that it's ... scary for me to do it."
The magical role of Queenie has also helped. Sudol is signed up for at least four "Fantastic Beasts" films and has no idea where the story is going, even after pressing Rowling for information at a wrap party. She does know she'll be shooting a movie every two years, alternating every other year with a season of promotion, and arranging music and the rest of her life around that.
"Something this nice and this uncomplicated never happened to me before. Everything was complicated with music," Sudol says. "It gave me a stability in my life that I never had."
---
Inside the business of entertainment
The Wide Shot brings you news, analysis and insights on everything from streaming wars to production — and what it all means for the future.
You may occasionally receive promotional content from the Los Angeles Times.