With a new STEM center and a revolutionary marketing strategy, Nipsey Hussle is music's biggest disruptor
One day before the February release of his highly anticipated debut album "Victory Lap," L.A. rapper Nipsey Hussle cut the ribbon on a combination co-working space and STEM center in the Crenshaw district.
The center, partly dedicated to calling attention to the lack of diversity in the science, technology, engineering and mathematics fields, launched under the name Vector 90. The hope is to serve as a conduit between underrepresented groups and corporate partners in Silicon Valley and beyond.
"Growing up as a kid, I was looking for somebody — not to give me anything — but somebody that cared," said the 32-year-old via phone on a break from rehearsing new songs. "Someone that was creating the potential for change and that had an agenda outside of their own self interests."
RELATED: Nipsey Hussle gunned down in a South L.A. he helped build up. 'It's a sad day in L.A.' »
Hussle, born Ermias Asghedom, decided to be that person for his native South L.A., hoping to bridge the gap between young talent from impoverished neighborhoods and opportunities in Palo Alto.
"In our culture, there's a narrative that says, 'Follow the athletes, follow the entertainers,'" he said. "And that's cool but there should be something that says, 'Follow Elon Musk, follow [Mark] Zuckerberg.' I think that with me being influential as an artist and young and coming from the inner city, it makes sense for me to be one of the people that's waving that flag."
There's a narrative that says, 'Follow the athletes, follow the entertainers.' And that's cool but there should be something that says, 'Follow Elon Musk.'
— Nipsey Hussle
The inner city Hussle grew up in was the South Los Angeles of the '90s, a place where gang culture dominated. Yet he managed to develop a love of music and technology. A deep interest in the latter led him to seek out computer auctions, and after collecting parts he eventually learned to build a PC from top-to-bottom.
"I grew up in gang culture," he said. "We dealt with death, with murder. It was like living in a war zone, where people die on these blocks and everybody is a little bit immune to it. I guess they call it post-traumatic stress, when you have people that have been at war for such a long time. I think L.A. suffers from that because it's not normal yet we embrace it like it is after a while."
Ultimately, his goal was to combine his music interests with his tech sensibilities — partly due to financial constraints.
RELATED: Nipsey Hussle's dreams were bigger than hip-hop (Appreciation) »
"I had to learn how to use software early because I wanted to record myself," he said. "I didn't have a budget to pay engineers, so I had to learn how to use software myself. Just growing up, being an '80s baby that grew up in the '90s, technology was a part of culture, so I was always interested in it."
This fueled a strong entrepreneurial spirit, leading today to a top-10 album in "Victory Lap" — a work that explores Hussle's rise and the lessons he's learned as a self-taught, self-funded MC. Along the way, Hussle pioneered a number of innovative measures in marketing and self-promotion, and caught the attention of some of the biggest names in hip-hop.
Hussle's label, All Money In, has a partnership with Atlantic Records. He also owns what he calls a "smart store" for his fashion brand, the Marathon Clothing, at West Slauson Avenue and Crenshaw Boulevard, where visitors can use an app to enhance their experience.
Additionally, he is part of an investment syndicate that includes DJ Khaled and the Lakers' Luol Deng leading a bid to acquire the leasehold for Santa Monica's historic Viceroy Hotel.
"I just want to give back in an effective way," he said. "I remember being young and really having the best intentions and not being met on my efforts. You're, like, 'I'm going to really lock into my goals and my passion and my talents' but you see no industry support. You see no structures or infrastructure built and you get a little frustrated."
I remember feeling, like, No. 1, what's the point and, No. 2, maybe I'm tripping. Maybe I'm not even supposed to be ambitious.
— Nipsey Hussle
The lack of opportunity can make gang culture seem the most viable option.
"I remember feeling, like, No. 1, what's the point and, No. 2, maybe I'm tripping. Maybe I'm not even supposed to be ambitious; maybe I'm not even supposed to be thinking this big and thinking outside the box; maybe I should just follow suit," Hussle said. "That's a dangerous thing. I would like to prevent as many kids from feeling like that as possible. Because what follows is self-destructive."
The idea for Vector 90 was born during a fortuitous encounter with a stranger seated beside him at a Lakers game. A conversation, fueled, Hussle said, by tequila, led to an instant connection.
It turns out Hussle was seated beside real estate developer and South Los Angeles native David Gross. Gross floated the idea of partnering on an upcoming project, and the following day Hussle and a friend drove to Gross' Calabasas office. It was there that Gross presented the concept, then called "Too Big to Fail."
"He just showed it to me as an inner city, co-working environment, kind of in the direction of WeWork," Hussle recalled, referring to the firm that focuses on communal workspaces. "And then [with] a science, technology, engineering and math center as another element to the two-story space."
The co-working environment, which occupies the second floor of a multilevel, 4,700-square-foot space, will offer flexible short term leases, daily passes, monthly memberships, private offices and custom build-outs for teams needing bespoke options.
The STEM program, which occupies the bottom story, will be open to local children's organizations and individual families, subject to an application process similar to the co-working community. The members-only space will begin accepting applications in April.
"When he explained it to me I was, like, 'Man, I'm 100% with it,'" Hussle said.
Still, Hussle doubted Gross' commitment to the plan until the real estate developer came by Marathon Clothing to get to know his potential partner.
"It just came together like a perfect storm," he continued. "It's really random and I think there's a higher power working right now from how everything came together. Because it was just a gang of unpredictable events that led to this thing happening at the time it's happening."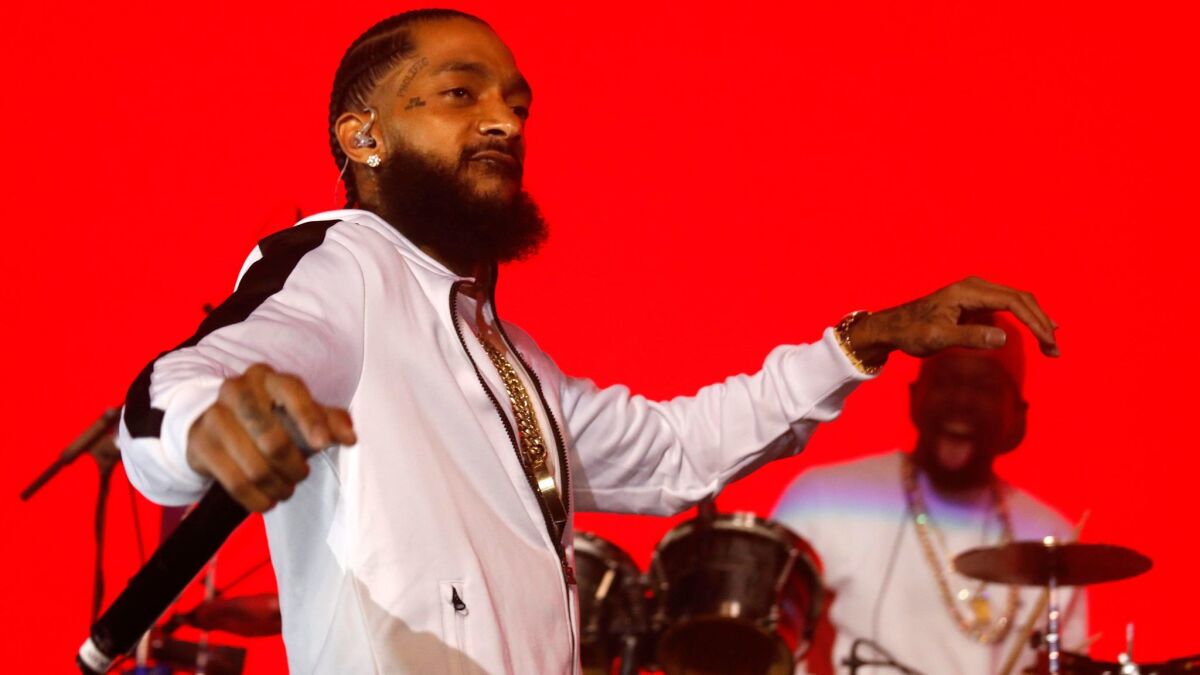 In addition to the launch of Vector 90, Hussle would drop his long-awaited, 16-song debut album, "Victory Lap," the following day.
A fixture of the indie-rap circuit for almost 10 years, Hussle is a seasoned mixtape veteran with 12 efforts to his name and a handful of collaborative projects.
"Victory Lap" is his first album distributed through a major label.
"So far everything has been beautiful," he said. "This is the best runway I've ever put one of my products on. Resource-wise, we were able to get better producers, clearer samples, bigger studios. It's just been a lot less taxing on me as a businessperson, and I've been able to get into my artist bag a lot more, so I'm really happy with how things are going so far."
The first album in a multi-project deal with Atlantic, "Victory Lap" premiered to critical acclaim and landed at No. 4 on the Billboard 200 albums chart.
The success of the album, which features guest appearances from YG, Puff Daddy, Kendrick Lamar, the-Dream and others, is due in no small part to Hussle's history of successful independent rollouts.
"I'm not known for being somebody who just goes into the studio and makes songs," he said. "There's a thought process. I'm known for thinking about how we roll the album out also and what we can do to set ourselves apart. So that makes a world of difference."
That practice has led him to some out-of-the-box marketing approaches. While releasing two past mixtapes 2013's "Crenshaw" and 2015's "Mailbox Money," Hussle employed what he dubbed a "Proud2Pay model," making the tapes available for free download and selling a limited number of physical copies at a premium.
"The Proud2Pay campaign was my take on the psychology of a purchase in an era where music is digital," he said. "The psychology of why you buy music in an era where you don't have to. I tried to reverse-engineer the purchase.
I want to make music that I believe in and that I'm inspired by. And not music that I feel like has to make it past the radio gatekeeper.
— Nipsey Hussle
"What I realized is that there's another metric that we gauge the value of the product off of, and that's the level of inspiration," he continued. "If you inspire somebody, they want to reciprocate that in the form of a purchase." Adele did something different because she sold 20 million units when you can bootleg Adele. The frequency that those songs exist in inspire people to such a degree that they want to give it back."
A limited number of physical copies of the "Crenshaw" mixtape were made available to super fans for $100 each. After Jay-Z caught wind of an article Hussle penned for RapRadar explaining the approach, the superstar rapper decided to show support, purchasing 100 albums.
Hussle says the Proud2Pay model allowed him to make music authentically, rather than trying to anticipate what would generate radio plays.
"I was able to make music differently and approach art differently," he said. "I don't want to make songs that I don't like and that I'm not inspired by. I won't be on the radio with these types of records and that's fine if I can get $100 for CDs and sell ten times less and equal the same amount of profit. But I want to make music that I believe in and that I'm inspired by. And not music that I feel like has to make it past the radio gatekeeper or the label gatekeeper."
follow me on twitter @sonaiyak
Get our L.A. Goes Out newsletter, with the week's best events, to help you explore and experience our city.
You may occasionally receive promotional content from the Los Angeles Times.