A hip-hop game changer: How Grammy-nominated Tyler, the Creator became Tyler, the entrepreneur
"Jellyfish are evil," Tyler, the Creator, declares with absolute certainty.
We're at Hollywood's Chalice Recording Studios, where Tyler fidgets with a piece of studio equipment as he talks, his fingernails shiny under a coat of glittery silver polish.
"They're smarter than us, almost," he continues. "When they learn how to drive and use Google, we're [screwed]. A lot of them don't die, they split into two and then they've got homies."
The Grammy-nominated rapper — he's up for rap album with last year's introspective "Flower Boy" — isn't randomly discussing his strong disdain (OK, hatred) for the squishy, poisonous sea creature. The tentacled animal was part of the inspiration for "The Jellies," the Adult Swim animated sitcom he co-created with Lionel Boyce. But that's just one of many projects that keeps the 26-year-old busy.
Consider the particularly action-packed two weeks in October when Tyler premiered "The Jellies," hosted his sixth-annual Camp Flog Gnaw music festival and carnival, launched a fall concert tour in promotion of "Flower Boy" and debuted the L.A. flagship store for his apparel line Golf Wang to the kind of fervor normally reserved for a Supreme launch. This month, he released a new design of Golf le Fleur sneakers and is starting another "Flower Boy" tour. With plans to expand into furniture and film in the near future, Tyler is just getting started.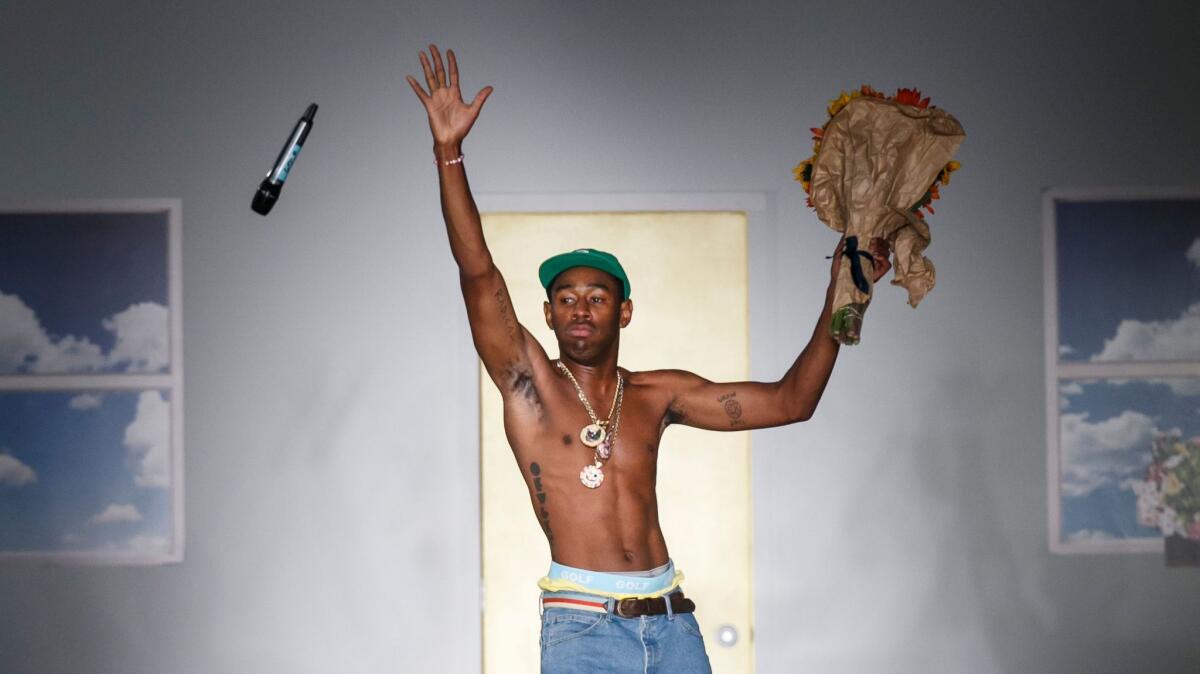 "I'm just doing what feels right at the moment," he says. "People ask me [how I can jump from medium to medium] and I think I lied once or twice, like, 'Oh, my attention span.' But I don't know. I guess that's just how I'm wired."
As the founder of Odd Future, the hip-hop collective that was home base for Frank Ocean, Earl Sweatshirt, Hodgy Beats, Mike G. and many others, Tyler, the Creator — born Tyler Gregory Okonma — was a pioneer in using the internet to bypass radio to build a massive audience. And instead of relying solely on conventional concert promoters, Tyler created his own music festival in 2012 as a showcase for the acts of Odd Future and others that fit his evolving vision of hip-hop culture — not to mention a marketing opportunity for his fashion lines. Camp Flog Gnaw Carnival is now produced by the rapper alongside festival juggernaut Goldenvoice, and in six years has grown from a daylong event for 1,500 fans to a two-day, multi-genre blowout that lures 40,000 to the quirky, escapist playground at Los Angeles' Exposition Park.
"We went in blind not knowing what the ... we were doing," Tyler says of Flog Gnaw. "But you really learn on the way. Not taking no for an answer. That's a lot of people's problem, I think. They think it's only one way into a door. But no, it's a roof, it's some windows; you could dig and go underground. You could blow [the place] up."
That propensity for blowing up the establishment has worked well for Tyler, the entrepreneur, but in the earlier days of his music career, he was pushing boundaries with rap lyrics that many found offensive. Controversial songs written from the point of view of an alter ego on a 2009 mixtape and his 2011 debut album, "Goblin," led to him being banned in New Zealand and Britain.
"Why don't they ban authors?" he asked at the time in this paper. "Writers who write these mystery books about people getting raped and sabotaged and murdered and brainwashed?"
These days, he no longer performs his most polarizing songs. But Tyler is far from ready to stage an apology tour.
"It's a weird situation when the first songs you write as a kid become who you are to people," he says. "That all was so long ago. What can I say other than I grew up and would rather my growth be judged by my actions."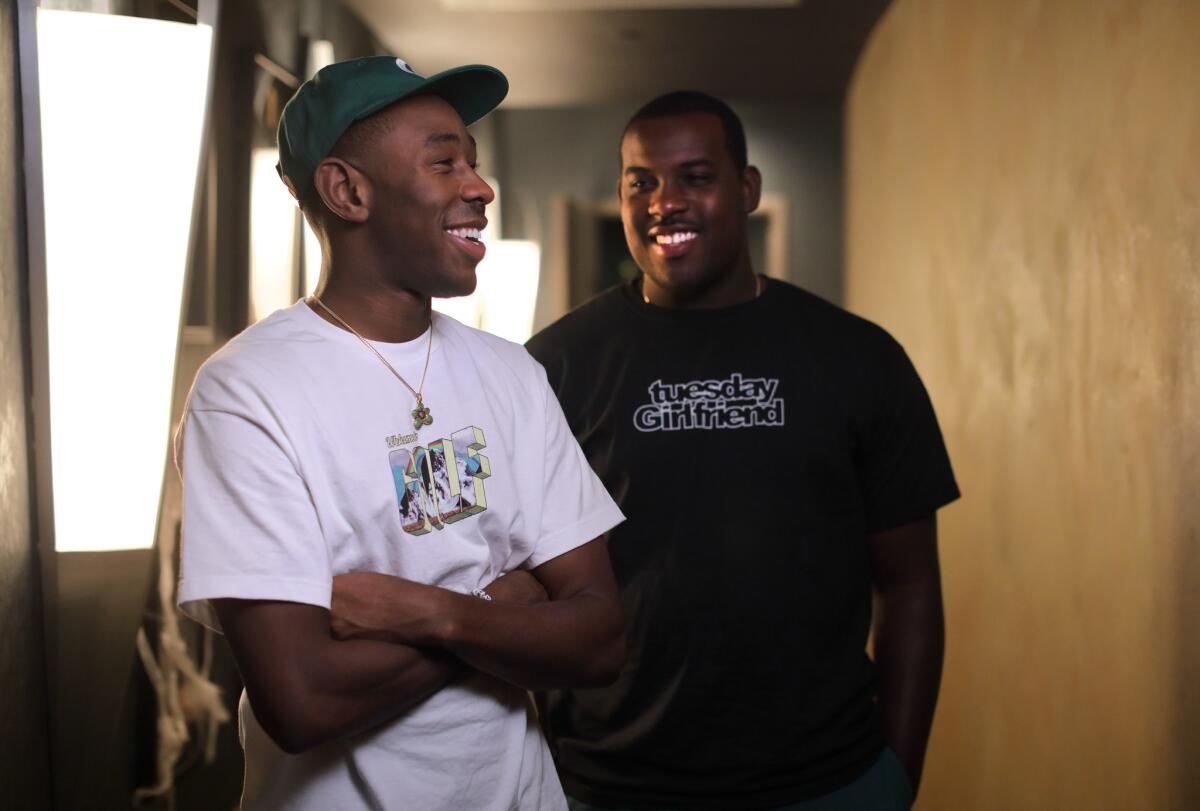 He showed that growth on "Flower Boy," an album that saw him curbing his brash, tormented persona in favor of songs that were pensive and heartfelt — vulnerable. The album landed at No. 2 on the Billboard 200, his highest debut yet, and in addition to the Grammy nomination made a slew of year-end lists. He credits the album's success to his maturity as an artist and producer.
"Musically, I just got better," he says. "And got more in tune with the sound that I wanted to use. I just became a better producer. I mean, if you do something all the time and study it, you're eventually going to get better."
As for his critics, he says, "I just do my thing. If you're running a race and you stop for every person who says something, you're not going to get to your end destination. You only get pigeonholed if you let them pigeonhole you."
It's certainly not easy to pigeonhole Tyler's television projects. His most recent animated show for Adult Swim is a deep departure from his previous TV ventures — the live-action sketch comedy series "Loiter Squad," which ran for three seasons from 2011 to 2014 on Adult Swim, and Tyler's "Nuts + Bolts," a how-it's-made docu-series that ran on Viceland last year. His latest show, "The Jellies," follows a family of jellyfish and their 16-year-old human son, Cornell, who just happens to be black.
"Unlike 'The Boondocks' or 'The Cleveland Show,' it's not like, 'Oh, he's black!'" Tyler says. "Not every episode are things pointing out that he's black. We're just letting him be who he is."
Tyler and Boyce, his frequent collaborator, drew upon their lives growing up in L.A. to inform Cornell's humor and experiences.
"We were '90s kids," says Tyler. "We grew up on 'South Park,' and 'Family Guy,' 'Hey Arnold!' and 'Dexter's Laboratory.' And just us being black, our filter is different. So what we put out is just coming from a different place, because most of these cartoons are by middle-aged white dudes."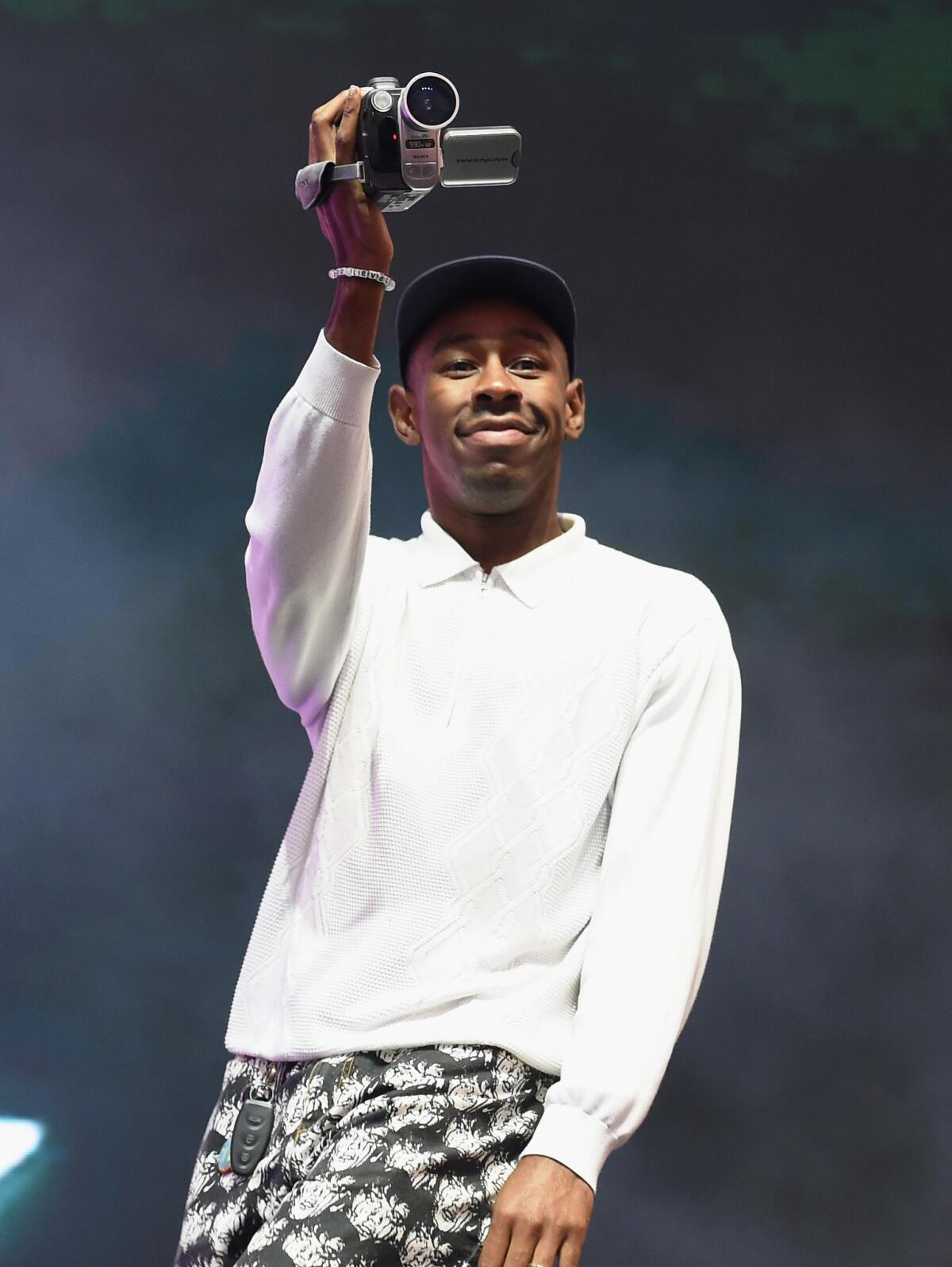 Tyler's innate curiosity and creativity was apparent at a young age.
"I used to draw on all my clothes as a child and people would be like, 'Why are you doing that? What's the point of that?'" he says. "But I had no place else to put my drawings and showcase them. And now [I've opened] a store for the clothes that I make now.
"Golf Wang is literally just clothes that I would wear, and I decided to sell them, truthfully. Just my color palettes at the moment."
Though he's found success in TV and fashion, Tyler says that if he could choose only one lane of expression, he'd choose music.
"I would rather make music over everything," he says. Still, he admits, with TV, "you can really focus in on character development. And just getting crazy with it. Like, it's hard to blow up a building in a song."
Furniture and even car design are other areas he wants to explore.
"Useful art," Boyce offers.
"I want to do some Pirelli tires," Tyler says. "I want to do something with McLaren," the British automaker.
He's also thinking about making movies.
"I want to do some short films," Tyler says. "I think A24 [the indie film company behind 'Lady Bird,' 'The Disaster Artist' and 'The Florida Project'] is sick. I would like to do something with A24, whether it's a 20-minute short or we do a full-length film."
When asked about a five-year plan, Tyler puts it like this:
"In five years, I want a LaFerrari," he says of Ferrari's limited-production hybrid luxury car. "That's a $4-million car right now. In five years, that car could be $11 million. Based on that, if I can afford an $11-million car, you know that I'd have all these other things — which means that all my other ideas and goals in between that LaFerrari and right now were a success… I'm not getting that car unless I can get that car. That means I will be killing it. I dream of that car."
Already, though, he's not doing so bad. And he's become friends with many of his childhood heroes and hip-hop peers. "Any time I need advice, I'll hit up Jay [Z] or Pharrell or Kanye or Frank [Ocean]. Just soaking in any advice that I can, so I don't make any mistakes they may have made."
But his most memorable advice came from a fan.
"This kid told me years ago, 'You'll make it like pickles.' At first I didn't get it. But then the kid explained: 'People think you're weird now . . . But in the future, you're going to be like pickles, where they automatically just put you on burgers.' I think it's starting to get to that point, especially because the album I made — which, we're talking about modern rap — it's kind of left field for what people are used to. The fact that I got nominated for a Grammy, that's kind of crazy.
"No matter what I do, like if I stole a car seat from Toys R Us, they're going to have to say 'Grammy-nominated artist Tyler, the Creator gets arrested for stealing a car seat from Toys R Us.' Just that accolade right there is really cool. And that feels crazy because I feel like I'm not supposed to be nominated with those guys. I don't have the popping song on the radio. I'm not on Twitter's trending thing. I'm not on 'SNL' every week making people like me. I'm like, 'I'm just doing what I'm doing.'" Like pickles.
follow me on twitter @sonaiyak
ALSO
From 2017: Camp Flog Gnaw celebrates weirdness, individuality and branding
From 2015: Tyler, the Creator denied entry into Britain after 'unacceptable behaviours'
From 2011: Album review: Tyler, the Creator's 'Goblin'
From 2011: Odd Future Wolf Gang Kill Them All is performing rap on its terms
From 2011: At SXSW 2011, Odd Future makes a quick exit
Get the Indie Focus newsletter, Mark Olsen's weekly guide to the world of cinema.
You may occasionally receive promotional content from the Los Angeles Times.