'SNL' tackles sexual harassment and Tiffany Haddish makes history as the first black female comedian to host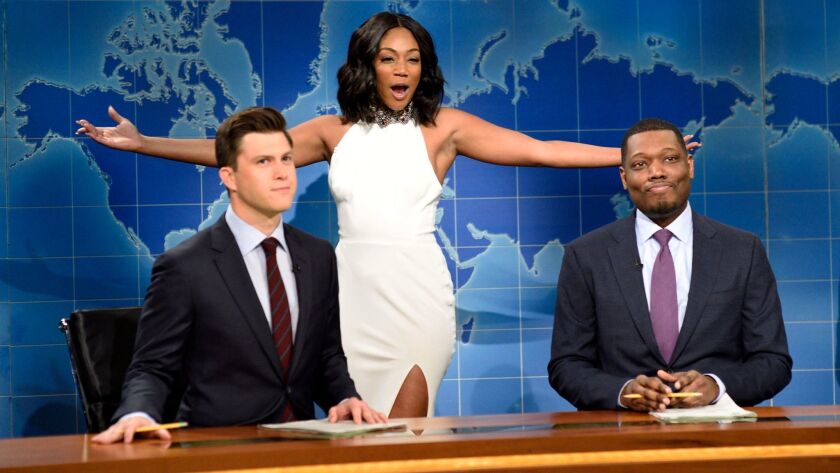 "Girls Trip" star Tiffany Haddish made history Saturday night as the first black female stand-up comic to host "Saturday Night Live."
"I grew up in foster care," Haddish said in her opening monologue. "I've lived in a lot of group homes and my favorite show growing up was 'SNL.' You have no idea how difficult it is to get a bunch of black and Hispanic kids to watch 'SNL' over 'In Living Color.'"
Haddish also touched on the spate of sexual harassment allegations erupting across Hollywood by offering a sage "Tiff tip."
"Listen fellas," she said. "If you've got your thing-thing out, and she got all her clothes on, you're wrong. You're in the wrong."
In a meta moment, the show also addressed the controversy last week's host Larry David faced after joking in his opening monologue about picking up women at a concentration camp. David returned last night in his recurring role as Sen. Bernie Sanders, saying: "We're really going to lace into people if they don't say what's politically correct. Like these comics out there who think it's OK to make jokes about concentration camps. That guy should rot in hell."
The topic of sexual misconduct was highlighted in several other moments throughout the night.
A sketch featuring cast members Mikey Day, portraying Alabama Republican Senate nominee Roy S. Moore, and Beck Bennett, playing Vice President Mike Pence, touched on a scandal that has shaken Republicans in recent days. Sitting ramrod straight, Pence tries to convince Moore to end his candidacy over widening allegations that he engaged in improper sexual conduct with teenagers decades ago.
"The left-wing media loves to repeat these sexual harassment stories," said Day as Moore. "There's a new one every day, Mike."
"I know," replied Bennett as Pence. "Even I heard about Louis C.K. and I'm not allowed to watch TV, I'm only allowed to listen to it."
Later in the sketch, Kate McKinnon (performing in convincing makeup as Atty. Gen. Jeff Sessions) referenced it again while speaking to a taxidermic possum she referred to as Papa.
"There's so many men out there acting like monsters," she said. "Mr. Weinstein, Kevin Spacey … the president. Daddy, has this been happening forever? Have I both fostered and benefited from a culture of systemic oppression? No? Well, that's a relief."
During "Weekend Update," co-anchors Colin Jost and Michael Che also made pointed commentary on the barrage of sexual harassment allegations surfacing.
"Well, it's a good weekend to stay inside, since it's 20 degrees out and everyone you've ever heard of is a sex monster," said Jost. The screen behind him flashed images of C.K., Spacey, Weinstein and Moore.
On Moore, Jost said, "I'm not saying he's guilty, but his naughty little cowboy outfit is screaming it. He looks like a guy who shows up in 'Westworld' and says, 'Hey, can someone show me where the middle school is?'"
Che jumped in with commentary on Alabama state auditor Jim Zeigler's use of the Bible to defend Moore. "Mary was a teenager and Joseph was an adult carpenter," Ziegler told the Washington Examiner on Thursday. "They became parents of Jesus."
"So that's what you're going with?" said Che incredulously. "Roy Moore was trying to make a Jesus? Oh, OK, so guess R. Kelly was just trying to make it rain for 40 days and 40 nights."
Later in the sketch cast member Cecily Strong joined the desk as the harried Claire from HR, with a receipt stuck to her neck and hair slightly askew.
"What is the appropriate way to handle a workplace relationship?" Strong quizzed Jost. "A) inform someone at H.R., B) lock her in a room and make her look at it, or C) bully her out of the entire industry?"
She held up a doll dressed in a suit with a cigar in his mouth and asked Jost, "When talking to a co-worker in the office, where should you keep your penis?"
"Excuse me?" Jost said.
"Just point on the doll where your penis should be," she clarified. "No wrong answers here, just super-wrong answers."
Before taking her leave, Strong was serious for a moment.
"All of this isn't just a scandal, it didn't just start last week. It's just actual reality for half of the population."
follow me on twitter @sonaiyak
---
Inside the business of entertainment
The Wide Shot brings you news, analysis and insights on everything from streaming wars to production — and what it all means for the future.
You may occasionally receive promotional content from the Los Angeles Times.