Oscar-winner Lee Grant talks classic films, the blacklist and being a female director in Hollywood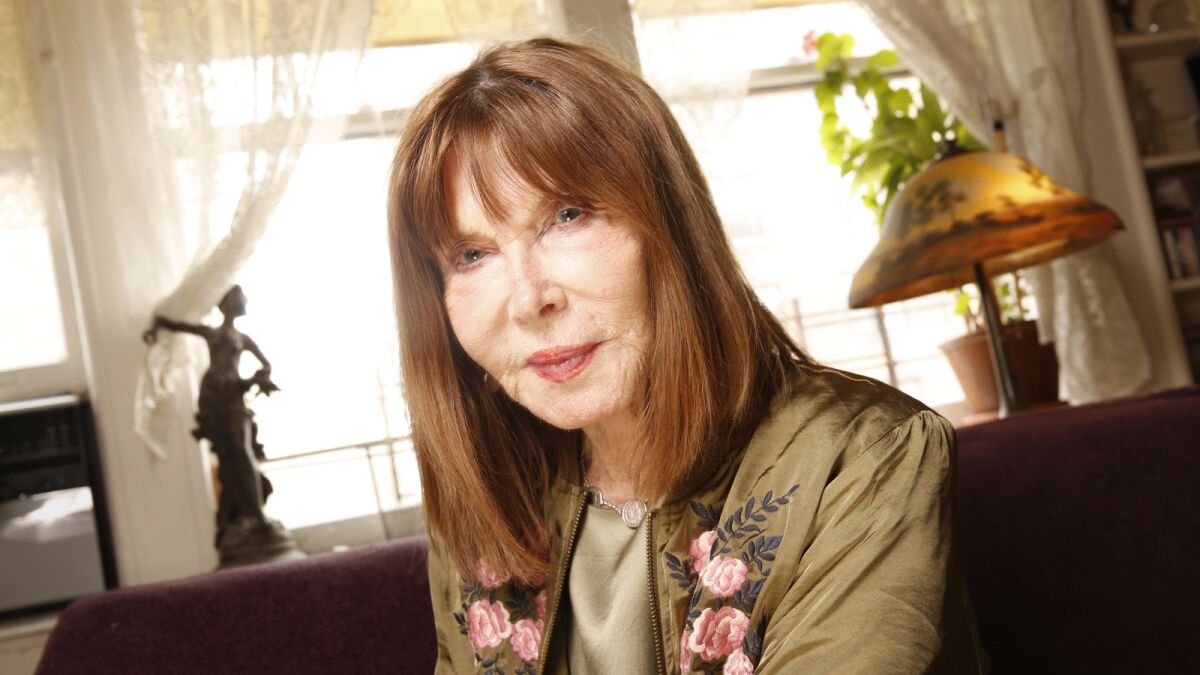 Reporting from NEW YORK —
Lee Grant, actress, director and trailblazer for nearly 70 years, remembers her breakthrough.
It was 1949, and she was offered a Broadway role as the pretty ingenue lead in a naturalistic cop drama, "Detective Story."
As she sits in her kitchen in Manhattan, Grant recalls her response to the chance of a lifetime.
"I said, 'Can I play the old lady?' "
By old lady, the then 22-year-old Grant meant the role of a fortysomething shoplifter. It was a small part, but Grant played it twitchy and naive, with an oddball New York accent that she got from eavesdropping on two girls on a crosstown bus. The actress, who turns 91 this year, never counted lines or script pages in her life.
"You know, every other woman's part in that [play] was … boring," Grant says, rolling her eyes. "I pretty much always stuck to the most interesting part I could play." The 1951 movie version starring Kirk Douglas earned her best actress at the Cannes Film Festival and an Oscar nomination.
"Detective Story" is one of three films screening in tribute to Grant at the TCM Classic Film Festival this week. The others feature Grant as a rich lady with no head for alcohol in the delightful 1970 Hal Ashby-directed "The Landlord," and as the widow of the murder victim in "In the Heat of the Night," director Norman Jewison's landmark 1967 drama about racial prejudice in a small Southern town. The latter film screens opening night, with Grant, star Sidney Poitier, Jewison, producer Walter Mirisch, actor Scott Wilson, composer Quincy Jones and casting director Lynn Stalmaster in attendance.
Grant bridged a period in cinema history from the studio era to New Hollywood. In many ways, she was a precursor to today's politically active performers and filmmakers, but it came at a price.
There's a noticeable gap on her resume, and a well-known reason: Beginning in 1951, Grant was blacklisted. Newly married to screenwriter Arnold Manoff, a Communist Party member, she had also spoken at a fellow actor's memorial and said "he was afraid of going in front of the House Un-American Activities Committee." From age 24 to 36, Grant was all but unemployable in Hollywood, working primarily in New York theater and television.
She and Manoff divorced in 1960 and he died in 1965 at age 50. Grant has always believed the blacklist shortened his life. Her ordeal was over by the time "In the Heat of the Night" came along and, Grant says, "I knew that part." Director Jewison and editor Hal Ashby "knew about me, they knew about the blacklist," she says. "They were very political people. [But] we never discussed it."
So in the scene where Poitier, as the investigating cop, discloses her husband's death, Grant says, "I just went into that place of loss." She calls it a "dance" with fellow Method actor Poitier and recalls that some dialogue was improvised. When Poitier leaves Grant in the room, sobbing comes from behind the closed door.
Was that still her? "Yeah," says Grant softly.
"The Landlord" continued the relationships from "In the Heat of the Night." "Norman produced it, and Hal was directing it. And Hal had this unique take on everything, all of his movies had a unique, totally undone, fresh way of looking on things." Grant based her character on her own mother and aunt, ladies with high, fluting voices and a "wonderful, ridiculous part to them."
"I saw it recently, and I loved it," confesses Grant. "I loved myself, I loved Pearl" (Bailey, with whom Grant shares an unforgettable pork chop and wine lunch). Grant wound up with another Oscar nomination, for another role where she played older than she actually was.
That's somewhat ironic, because Grant's legendary caginess about her age has long drawn jokes. But the reason has never been funny. "It's not ego," says Grant. "It's not. It's that there is a date — what's it called on the milk?"
The sell-by date?
"The sell-by date! … All of us women are acutely conscious of that sell-by date. I worked with the most beautiful actresses in Hollywood, who knocked it out of the park at the box office. Then one, two years later, the dailies come up, and the heads of the studio are saying, 'Eh, she looks old, she looks fat.'"
It was in part a sense of that lurking expiration date that caused Grant to shift gradually away from acting after her Oscar-winning triumph as the wealthy married woman dallying with Warren Beatty in the 1975 social satire "Shampoo," also directed by Ashby. "I walked away from it because I knew that my [sell-by] date had come up after the Oscar," she muses. "I knew that I wouldn't get the kind of parts in the [same] kind of movies. They weren't being made anymore."
She did take some more roles, like "Voyage of the Damned," based on the journey of a 1939 ocean liner full of Jewish refugees who were refused entry by the U.S.
"That was a good reflection of today," she says. "Where so many people are being turned away."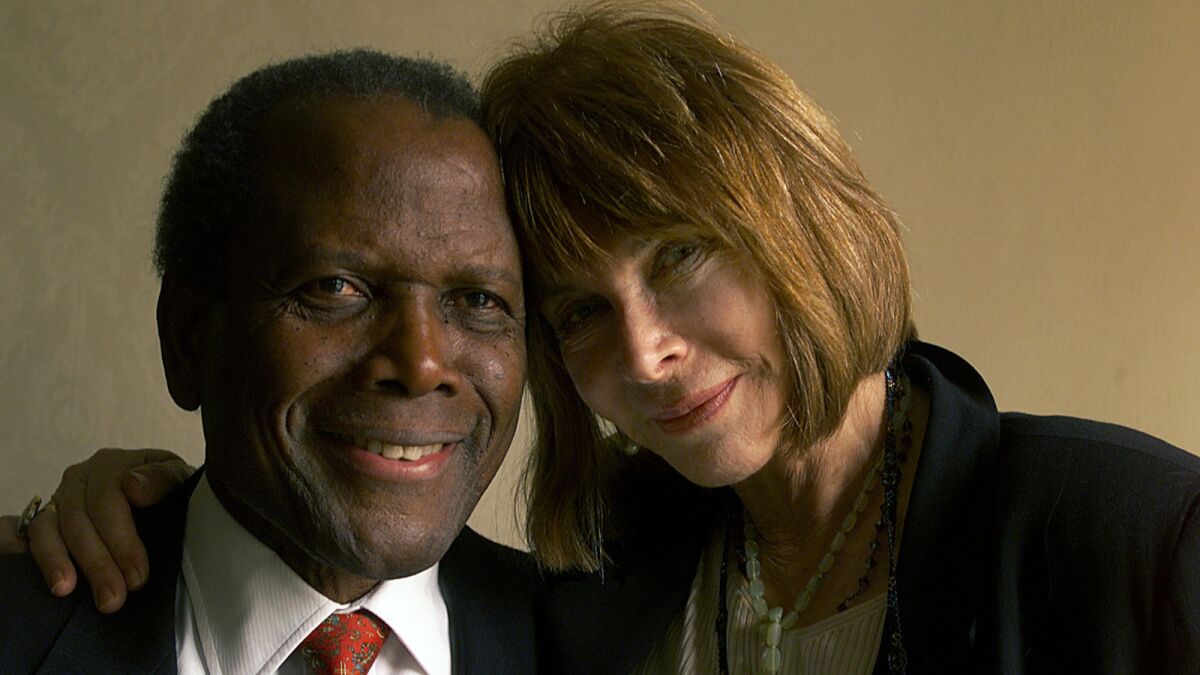 That unmistakable reference to the current administration points up Grant's third act as a filmmaker, a pioneer from the 1970s forward in a business where women directors are still underrepresented. Grant has often made documentaries with a political edge, such as "What Sex Am I?," a sympathetic look at transgender issues, and the Academy Award-winning "Down and Out in America," a 1986 indictment of Reagan-era homelessness.
Now Grant is ready to move on to a new distribution model: YouTube. "I've made a five-minute video on 'The Battering of Hillary Clinton,'" she says. It's a montage of the seething animus Grant saw Clinton endure during the presidential campaign. "That's a battered woman," she says, simply. She's put the result together with a computer-savvy student and hopes to post it soon.
Lee Grant was through with keeping quiet many decades ago.
-------------
TCM Classic Film Festival
Where: TLC Chinese Theatres, Egyptian Theatre, Cinerama Dome, Montalban Theatre and other venues, Hollywood
When: April 6-9
Information: www.tcm.com/festival
See the most-read stories in Entertainment this hour »
---
Get the Indie Focus newsletter, Mark Olsen's weekly guide to the world of cinema.
You may occasionally receive promotional content from the Los Angeles Times.