10 Images
Tough guys in family comedies
Robert De Niro
:
Somewhere around "Analyze This" something changed in Robert De Niro. Not that there's anything wrong with stretching into comedy, but just one year after playing a distressed mob boss in the 1999 hit De Niro went even further to the lighter side with "Meet the Parents" and, more regrettably, "The Adventures of Rocky & Bullwinkle." Somehow, "Analyze This" co-star Billy Crystal must be to blame for Travis Bickle's mohawk showing up on Fearless Leader's head.
(ILM / Universal Studios)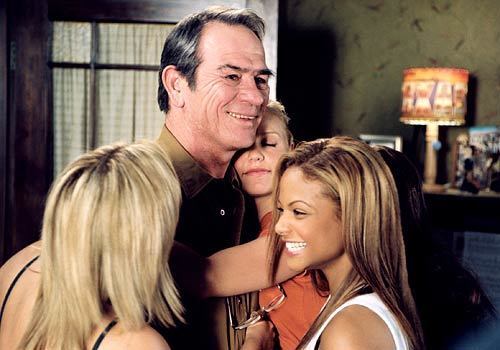 Tommy Lee Jones
:
Tommy Lee Jones is so flinty, when he enters a forest, he's automatically a fire hazard. But the "Fugitive" star had a hard time maintaining his gruff exterior when he was paired with a squad of cheerleaders in "Man of the House."
(Van Redin / Columbia Pictures)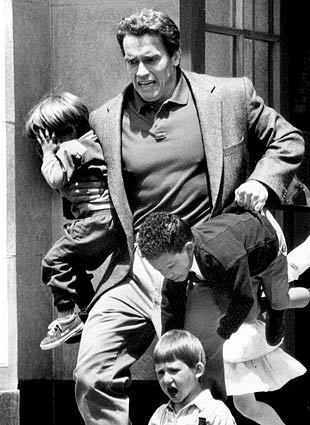 Arnold Schwarzenegger:
In that uncertain period between his time as the Terminator and being elected as the "Governator," Arnold Schwarzenegger slowly but surely traded his tough guy cred for a warmer, snugglier version. His family comedy era, which included "Kindergarten Cop," "Jingle All the Way" and "Junior," replaced his sinister catch phrase "I'll be back" with the odder "Who is your daddy and what does he do?"
(Bruce McBroom / Universal City Studios)
Vin Diesel
:
With biceps the size of a small child, Vin Diesel seemed poised for Schwarzenegger-esque action stardom with popcorn flicks like "Pitch Black" and "XXX" under his belt. Then he chose to follow Arnold's footsteps a little further in 2005's "The Pacifier," which can be viewed as "Kindergarten Cop" without the menacing presence of bad guy Richard Tyson. Audiences were impressed--the film surprisingly grossed over $100 million. Can a place in government be next?
(Kerry Hayes / Disney Enterprises)
Sylvester Stallone
:
After "Rocky V" only took in $40 million at the box office, Sly seemed to lose his footing in the early '90s. First came the criminal-goes-straight comedy "Oscar" then, most egregiously, 1992's "Stop! Or My Mom Will Shoot" co-starring "Golden Girl" Estelle Getty. The movie earned three Razzies, including one for Sly's performance, but still managed to outperform "Oscar" at the box office. Unfortunately, that isn't saying much.
(Peter Sorel / Universal Pictures)
Joe Pesci:
Talk about a change in tone: In the same year Joe Pesci starred as the homicidal mob soldier in Martin Scorsese's "Goodfellas," he also had a smaller role as a burglar in Chris Columbus' "Home Alone." In one, he got to say, "Am I a clown? Do I amuse you?" and made audiences shiver. In the other, he got hit on the head a lot, and audiences continued to shiver. He followed it up with less-than-intense roles in "Gone Fishin'" and "8 Heads in a Duffel Bag."
(Dean Williams / Hollywood Pictures Co.)
Chuck Norris
:
Karate champion. Delta Force agent. Texas Ranger. If it can be done in the world of action, Internet folk hero Chuck Norris most likely has done it. In 1992 Norris moved into the realm of family fare with "Sidekicks," the story of an asthmatic kid with Chuck Norris fantasies who takes up karate with the hopes of meeting his high-kicking hero. The film proved once and for all that Chuck Norris doesn't do kids' movies, kids strive to be in Chuck Norris movies.
()
Clint Eastwood:
He was Sergio Leone's Man With No Name, then he was Dirty Harry, and when it appeared he'd run out of humans to squint angrily at, he picked up an orangutan. Though his success as a director and movie star have pretty much guaranteed him a hallowed spot in Hollywood history, it should be noted that Clint Eastwood was not above co-starring with kids or animals in "Every Which Way But Loose."
(Warner Bros.)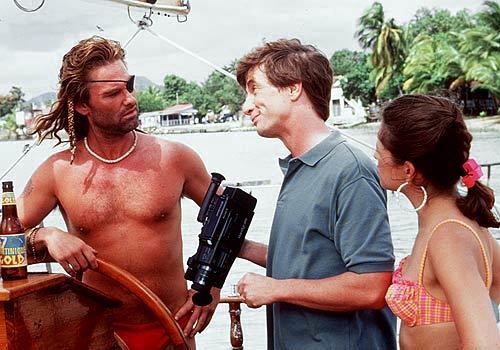 Kurt Russell:
He was Sylvester Stallone's hard-charging opposite in 1989's "Tango & Cash" and is about to debut as Stuntman Mike in Quentin Tarantino's half of "Grindhouse," but fans of family comedy will no doubt remember Kurt Russell's turn as the sleazy water rat Captain Ron. Not many actors can share a comedy with Martin Short and live to tell the tale, but the guy who brought Snake Plissken to life fears no man.
(Cliff Lipson / Touchstone Pictures)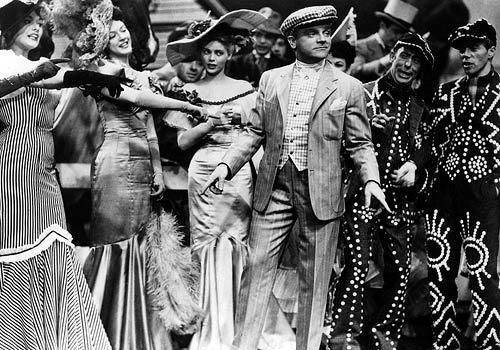 James Cagney:
Though he will live on forever in Oscar telecast clip montages screaming "Top of the world, Ma!" and shooting his machine gun, "Public Enemy" and "White Heat" star James Cagney eventually softened up on-screen, starring in "Yankee Doodle Dandy" as composer/singer/dancer George M. Cohan.
(Turner Entertainment)