'Ghostbusters,' 'Bridesmaids' director to kick off the three-day USC Comedy Festival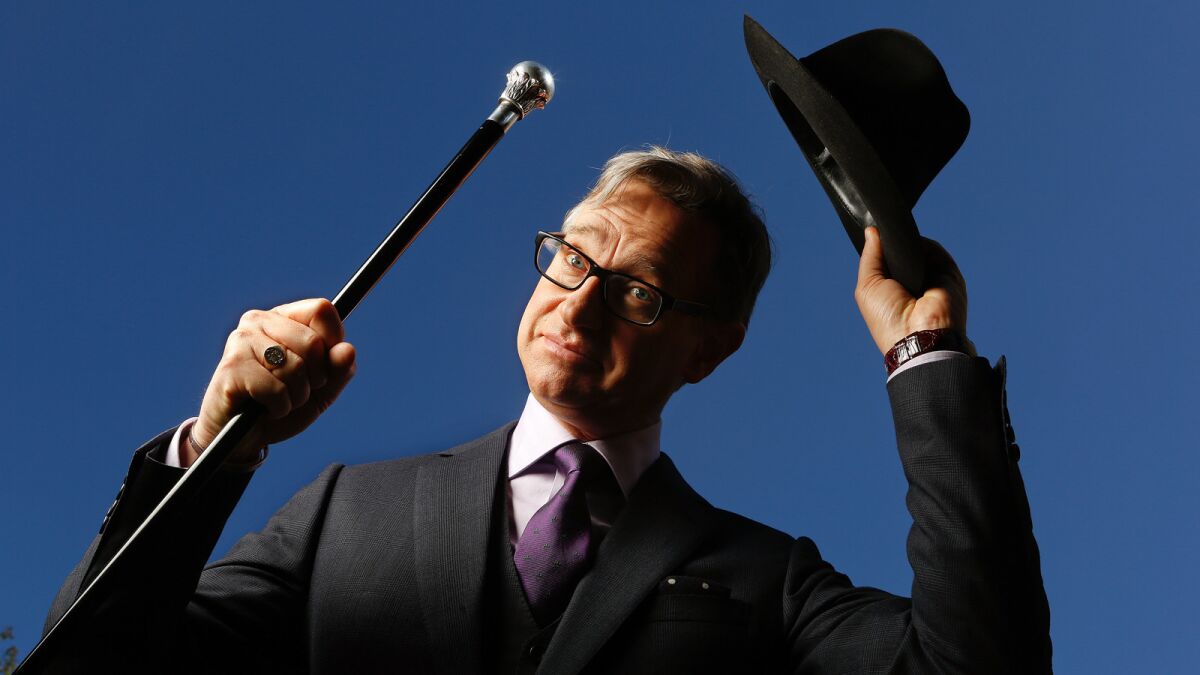 When Paul Feig attended USC film school in the 1980s, the future director of "Bridesmaids" and "Ghostbusters" didn't quite fit in with his fellow students.
"I was looked at as the oddball who was just trying to make goofy little comedy films while everybody else wanted to be the next Godard," he recalled.
The last laugh, so to speak, belong to Feig — and not only because he's become one of Hollywood's go-to comedy directors. On Oct. 28 Feig will return to his alma mater to receive the Jack Oakie & Victoria Horne Oakie Masters of Comedy Award in a ceremony that kicks off the three-day USC Comedy Festival.
I always like to see comedy legitimized as much as possible.
— Paul Feig, director of 'Bridesmaids' and 'Ghostbusters'
The festival began in 2011 as a way to introduce USC Comedy at the School of Cinematic Arts, the first university program in the country to focus on comedy. "It's nice to see such change happen in the last, god, 30-plus years," said Feig. "I always like to see comedy legitimized as much as possible."
Comedy has long been underrated in academia, and in Hollywood for that matter — funny films are always in short supply during awards season. Part of that is the persistent notion that comedy can't be taught.
"It doesn't make any sense," contends Barnet Kellman, USC professor and one of the program's founders. "What you cannot teach is talent in anything — in music, in painting — but nobody shies away from sharing expertise." (He's sharing plenty, having directed hundreds of hours of television, from classics like "Murphy Brown" to the current hit "The Middle.)"
Alumna Meenakshi Ramamurthy was an early beneficiary of the comedy studies. "I used to think of writing and directing as pure artistry," she noted. "But comedy often comes from studying the reality of a situation and the motivations of characters."
This is the third festival since 2011 and the first to have a subtitle, "The Changing Face of Comedy," because, as Kellman explains, "so much has changed since 2011 that we felt we needed to note that and focus on it."
I can't tell you how bleak the landscape was, as a young writer of color coming out of film school circa 2010
— Tracy Oliver, co-writer of 'Barbershop: The Next Cut'
USC alum Tracy Oliver will be speaking on the "United Colors of Comedy" panel, which looks at racial inclusion in comedy. When she started working on the web series "The Misadventures of Awkward Black Girl" as a writer, producer and actress, no comedy shows starred women of color on TV.
"I can't tell you how bleak the landscape was, as a young writer of color coming out of film school circa 2010," said Oliver, who co-wrote the movie "Barbershop: The Next Cut." "I look at the panel as a sign of progress. Five years ago there wouldn't be enough people to make up a diversity panel."
Ramamurthy is looking forward to attending that panel, although she could speak on it as well. In her last year at USC, with support from the comedy program, she created the web series "The FOB and I," about the clashes and bonds between an Indian American woman and her "fresh off the boat" cousin from India. She'll talk about her series at the "New Platforms" panel.
One of the panels, "The Changing Face of Politics — It's All Comedy" is likely to provide fireworks. As a director ("Recount," "Game Change," the "Austin Powers" series), panelist Jay Roach has experience in the comedy and political areas.
He noted that he would have attended the panel as an audience member just to hear fellow panelists Norman Lear, Diane English and Frank Rich discuss whether the world is going crazy or was it always this way. Roach's take? Probably both.
"Our political system is democratic, it's incredibly messy," said Roach. But he noted that recent tumultuous political events have unfolded with such regularity that they aren't even shocking anymore. "It's ludicrous, it's insane, it's inconceivable — you can't look at it without a sense of dismay and astonishment."
For years Roach was watching most of his news through "The Daily Show With Jon Stewart" because the regular news was too infuriating. Kellman noted that most students watched "The Daily Show" and "The Colbert Report" for the same reason. "It seems like only the medium of comedy is delivering intelligent political discourse anymore," he said. "Our political conversation has become so unruly and in a way so painful that only the healing balm of laughter allows you to discuss what's become radioactive material."
The festival panels aren't the beginning or end of the alumni's involvement. They regularly come to campus for classes and workshops, a great benefit of the school's proximity to Hollywood.
Oliver feels strongly about being a mentor to students, because she didn't have one herself. "I really needed a 'me' to help out," she said, "so I think it's really important to make yourself available whenever possible."
Roach and Feig have been back to speak to classes. "I'm always leery of giving anybody rules in showbiz, because somebody comes along and breaks all of them," Feig said. "All I like to do is says here's my experience, here's what I've done, and here's some stuff you can expect."
He's happy for the students who get to attend the program, even if he didn't have that chance when he was a young oddball. As he said wryly, "I made do."
USC Comedy Festival, Vol. 3: The Changing Face of Comedy
Oct. 28-30
The Albert and Dana Broccoli Theatre, SCA 112; The Ray Stark Family Theatre, SCA 108; and the Frank Sinatra Hall at the Eileen Norris Cinema Theatre Complex
Admission is free. Reservations required. RSVP at cinema.usc.edu/comedyfestival/
Get our L.A. Goes Out newsletter, with the week's best events, to help you explore and experience our city.
You may occasionally receive promotional content from the Los Angeles Times.