Movie review: 'Diary of a Wimpy Kid: Dog Days' stuck in idle mode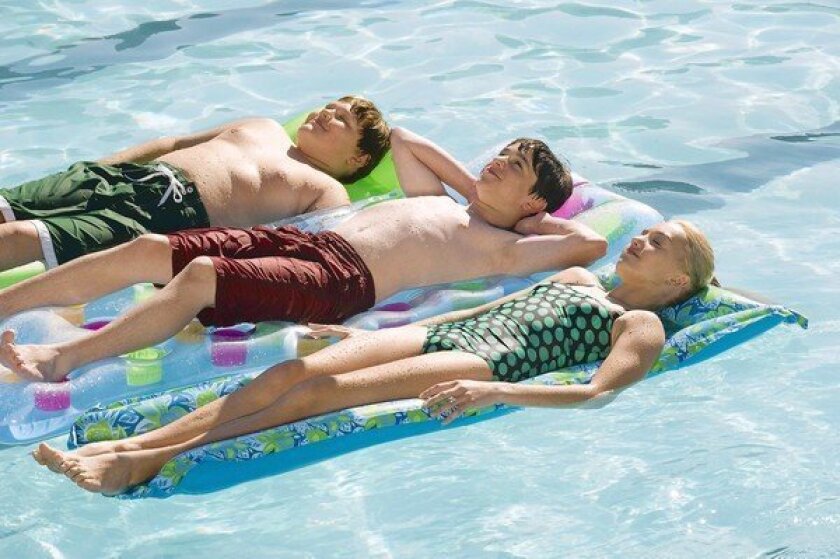 Sometimes the most unassuming kids' movies — the ones that don't work too hard to be artistic or educational or worthy — are the smartest.
Until now, the"Diary of a Wimpy Kid"movies, surprisingly well-engineered little comedies based on Jeff Kinney's popular illustrated novels, fell into that category. Unfortunately, the third picture in the franchise,"Diary of a Wimpy Kid: Dog Days"— which, like last year's"Diary of a Wimpy Kid: Rodrick Rules,"was directed by David Bowers — ends the series' winning streak, or at least slows it down to a panting, dog-day crawl.
Zachary Gordon returns as awkward but endearing Greg Heffley, a middle-schooler who's hopelessly entranced with his preternaturally unattainable but also super-nice blond classmate Holly Hills (Peyton List). Summer vacation has arrived, and all Greg wants to do is loll around the house playing video games. His father, played by Steve Zahn, has other ideas, expressing a frustrated wish that his son would get outside more and enjoy a "normal" boyhood.
In an effort to win the affections of his lady love and get his dad off his back, Greg becomes entrenched in a lie, giving his older brother, Rodrick (Devon Bostick, who's charming in a louche way, like a Tiger Beat pinup), ample opportunity to blackmail him.
As the anxious adolescent Greg, Gordon is still reasonably adorable, and on his way to being bodaciously handsome. But that in-between stage is nobody's friend, and the fact that Greg is now well past the 11-year-old goofus stage and headed for sullen teenagerhood may explain why some of the charm has worn off.
Still, the picture's reach never exceeds its grasp, and it offers a fair amount of the gross-out stuff kids love. When Greg and his family spend a day at the municipal pool, a trek through the men's locker room provides a kid's-eye view of the many horrors of aging: Greg bears witness to an array of fat rolls, hairy backsides and plumber's cracks, as well as a comically horrific incidence of toe-picking.
"Diary of a Wimpy Kid: Dog Days" is at its best in offhand vignettes like these. And when all else fails, it's great fun to watch the wonderfully zonked-out Zahn — attired, at one point, in an endearingly absurd scout leader's uniform — play an authority figure.
He's so boyish, he barely seems suited to be a dad — a reminder, maybe, that adulthood can never fully erase the wimpy kid inside.
---------------------------
'Diary of a Wimpy Kid: Dog Days'
MPAA rating: PG for some rude humor
Running time: 1 hour, 34 minutes
Playing: In general release
---
The complete guide to home viewing
Get Screen Gab for weekly recommendations, analysis, interviews and irreverent discussion of the TV and streaming movies everyone's talking about.
You may occasionally receive promotional content from the Los Angeles Times.