In 'Silver Linings Playbook,' a blueprint for a fall sleeper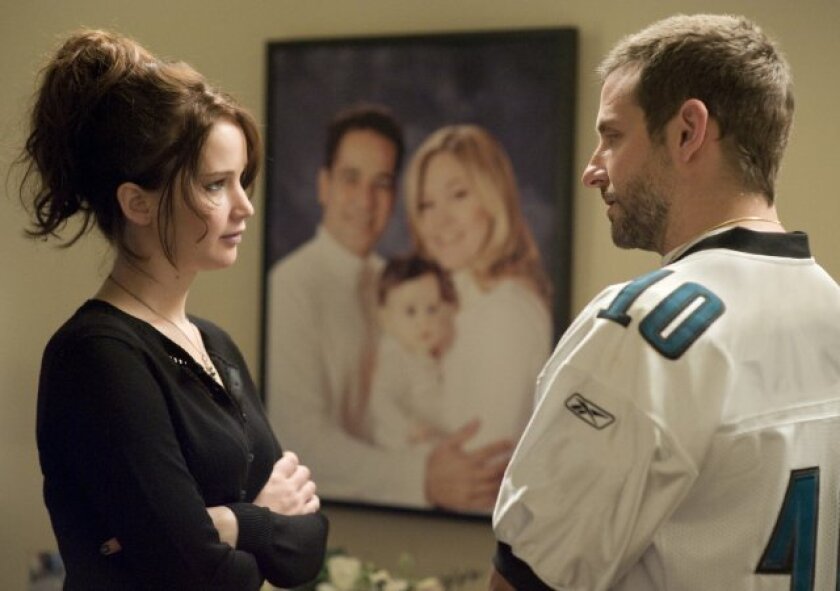 Based on an obscure novel and featuring the shopworn premise of a thirtysomething who moves in with his parents, the new movie "Silver Linings Playbook" wouldn't seem to have the earmarks of a breakout hit or award-season contender.
Yet a month ahead of its release, the modestly-budgeted picture--about $21 million-- from "The Fighter" director David O. Russell is emerging as an unlikely force this holiday season. A world premiere screening at the Toronto International Film Festival earned a rapturous response, and buzz has recently grown as the dramatic comedy, about a bipolar man trying to rebuild his life after a broken marriage, has screened for Hollywood tastemakers.
In an era when even many adult-oriented movies come with a recognizable title or a big concept—think "Lincoln" or "Less Miserables"--"Silver Linings Playbook" distinguishes itself by being a throwback. Its concerns aren't historical moments or iconic works but the messy business of ordinary people interacting with one other.
"What enchanted me about this film were the neighborhoods and rhythms of everyday life, and the specificity of that," Russell said in an interview this week.
Predicting the fate of movies that hit theaters this time of year can be a sucker's bet. Supposedly surefire hits often fail, while longshots—like, say, a French-produced silent film set in a changing Hollywood, as "The Artist" was last year—can become Oscar heavyweights and crossover successes.
Still, there's particular reason for optimism about "Silver Linings," and not just because Harvey Weinstein, famous flogger of fall films, is behind it. "Silver Lining's" balance of laughter and drama--comedic set pieces are stacked carefully around heartfelt moments—help it stand out among the season's serious entries.
Bolstering its chances is a stellar cast that includes Robert De Niro, 'Hangover's' Bradley Cooper and "Hunger Games" Jennifer Lawrence, each stretching in new directions.
The challenge for "Silver Linings," then, will be to catch moviegoers' eye amid the season's splashier offerings.
"When people see it, they tend to love it," said Donna Gigliotti, one of the film's producers. "We just have to make sure they see it."
Based on Matthew Quick's 2008 novel, "Silver Linings" explores the bipolar Pat Solitano (Cooper, in a turn that goes well beyond his signature "Hangover" role) who moves in with his suburban Philadelphia parents (De Niro and Jacki Weaver) after being released from a mental hospital.
Intelligent but lacking any sort of verbal filter, Pat is always getting himself in trouble, which complicates his bid to reunite with his estranged wife. In the meantime, he takes tentative steps to connect with his family and a new acquaintance, the deeply idiosyncratic Tiffany (Jennifer Lawrence, alternating between vulnerable and a little bonkers).
Russell, who has a reputation for strong storytelling, stuffs into the film's narrative suitcase subjects as diverse as mental illness, ballroom dancing and Philadelphia Eagles fanaticism.
The movie also explores a sports-themed American subculture that will be familiar to Russell fans. If "The Fighter'" became a hit (and Oscar winner) two years ago by playing with the dynamics of boxing-mad Irish-Americans in Lowell, Mass., "Silver Linings" attempts the same against the backdrop of football-crazy Italian-Americans in suburban Pennsylvania.
With each setting, though, there's a larger aim. "'The Fighter' wasn't about fighting, and this isn't about bipolarity or football," said Russell, who drew on his partial Italian American heritage to write the script. "It's about family and community."
"Silver Linings" came into being in a roundabout way. A number of years ago, the late director-producer Sydney Pollack gave an early copy of Quick's book, which was in development at the Weinstein Co., to Russell, a director who had previously investigated the comedic dimensions of family in his 1990s hit "Flirting With Disaster."
As a father of a teenager with emotional difficulties, Russell sparked to the story. He signed on and began writing a script. (He would later cast his son in a small part.)
But the project languished. The movie lacked an easy hook, and Russell's stock wasn't high. He hadn't even released a film since his 2004 oddball "I Heart Huckabees," a box-office disappointment.
That changed when "The Fighter" caught on with audiences and awards voters. Russell was back, and Weinstein gave the go-ahead to Gigliotti and her team.
The director first attempted to cast his longtime collaborator Mark Wahlberg, but when a deal couldn't be struck, he brought on Cooper, whom Russell had tried to cast in an earlier project. De Niro, who worked with Cooper on their 2011 hit "Limitless", joined too. (The 69-year-old gives a performance that had early reviewers recalling some of his most acclaimed roles.)
And in a story that is quickly gaining fame in Hollywood circles, Lawrence, who had yet to star in the mega-franchise "The Hunger Games," Skyped in her audition from her parents' house in Kentucky. Russell actually filmed her on the computer screen, studied the footage and decided to cast her ahead of a half-dozen more veteran actresses.
He then set about combining them all into a movie that can go from knee-slapping farce to tearjerking drama in the space of minutes.
"This is a very complex set of tones," said Bruce Cohen, one of the film's producers who also produced the similarly minded "American Beauty."" It can be very rewarding if you get it right. But it can be very difficult to get right."
That hybrid quality makes the movie difficult to market, let alone telegraph in a 30-second TV spot. "It doesn't fit into any neat box," said Weinstein Co. director of marketing Stephen Bruno.
As a result, the company will be showing the film heavily in so-called "word-of-mouth" screenings to build awareness; "Silver Linings" will have played hundreds of times around the country by the time it is released commercially on Nov 21.
"We want to make sure people understand there's a lot of comedy and a lot drama here, and the best way to do that is to show the movie," Bruno said.
In addition to the varying tones, Russell said he also wanted to give the film an authenticity of place. He would often peek around the Pennsylvania homes he and his crew were scouting to see what might be cooking on the stove or hanging on the walls. To capture Eagles-mania—De Niro's character is a tad obsessed—Russell hired a crazed fan whom he happened to meet during the shoot to serve as a consultant.
"I wanted to make a movie that's set in an authentic world but also satisfying narratively," Russell said. "That's where I am right now as a director. I live somewhere between 'It's a Wonderful Life' and 'Goodfellas.'"
ALSO:
Lawrence and Cooper make a statement in 'Silver Linings Playbook'
Hunger Games' Jennifer Lawrence: Catching Fire will get real
Bradley Cooper helps his friends get 'The Words' out
Follow me on Twitter at https://twitter.com/ZeitchikLAT
---
Inside the business of entertainment
The Wide Shot brings you news, analysis and insights on everything from streaming wars to production — and what it all means for the future.
You may occasionally receive promotional content from the Los Angeles Times.