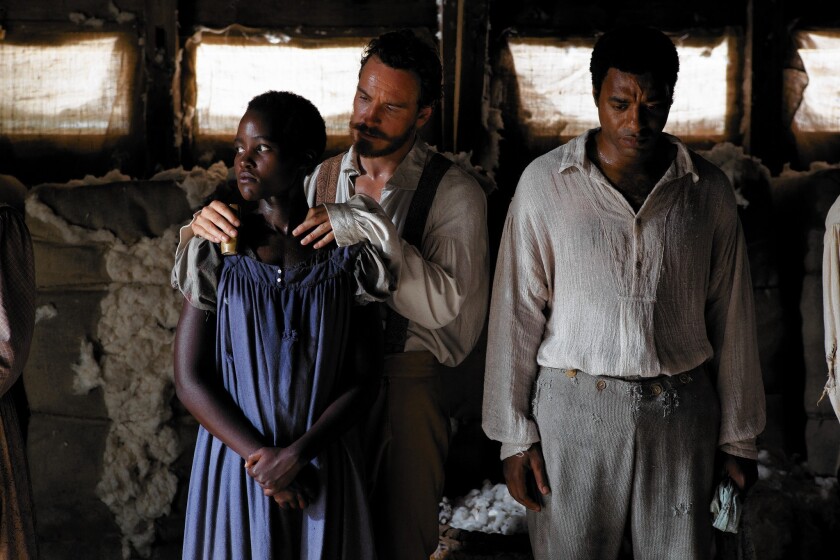 "I broke her down and had her do it again and again, saying 'Go deeper, go deeper,' until she was worn out emotionally. Then I asked how she felt, and she said she understood that [an abusive slave owner] could take her body but not her soul, and she started to cry."
Casting director Francine Maisler is describing her quest to put together five minutes of audition tape that would persuade director Steve McQueen that Lupita Nyong'o, an unknown actress, had what it took to embody Patsey, a field worker who obsesses a monstrous plantation owner (Michael Fassbinder) in "12 Years a Slave."
The search had been long, and McQueen was thousands of miles away on location in Louisiana. "He had to know that this person could go to the emotional places the character needed to go," Maisler says about Nyong'o, a Mexico-born, Kenya-raised, Yale-trained newcomer who'd impressed her in a Los Angeles showcase the night before. "I told her, 'I'm going to do some things that are not conventional in this audition, and I want you to not be scared, and just go for it.'"
Upon seeing the tape, McQueen flew Nyong'o to the filming location. She not only makes her screen debut in his searing historical drama — she anchors its most talked-about scene and has become one of the season's leading contenders for a supporting actress Oscar.
The role played by casting pros such as Maisler has been mostly obscured from the public, but it's coming increasingly to light. In July, the Academy of Motion Pictures of Arts and Sciences created a new branch for casting directors. A long-simmering discussion about creating an Oscar category for casting has been revived. To capitalize on that momentum and to qualify for awards consideration, director Tom Donahue's documentary "Casting By" released theatrically last month. It offers an engaging and enlightening view of the job's evolution and the contributions of such influential tastemakers as Marion Dougherty, Lynn Stalmaster and others.
To the average moviegoer, a star-packed ensemble may be the casting achievement that most impresses, but the pros who cast this season's awards contenders say that what they tend to admire most at the movies is persuasiveness.
"I have to believe that these people are a family, or that person is a scientist — rather than they were cast because of their name value to investors in the film," says John Jackson, who works frequently with director Alexander Payne. In casting Payne's "Nebraska," a bleak but wryly funny portrait of a heartland octogenarian (Bruce Dern) on a quest to collect an imaginary windfall, it was "hugely important that it be anchored in authenticity." Jackson, who lives in Iowa, cast New York-based actors such as June Squibb (as Dern's wife), but "seasoned the soup with local herbs and spices" in the minor roles. He cites Woody Allen's "Broadway Danny Rose" as a formative influence. "All the faces were so alive and real and of that place — I became in awe of Juliet Taylor, who cast it."
"I love actors who surprise me — when they turn in a performance that really works but is much different than what you're familiar with from them," says Rich Delia, who cast this year's much-admired indie film "Short Term 12," as well as "Dallas Buyers Club," in which Jared Leto has a startling turn as a feminine, transgender AIDS patient. "I also love it when the cast is seamless — every actor really fits into the puzzle and no one pulls you out of the movie."
TIMELINE: The Academy Awards through the years
Introducing a newcomer who makes an impression is among the greatest satisfactions of the work. "If I can change somebody's life who may have never gotten a chance otherwise, that is the most exciting part of my job," says Maisler, who also pulled off the remarkable casting of Minnesota chauffeur Barkhad Abdi and the other first-time Somali actors who play pirates in Paul Greengrass film "Captain Phillips."
"Barkhad was incredibly thin and dangerous-looking, but also thoughtful and intelligent," says Maisler, who found the men via an open casting call in Minneapolis, which has a large Somali population. "When he auditioned the scene where he says 'maybe in America,' [about whether life offers options other than thievery], I knew he was a complicated man who could bring to the part all the colors that Paul wanted." Maisler is now working with director Sam Taylor-Johnson on the much-buzzed-about casting of "Fifty Shades of Grey."
One of the chief arguments against an Academy Award for casting — the only job listed in a film's opening credits that lacks such recognition — has been that the task is essentially collaborative.
"But the same goes for making a costume or designing the sets," says Maisler. "Anyone in these categories works closely with the director in support of his vision."
Some have fretted that Oscar recognition could lure casting pros in the direction of razzle-dazzle ensembles rather than authenticity. Delia, an associate with Barden Schnee, the firm that cast this season's starry "August: Osage County," insists this isn't the case.
"You can only focus on fighting for the actor who is the best choice to tell a given character's story," he says. "If you go about it with the idea of winning an award, you're doing yourself and the film a disservice."
WINNING BALLOT: A list of the 2013 winners

TIMELINE: Academy Awards through the years
---