Alexander Mackendrick nurtured film and student directors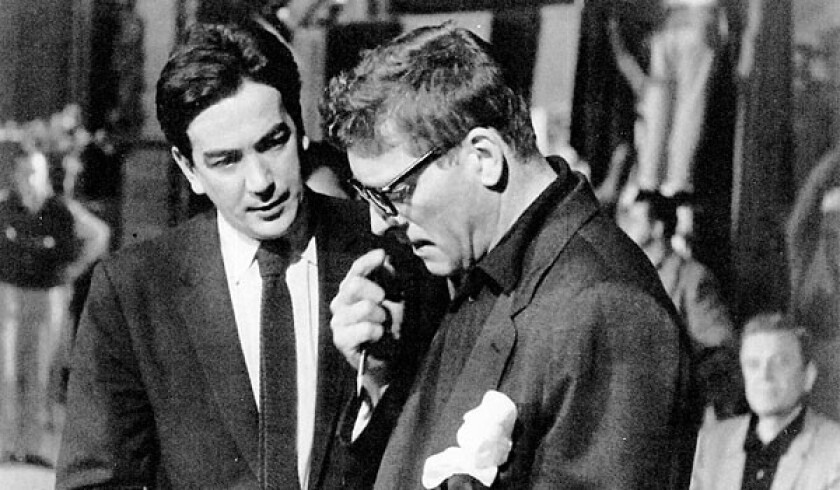 British director Alexander Mackendrick made memorable films on both sides of the pond.
In Britain, Mackendrick was one of the star directors at the famed Ealing Studios thanks to his sharp, inventive comedies such as 1949's "Whisky Galore" and 1951's "The Man in the White Suit," and his 1955 masterwork, "The Ladykillers," with Alec Guinness and Peter Sellers.
In Hollywood, Mackendrick is best known for the brilliant 1957 drama "Sweet Smell of Success" that starred Burt Lancaster as the ruthless gossip columnist J.J. Hunsecker and Tony Curtis as the ambitious press agent Sidney Falco. Though the film is considered one of the seminal dramas of the 1950s, it was not a hit and Mackendrick made just a handful of films over the next decade.
PHOTOS: Behind-the-scenes Classic Hollywood
So Mackendrick turned his attention elsewhere. He became the founding dean of what is now the California Institute of the Art's School of Film/Video in Valencia where he influenced the next generations of filmmakers.
On Wednesday at the REDCAT, there will be a special event in his honor, "Alexander Mackendrick: A Centennial Celebration." Among the participants are author and filmmaker F.X. Feeney; Paul Cronin, editor of Mackendrick's book, "On Film-Making"; and writer-director James Mangold, who was mentored by Mackendrick as a student at CalArts.
Mangold vividly recalls his first encounter with Mackendrick, who came to CalArts in 1969 and taught there until his death in 1993.
"He did a talk," said Mangold, who has directed "Walk the Line," "3:10 to Yuma" and the upcoming "Wolverine." "Instantly upon hearing him speak, I knew this is who I had to work with. He was a real-deal movie director. We had this funny dance with each other. I told him I wanted him to be my mentor. He said, 'You're 17 years old and I only work with master's students.' "
But Mackendrick changed his mind that same week when the new students screened films they had made. Mangold's Super 8 short was about a barn that was alive and traps a little boy. "He watched in the back of the theater and came to me after that screening and said he would be my mentor," said Mangold.
PHOTOS: Celebrity portraits by The Times
"He reminded me of John Houseman in 'Paper Chase,' " said Mangold, who became Mackendrick's teaching assistant his sophomore year. "There was a kind of power, a stature, a kind of bluntness but also a warmth to him. At the same time there was a danger about him — you had to be ready to put yourself in his hands."
Deborah LaVine, co-director of the Film Directing Program at CalArts, said that the curriculum still reflects Mackendrick's emphasis on story.
Born in Boston in 1912 but raised in Glasgow, Scotland, Mackendrick made his mark at Ealing Studios. When Ealing was sold, he came to America and made "Sweet Smell of Success," which later became a cult classic but left audiences cold at the time.
"He said to thrive in Hollywood you have to be a deal maker and I have no talent for that," recalled Feeney, who was at CalArts from 1971 to '76 and was also mentored by Mackendrick. "This was the thing that drove him to leave Hollywood. He was in an uphill battle within the studio system."
Feeney pointed out that Mackendrick had a particularly difficult time in the late 1960s. A film he had planned on Mary Queen of Scots went "belly up," said Feeney, after years of development. "When he directed his last film, 'Don't Make Waves,' he was so broken that the comedy doesn't quite fire. When CalArts came along, he just jumped."
------------------------------------------
Alexander Mackendrick: A Centennial Celebration
Where: REDCAT, 631 W. 2nd St., Los Angeles
When: Wednesday, 8:30 p.m.
Admission: $5-$10
Information: https://www.redcat.org
------------------------------------------
Are you an aficionado of iconic Hollywood? Like our Classic Hollywood Facebook page to get more Times coverage.
PHOTOS AND MORE
VIDEO: The making of 'Argo,' 'Les Miz' and more
ENVELOPE: The latest awards buzz
PHOTOS: NC-17 movies: Ratings explained
---
Inside the business of entertainment
The Wide Shot brings you news, analysis and insights on everything from streaming wars to production — and what it all means for the future.
You may occasionally receive promotional content from the Los Angeles Times.