Review: 'Struck by Lightning' is a flat coming-of-age tale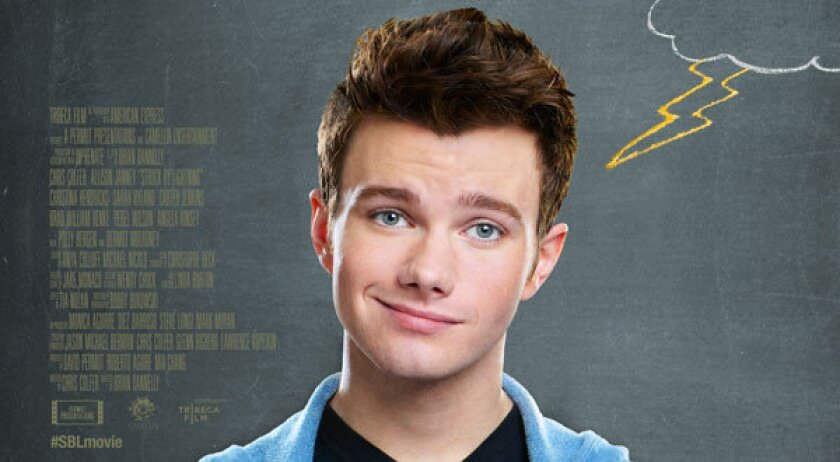 The teenage coming-of-age story gets an ever-so-slight tweak in "Struck by Lightning," written by and starring "Glee" performer Chris Colfer, whose character is, in fact, struck dead by lightning in the film's opening moments.
Nevertheless he narrates the tale, looking back on his life up to that moment. Turns out Colfer's Carson was a perennial outsider for his literary ambitions and desire to break free of the small town social hierarchy of his high school.
Genial and heartfelt but essentially toothless, lacking in either snark or spark, "Lightning" is directed by Brian Dannelly, who previously made the 2004 high school religious satire "Saved" before moving into television work, which seems to have leveled out his style into a flat competence.
PHOTOS: Hollywood backlot moments
The film is peppered with a deep cast of actors, including Christina Hendricks, Allison Janney, Dermot Mulroney and Rebel Wilson alongside faces familiar from assorted sitcoms such as "Modern Family," "Weeds" and "The Office," who all try to make the most of thin material.
The storytelling never fully exploits the beyond-the-grave narrative framing.
It is tempting to refer somehow to the series of "It Gets Better" videos meant to show kids that life goes on after high school, except that Carson winds up dead and only from the unspecified hereafter realizes things weren't as bad as he might have thought.
If only "Struck by Lightning" had a sharper, stronger perspective, it might have made more of its conceit.
—Mark Olsen
---
"Struck by Lightning."
No MPAA rating.
Running time: 1 hour, 24 minutes.
At Laemmle's Noho 7, North Hollywood.
PHOTOS AND MORE
VIDEO: The making of 'Argo,' 'Les Miz' and more
VIDEO: Holiday movies - A video guide
PHOTOS: NC-17 movies: Ratings explained
---
Get the Indie Focus newsletter, Mark Olsen's weekly guide to the world of cinema.
You may occasionally receive promotional content from the Los Angeles Times.