Review: Despite thin plot, 'Sugar' instructs on homelessness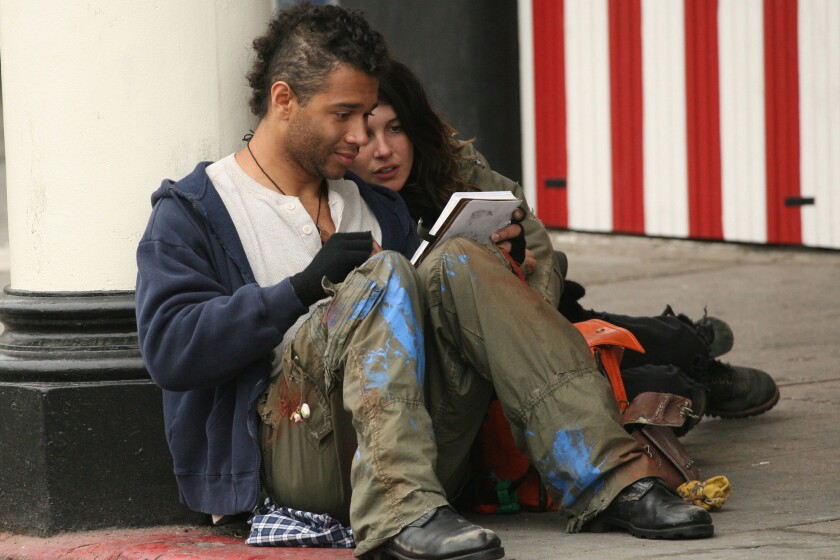 In the fitfully moving "Sugar," director Rotimi Rainwater translates to the big screen his own nine months of living on the streets. Opening during Homeless Youth Awareness Month, his snapshot of teenage boardwalk-dwellers eking out an existence on Venice Beach is more successful as an instructive tool than as a narrative feature.
Shenae Grimes stars as Sugar, the sole girl in a makeshift family of down-and-out teens, which includes her Mormon-runaway boyfriend (Marshall Allman) and a 13-year-old foster kid (Austin Williams). As a whole, the film's characters touchingly illustrate the tolls of living with unresolved trauma and chronic uncertainty, as well as the solidarity and relative freedom this community of outcasts enjoys.
PHOTOS: Billion-dollar movie club
But homelessness is a lot like prison, in that nobody talks about how they arrived there. That leaves a rich source of characterization untapped, a squandered opportunity exacerbated by the film's spare plot. Rainwater thus cornered himself into focusing on Sugar's thoughts, which rarely delve deeper than general statements like, "I wish someone really was there to help. We could all use a little help."
Unfortunately, Sugar herself is defined mostly in contrast to the male characters around her — she's not a junkie or a thief or the child of a broken home or someone who uses sex to survive. As with so many of her peers, her rootlessness eventually proves fatal.
"Sugar." No MPAA rating. Running time: 1 hour, 39 minutes. At Downtown Independent, Los Angeles.
PHOTOS AND MORE
VIDEO: Upcoming fall films
ENVELOPE: The latest awards buzz
PHOTOS: Greatest box office flops
---
Inside the business of entertainment
The Wide Shot brings you news, analysis and insights on everything from streaming wars to production — and what it all means for the future.
You may occasionally receive promotional content from the Los Angeles Times.