'Roma' stars break down the film's unique shooting style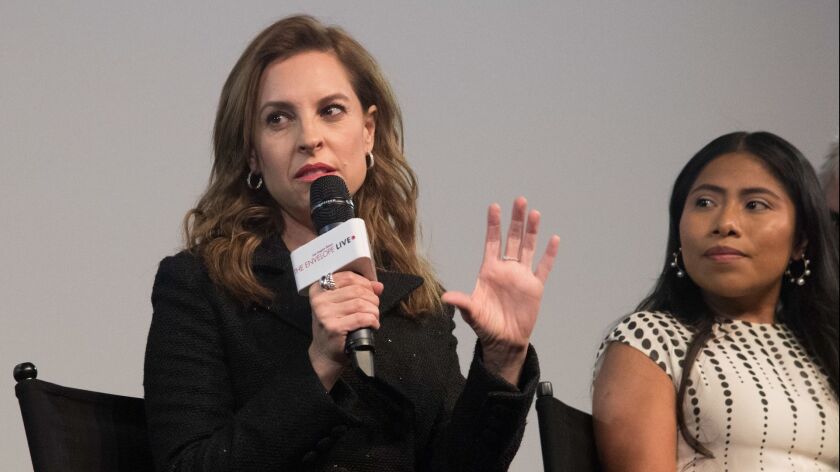 "Roma," Alfonso Cuarón's semi-autobiographical drama about growing up in the Colonia Roma neighborhood of Mexico City, is a film told largely through the perspectives of its female characters. Centered on Cleo, the live-in maid and nanny to a middle-class family (Yalitza Aparicio) and the matriarch of that family (Marina de Tavira), the film deals heavily with themes of motherhood and marriage.
Which is why both actresses say they have been most surprised by the strong reactions they've received from male viewers. Both Aparicio and De Tavira took part in an Envelope Live screening and Q&A for "Roma" held at the London West Hollywood Hotel and moderated by Times awards columnist Glenn Whipp.
"[I] feel quite surprised sometimes about the fact it's the sons that come up to us and tell us that the film has really given them a chance to think about and reflect about what their mothers and the women who took care of them did for them," Aparicio said after the screening.
"What I have most appreciated is that even though this is a very personal story, a very personal story for Alfonso, it has also connected with a lot of people and become a personal story that other people also can relate to."
Stars Yalitza Aparicio and Marina de Tavira talk about how the film has connected with audiences in a personal way, particularly with male viewers and their mothers.
FULL COVERAGE: Countdown to the Oscars »
THEMES
Looking again at the themes, both actresses discussed how women during the time period of the film — the 1970s — were often made to feel guilty when a marriage fails — more so than the husbands involved. Aparicio says she hopes viewers take that lesson to heart after watching the film.
"I hope people actually think about what those themes mean," she said to applause from the crowd.
De Tavira said it was this theme that helped her relate to her character on a more intimate level. "With Sofia, she feels stigmatized because of divorce and that the children are going to be stigmatized also and that she is going to be blamed for the failure of the marriage as a woman," she said. "Alfonso talked a lot about that, and I really could relate a lot to that because I remember my own personal experience with my mother when I was a child and what she went through."
Stars Yalitza Aparicio and Marina de Tavira discuss the "guilt" women feel when a marriage ends in divorce, and how women are often blamed.
REAL-LIFE INSPIRATIONS
The film is semi-autobiographical and is based heavily on Cuarón's upbringing. He wrote both the parts of Cleo and Sofia based on specific women. While both actresses say they knew who their character was based on, only Aparicio was able to speak with the real woman who inspired Cleo about the events surrounding the film.
"I didn't have a conversation with Cristina [Orozco]. She sadly passed away before the film was finished, but she went to visit us on set one day," she said. "I only got a chance to say hello. … I couldn't really speak. I just said, 'I'm so honored. I'm so honored.' "
But while Aparicio did get to speak with Cuarón's real-life nanny, Liboria "Libo" Rodríguez, some aspects of her story were still left a mystery.
"She had a chance to share her experiences with me, but all the experiences that they shared with me were up until the point that the film basically begins and then from that point on, they told me you'll basically find out what happens after," Aparicio said.
Stars Yalitza Aparicio and Marina de Tavira talk about the women who inspired Alfonso Cuaron's story.
2019 Oscars: See the full nominations list »
FLYING BLIND
While both actresses say they knew select things about the women who inspired their characters, it ended up helping that neither knew the full story when it came time to film. The nights before specific scenes, De Tavira said Cuarón would give her only select lines and some of the lines he gave her turned out to be incorrect.
"Often times we did not know what the other person was going to say or how the other person was going to react and we just got to discover things as they developed on set," Aparicio said.
De Tavira said that kind of spontaneity helped when it came time to film the scene where Cleo reveals to Sofia that she is pregnant.
"He gave me part of the lines the night before, but there in my paper it said that Cleo was going to tell me that she had broken something from the living room but when he said 'action' for the first time and we did the scene, she said she was pregnant," she said. "It also was fresh because I didn't have time to prepare that the night before or to imagine how I would solve that scene. … That's why it seems like real life."
For more information on future Envelope Live screenings and events, click here.
---
Get the Indie Focus newsletter, Mark Olsen's weekly guide to the world of cinema.
You may occasionally receive promotional content from the Los Angeles Times.