Database catalogs movie firearms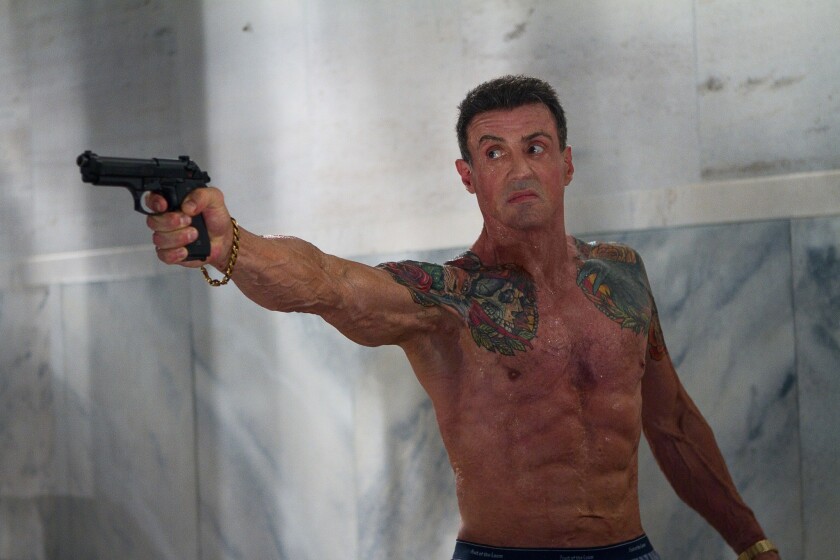 Jimmy Bobo (Sylvester Stallone, no stranger to gripping guns from his Rambo days) wields a Berettta 92FS, according to IMFDB.org.
(Frank Masi / Warner Bros.)
James Bond (Daniel Craig) still favors the Walther PPK, which one user on the Internet Movie Firearms Database declared is "anachronistic."
(Francois Duhamel / Columbia Pictures)
L.A. crime lord Mickey Cohen (Sean Penn) fires a Thompson submachine gun, popularly known as a Tommy gun.
(Wilson Webb / Warner Bros.)
The Navy SEAL strike team in raids Osama bin Laden's compound carrying what IMFDB identifies as suppressed HK416 assault rifles.
(Columbia Pictures)
Bounty hunters Dr. King Schultz (Christoph Waltz) and Django (Jamie Foxx) use a Sharps rifle, according IMFDB.org.
(Andrew Cooper / The Weinstein Co.)
Tom Cruise wields what IMFDB says is a Sig P556 SWAT / SG 550 hybrid as the titular vigilante.
(Karen Ballard / Paramount Pictures)
Aaron Cross (Jeremy Renner), now a target of the government he has long served, holds what IMFDB identifies as a Sig-Sauer P229 in his left hand and a Glock 19 in his right.
(Mary Cybulski / Universal Studios)
Walt Kowalski (Clint Eastwood) aims an M1 Garand he kept from the Korean War.
(Anthony Michael Rivetti / Warner Bros.)
Trinity (Carrie-Anne Moss) carries what IMFDB says are two Beretta 92FS Compact pistols.
(Jasin Boland / Warner Bros.)
John Rambo (Sylvester Stallone) uses a number of rifles -- and IMFDB catalogs them all.
(Yoni Hamenachem / TriStar Pictures)
Tony Montana's (Al Pacino) little friend is a Colt AR-15 with a Fake M203 grenade launcher, according to IMFDB.org.
(Universal Studios)
Are you looking at him? Are you looking at Travis Bickle (Robert De Niro) and his Smith & Wesson Model 29? That's not the only gun he has, as detailed in the film's entry on IMFDB.
(Michael Ochs Archives / Moviepix / Getty Images)
Inspector Harry Callahan (Clint Eastwood) wants to know if you've kept count of how many shots he's fired from his Smith & Wesson Model 29 -- six, or only five? In all the excitement, he's kind of lost track himself. You better ask yourself one question -- "Do I feel lucky?" Well, do you, punk?
(Warner Bros. / Associated Press)
Tector Gorch (Ben Johnson), Lyle Gorch (Warren Oates), Pike Bishop (William Holden) and Dutch Engstrom (Ernest Borgnine) carry rifles, which are cataloged at IMFDB.org.
(File Photo)
Tuco (Eli Wallach, right) trains what IMFDB identifies as a Colt 1851 Navy on the man with no name (Clint Eastwood), who Tuco calls "Blondie."
(MGM)
Shane (Alan Ladd) uses what IMFDB says is a Colt Single Action Army in a fight with Joe Starrett (Van Heflin).
(Paramount Pictures)
Yes, IMFDB even has an entry for the famous 1903 short "The Great Train Robbery."
(File Photo)
This sturdy Austrian had supporting roles in the recent action movies "Skyfall" and "Zero Dark Thirty," the TV western "Justified" and the military video game "Medal of Honor: Warfighter."
The ubiquitous performer — actually a semiautomatic pistol — is the Glock-17. A kind of Kevin Bacon of firearms, the Glock-17 appears without ceremony in movies and TV shows year after year, largely because it's also popular with the law enforcement officers being depicted.
There is one place, however, where the Glock-17 is treated like a star – along with the dainty Walther PPK/S handgun that is James Bond's sidearm of choice, the long-barreled Winchester rifles the Prohibition agents tote on the 1920s-set HBO show "Boardwalk Empire" and the oversized Desert Eagle pistols used in the "Modern Warfare" and "Far Cry" series of video games. That's the Internet Movie Firearms Database, a surprisingly thorough, fan-built catalog of weapons used in movies, TV shows, video games and anime, maintained by a freelance Web developer in Glendora.
Relying on the same wisdom-of-the-crowd model as Wikipedia, Christopher Serrano, 29, and a stable of about 300 regular volunteers have meticulously cataloged the weapons, along with screen shots, in more than 11,500 articles, including entries on underwater firearms, missile launchers and flame throwers. The site is laid out in a simple, schematic style, with pictures, quotes and trivia. But it's the searchable database — similar to the Amazon-owned Internet Movie Database (IMDB) — that has made IMFDB.org a resource for Hollywood prop masters, casual gun collectors and anyone looking to settle a bar bet about what kind of rifles Jamie Foxx is carrying in "Django Unchained" (a variant of a Sharps rifle and a Remington 1858 "Cattleman's Carbine").
Most visitors are drawn to the site after searching for information about the guns in a movie they just saw or a game they just played — lately "Skyfall" and the video game "Far Cry 3" are popular, according to Serrano.
Some stick around to discuss and debate the guns they see on screen — a user named Charon68, for instance, found James Bond carrying the small PPK anachronistic for a movie set in 2012, commenting, "As cool as the thing looks, the cartridge is woefully underpowered and would barely make a scratch with modern body armor." Another user, Excalibur01 also weighed in:"I really wish we'd see other Walthers. Nothing wrong with 'tradition' but how about the newer P99 or the PPQ or the PPS?"
Pop culture and guns have been linked since the beginnings of cinema — the groundbreaking, 1903 western short "The Great Train Robbery" features multiple revolvers and rifles, all of them cataloged on IMFDB — and through the years entertainers have relied on guns to help them tell all manner of stories, from westerns and gangster films to war dramas and police procedurals. In video games, guns even have their own genre, the first-person shooter.
And though recent shootings have reignited a cacophonous national debate about violence in entertainment, the events have made little impact on IMFDB's steady traffic of about 1.5 million visitors a month, about half of them from outside the U.S.
PHOTOS: Jason Statham's tough guy hall of fame
"The firearms are a tool used in the telling of a story," Serrano said. "It's the modern version of a samurai sword. It's part of the art. I don't feel there's a glorification of firearms."
Serrano, a reserved computer wonk who studied political science at UC Santa Barbara, said he created IMFDB in 2007 out of fannish curiosity — he was looking for information about the variety of futuristic-looking weapons in "The Matrix" movies online and couldn't find much. A gun owner himself, he said he spends three to four hours a day working on the website and is planning a redesign this year to make it easier for users to add content. The site has a modest amount of advertising — on a recent day it had ads for a gun-advocacy group, a company that makes military patches and a snorkeling trip to Catalina.
Over the years Serrano's creation has acquired a professional audience among the small group of Hollywood prop masters — or "armorers" — who supply firearms to film sets. Gregg Bilson Jr., chief executive of Independent Studio Services, the Hollywood prop house that provided the vintage guns used in "Django Unchained" and "Lincoln," met with Serrano last month at Shot Show, a firearms trade convention attended by more than 62,000 people in Las Vegas.
"I was a bit of a skeptic at first, but I was surprised to find out how accurate this site is," Bilson said. "There is a gun culture, a group of gearheads you could say, who are very interested in this kind of stuff."
Bilson learned of the site from one of his company's armorers, Larry Zanoff, who discovered it while doing research for a movie. Now Zanoff occasionally weighs in on the site via one of its regular contributors to correct or clarify information about films he's worked on.
For IMFBD's movie-industry audience, the appeal of the site is not only the database of information it contains but the attention it brings to their otherwise mostly anonymous work.
"The prop department, which is what handles the weapons, is an integral part of any film, but we don't get much attention," said Zanoff. "This website seems to be a good outlet for that, since we're not gonna get an Academy Award anytime soon."
Some of the site's users are more casual gun aficionados, such as Patrick Byrne Foster, 21, who co-owns West Coast Corvair in Gardena. "I'm one of those people who likes mechanical things," Foster said. "I'm interested in older guns, the history behind them, the design behind them. And I do find it cool when a gun I've used is in a movie. Especially if it's a period piece, it's interesting to see if they use the gun right."
A favorite scene of Foster's is in the 2008 movie "Gran Torino," when Clint Eastwood's character, Walt Kowalski, wields his Korean War rifle — an M1 Garand of a type Foster also owns — against a neighborhood gang. In another scene, a Hmong boy whom Walt has befriended picks up the gun.
"It's interesting to see Clint break up a fight with a service arm he used in a war," Foster said. "Now there's a war in his own home, and the gun's in completely different hands for completely different reasons. That gun is a story on its own."
Other regular visitors use guns in their professions, like Robert Daniels, 47, a security guard at a casino in Las Vegas who works part time at a gun store and occasionally contributes to the site's write-ups. When it comes to entertainment, for Daniels, guns are a vital part of many of the stories he wants to see.
"From a guy standpoint, I don't really want to go see a hearts-and-flowers movie," Daniels said. "I want to go see an action movie. Would somebody really want to go see a 'Bourne' movie and not see Jeremy Renner or Matt Damon using a firearm? To see a 'Rambo' movie without him using a gun?"
Daniels said he takes umbrage when Hollywood actors decry guns on the one hand — as many did in a recent public service announcement for the group Mayors Against Illegal Guns — while continuing to use them for TV and movie roles.
"You get some of these actors, 'Oh, you shouldn't use guns, blah blah blah,' and they've got 20 movies where they've used firearms," Daniels said. "It's hypocritical. You can't talk about firearms and not talk about politics, but they're going about it the wrong way. People try to demonize the guns. How can an inanimate object be good or evil?"
---
Inside the business of entertainment
The Wide Shot brings you news, analysis and insights on everything from streaming wars to production — and what it all means for the future.
You may occasionally receive promotional content from the Los Angeles Times.