Review: Rich 'Great Expectations' nevertheless under-delivers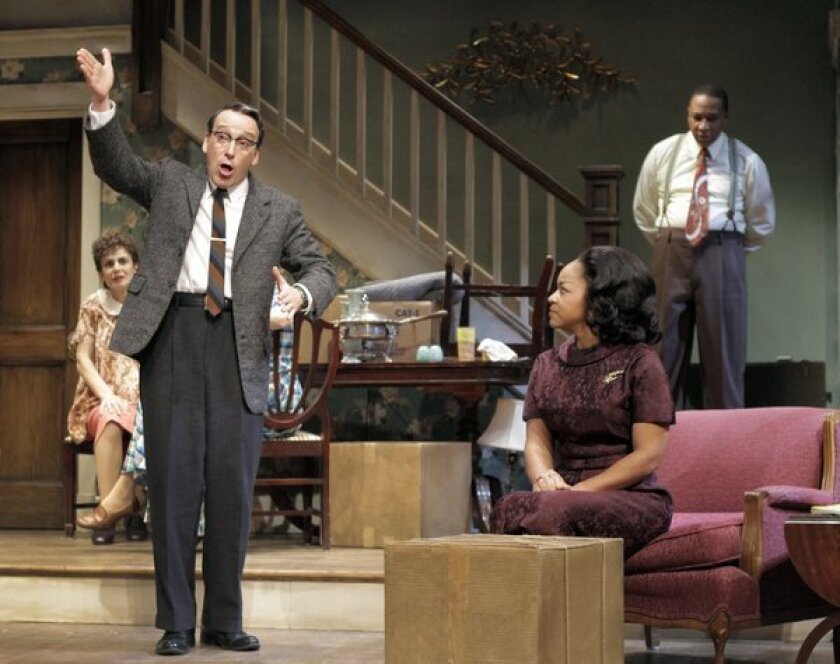 Bruce Norris constructed a provocative history of the house that the African American Younger family is heading to at the end of Lorraine Hansberry's "A Raisin in the Sun." An impeccable ensemble, under the direction of Pam MacKinnon, helped this Pulitzer Prize-winning drama capture the Tony Award for best play after the production went on to Broadway.
(Lawrence K. Ho / Los Angeles Times)
Mike Nichols' Tony-winning revival of Arthur Miller's classic was wobbly in spots, but Philip Seymour Hoffman's Willy and Andrew Garfield's Biff found the emotional combustion when it mattered most.
(Brigitte Lacombe for New York Magazine)
Sheer ecstasy for musical theater aficionados of a Sondheim bent. The side dishes alone (Elaine Paige singing "I'm Still Here," Jayne Houdyshell belting "Broadway Baby") are pièces de résistance by any showbiz standard.
(Glenn Koenig / Los Angeles Times)
Part of Tarell Alvin McCraney's acclaimed "Brother/Sister Plays," this still-running poetic drama introduces L.A. audiences to an adventurously lyrical talent in a production directed by Shirley Jo Finney that is a marvel of ensemble acting.
(Ed Krieger)
Anton Chekhov's first major dramatic offering was played more comically than usual in an insouciant production by Bart DeLorenzo that still somehow managed to zero in on the tragic pathos of a decent man who cannot make sense of a life that to others seems reprehensible.
(Odyssey Theatre)
Set in the 1970s, August Wilson's drama was brought to life in all its funky, recessionary, keep-on-trucking glory in a South Coast Rep production, directed by Ron OJ Parson and starring the dependably wonderful Charlie Robinson as the demandingly upright boss of a down-and-out Pittsburgh taxi depot.
(Henry DiRocco / SCR)
John Hurt's performance in this two-character piece (the aged Krapp and his recorded younger voice on tape) was a tour de force of Beckettian acting in which slapstick and poetry united to scale our common abyss.
(Anne Cusack / Los Angeles Times)
David Cromer's stark revival, starring Helen Hunt as the Stage Manager, wiped away the bittersweet sentimentality of Thornton Wilder's classic to expose the savage beauty lying beneath the years of accumulated theatrical clichés.
(Iris Schneider)
Alan Mandell and Barry McGovern made a Beckettian dream team in this reinvestigation of the absurdist classic incisively directed by Michael Arabian. It's been a long time since existential anguish felt so good.
(Craig Schwartz / Center Theatre Group)
In Pam MacKinnon's justly celebrated revival of Edward Albee's masterpiece, Tracy Letts (author of "August: Osage County" and a first-rate acting talent) and Amy Morton bandy the acerbic zingers with drunken relish but never at the expense of the play's realism.
(Michael Brosilow / Booth Theatre)
Mike Newell, whose eclectic career has ranged from "Four Weddings and a Funeral" to "Harry Potter and the Goblet of Fire," has given us a classic adaptation of Charles Dickens' beloved bildungsroman "Great Expectations." It is skillfully made and adeptly performed; even so it doesn't really add anything to the canon.
That canon includes roughly 15 film versions of the tale that follows an apprentice blacksmith as he navigates the transition from poor village orphan to sponsored London gentleman.
Everyone knows the story: While being raised by his wicked sister (Sally Hawkins) and kindly brother-in-law Joe (Jason Flemyng), young Pip is conscripted by the eccentric heiress Miss Havisham (Helena Bonham Carter) to entertain her adopted daughter, Estella. Miss Havisham herself is ghostly, an apparition, with chalky skin and wild gray hair, dressed in the rags of her wedding gown.
CRITICS' PICKS: What to watch, where to go, what to eat
Through the eyes of production designer Jim Clay, her estate is a time warp where all the clocks stopped at 20 minutes to 9, dust motes curling in the weak sunbeams that leak in to weakly illuminate layers of decay. In this space, and in the story, nothing can be seen clearly, obscured by shadows, veils and mottled mirrors.
Pip falls in love with the coldly beautiful Estella, of course, and is granted the chance to woo her when, years later, he's whisked off to London by a mysterious wealthy benefactor to become a gentleman. Pip (Jeremy Irvine) swiftly divests himself of his modest upbringing but is appalled to learn who's been footing his bills and that he wasn't necessarily meant for Estella (Holliday Grainger) after all.
Fresh-faced Irvine, recently seen in Steven Spielberg's "War Horse," and Grainger, with frequent appearances on British television, bring little baggage to distract from their fine performances. But they're also surrounded by stellar talent in the tale's iconic supporting parts, including Bonham Carter as the ravaged Havisham, Ralph Fiennes as an escaped convict whom Pip aids early on and Robbie Coltrane as the lawyer who serves as Pip's guardian when he comes into money.
PHOTOS: Arts and culture in pictures by The Times
Screenwriter David Nicholls crams hundreds of pages of child abuse and unrequited love, betrayal and revenge, identity and class into just over two hours by making judicious trims to Dickens' prodigious plot. But the film still feels rushed toward the end as the characters' intertwined backstories are revealed through exposition and distorted flashbacks.
A perfectly fine adaptation of a timeless novel, "Great Expectations" doesn't quite meet the promise of its title.
----------------------
'Great Expectations'
MPAA rating: PG-13 for some violence including disturbing images
Running time: 2 hour, 9 minutes
Playing: At Laemmle Monica 4, Santa Monica; Regal Promenade Stadium 13, Rolling Hills Estates; Muvico Thousand Oaks 14 and MuviXL, Thousand Oaks; Paseo Camarillo Cinemas, Camarillo
---
Get the Indie Focus newsletter, Mark Olsen's weekly guide to the world of cinema.
You may occasionally receive promotional content from the Los Angeles Times.