Director of Adele's 'Hello' video explains its look, theme and, oh yes, flip phone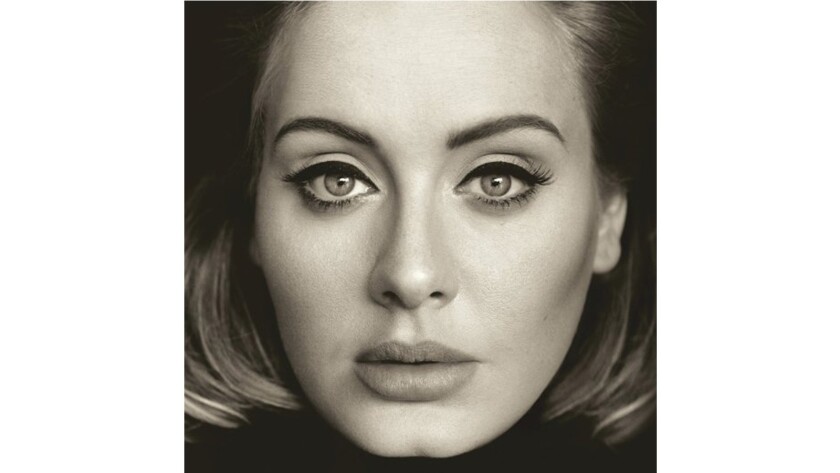 The filmmaker Xavier Dolan was vacationing with some friends in Paris recently when his phone rang.
"Adele would like to meet you," said the voice on the other end of the line -- who, unbeknown to Dolan, was the singer's manager.
"And I said 'Adele? Adele who?'" Dolan recalled. "And he said. 'Adele. Period.' And I said, 'Oh, sorry.'"
The famously free-speaking director, 26, was on the phone Friday afternoon from his home in Montreal, where he'd been up since the wee hours after his video for Adele's new song "Hello" rippled first across Europe and then the U.S. Few before today were aware that Adele even had a new song (her first in three years) let alone a video for it from an upstart French-Canadian filmmaker with a fancy Cannes prize.
SIGN UP for the free Essential Arts & Culture newsletter >>
Clocking in at about six minutes, the "Hello" video was racking up more than a million views every hour Friday -- a combination of the surprise factor, Adele's talent and notoriety and, perhaps, Dolan's cinematic abilities. The "Hello" video is an artfully melancholy affair, a sepia-drenched piece of miniaturism about love and loss.
It came about rather informally. Shortly after the conversation with Adele's manager, Dolan hopped on a train to the U.K., where he met with the singer.
It turns out she had already seen Dolan's semi-autobiographical debut "I Killed My Mother," made when he was barely 20--"I thought, why that film? There's emotional stuff but it looks ugly"--and responded to its confessional qualities. (In the movie, the main character can be seen emoting in private settings, often with no one around.)
Dolan and Adele began talking about the concept for the video, wondering if the solitary catharsis of the filmmaker's earlier work could be recaptured in some manner. Soon they were brainstorming the "Hello" video, which would come to involve a recently broken-up woman calling a younger version of herself.
"When I heard the song I saw a story right away," Dolan said, "just this idea of taking the phone and calling your past."
He added, "[The video] is highly unoriginal. The lyrics are 'Hello, it's me' and then you see someone picking up a phone. I'm not good at imagining super-conceptual videos. I just thought it would be nice to have her walk around the house and make phone calls and end up in a forest, with maybe some flashbacks in it."
Known to cinephiles for making five movies in his native French by the time he was 25 (his most recent, "Mommy," about a troubled teen and voluble single parent, is his best-known and most assured, winning the Jury Prize at Cannes in 2014). An enfant terrible of international cinema, Dolan is fond of expressing his love for non-cinephile movies like "Titanic" and "Mrs. Doubtfire" -- influences that will not surprise those who know his work and its weakness for the grand emotional gesture.
The "Hello" video would be shot on a farm in Quebec over a few secretive days last month with Adele and "The Wire" actor Tristan Wilds, playing her ex in flashbacks. In the video (which also includes a few IMAX shots to enhance the cinematic effect), we see Wilds looking directly at the camera, converging our point of view with that of a nostalgia-filled Adele. Wilds' character is first playful then, as the video progresses, angry and resigned.
Adele does not appear in the flashbacks, an idea that Dolan said fit right in with the video's themes.
"It's the 'connect with memory,' the 'walk down memory lane,'" he said. "We would cut from Adele in the present to this guy looking at her and not have a younger version of Adele so that watching it you would feel like her looking back."
Then there's the matter of that flip phone. From the moment the video went online, it inspired Twitter titters for a shot of its heroine closing the archaic device -- wouldn't Adele be able to afford something slightly more Steve Jobs-ian?
Of course, those critiques seemed to ignore that antiquated phone technology is a larger motif in the video (note the phone booth later on). For his part, Dolan said he's been amused at the reaction to the flip phone, which he said was a specific aesthetic choice, not a comment on what a real-life Adele might actually use.
"It drives me crazy," he half-laughed. "I could see the GIFs on Twitter. I'm like, 'guys, get over it. It doesn't matter.' But the real explanation is that I never like filming modern phones or cars. They're so implanted in our lives that when you see them in movies you're reminded you're in reality."
He added, "If you see an iPhone or a Toyota in a movie, they're anti-narrative, they take you out of the story. If I put an iPhone or a modern car in a movie it feels like I'm making a commercial."
The phone booth, he said, was more resonant for him "It says she is stranded in nature, which has regained its rights. It's an element of the past. It's much more important," he added sarcastically, "than the flip-flop and trying to identify whether it's Samsung or an AE9 or whatever."
Dolan next hopes to shoot his first English-language movie. He has recently completed the script for the film, titled "The Death and Life of John F. Donovan" and a few months ago finished shooting another French-language drama, "It's Only the End of the World," with Marion Cotillard and Lea Seydoux.
He had actually hoped to take time off beginning a year ago, and even enrolled at a university in Quebec with the aim of not making films for a while. But things panned out differently.
"There hasn't been much of a break," he said. "But then I realized I don't need a break. I'm not a slave at a factory in the Third World. It's not a job; it's a passion. Adele wants to make a video so I'm going to do it." In other words, sometimes life just comes calling. Hopefully not on a flip phone.
Twitter: @ZeitchikLAT
ALSO:
In Hillary Clinton's Benghazi hearings, an evocation of films past
The Oscars: Host Chris Rock enters stage at race-aware moment
Back to the Future Day: What the franchise sneakily got right
---
Inside the business of entertainment
The Wide Shot brings you news, analysis and insights on everything from streaming wars to production — and what it all means for the future.
You may occasionally receive promotional content from the Los Angeles Times.