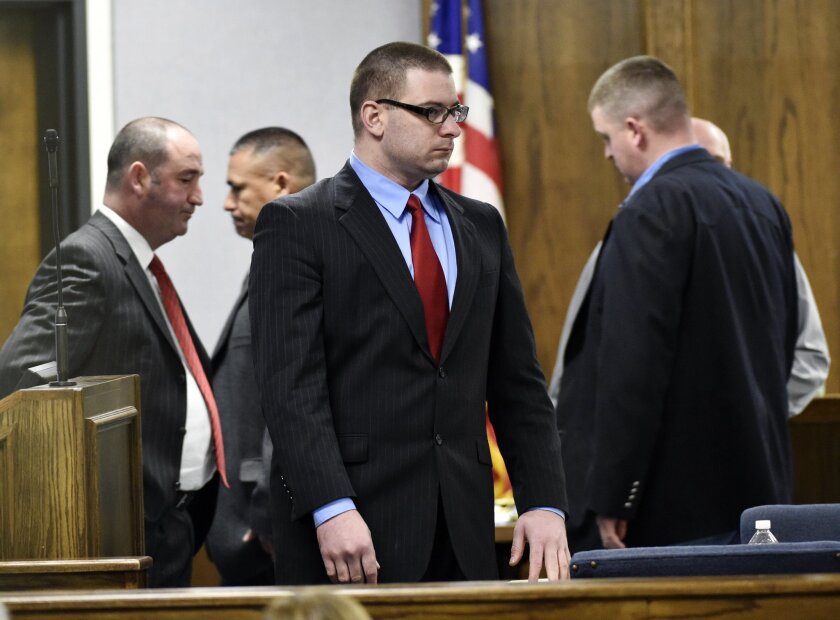 Troubled veteran Eddie Ray Routh was convicted of capital murder late Tuesday in the slaying of two men, including Chris Kyle, the Navy SEAL whose life inspired the blockbuster "American Sniper."
Routh, 27, was sentenced to life without possibility of parole for fatally shooting Kyle and friend Chad Littlefield at an outdoor gun range in 2013. Routh's lawyers had argued that their client was not guilty by reason of insanity, but the jury took less than three hours to reject their argument and convict the defendant.
Considered the most lethal sniper in American military history, Kyle served four tours of duty in Iraq and chronicled his experiences in a 2012 autobiography. Warner Bros. acquired film rights to the bestselling book, with Bradley Cooper attached to play Kyle. Steven Spielberg was originally to direct the film but dropped out, and Clint Eastwood took the reins, working from a script by Jason Hall.
Kyle was killed while the film was in development, and Hall even attended the serviceman's memorial. The movie intersected with news events in unusual ways. The judge dismissed potential jurors because of fears their views were informed by movie-related publicity, and Routh's lawyers sought to delay the proceedings while the film remained popular in theaters.
Taya Kyle, who offered emotional testimony at the trial of her husband's killer, also made appearances on behalf of the film, providing a stark real-life reminder of the abstractions of a movie screen. "I have a feeling the trial is going to be a beat-down," she told The Times over the holidays as the movie was beginning to roll out. "And yet there's no place I'd rather be. Everywhere I can be supporting Chris and standing up for him. I will always be there."
Released on Christmas Day, "American Sniper" has proved a box office sensation, grossing $430 million worldwide. It was also nominated for five Oscars, including best picture, and won one, for sound editing.
In recent weeks, as Routh's trial approached and the film continued its box office ascent, "American Sniper" ignited widespread debate. Detractors have criticized it for glorifying war and serving as pro-U.S. propaganda, while supporters have praised it for exploring the toll that combat takes on soldiers and their loved ones.
Among the voices immediately reacting to Routh's conviction was Kyle's fellow SEAL Marcus Luttrell, whose own life inspired the hit movie "Lone Survivor." On his Facebook page, Luttrell wrote, "Justice served for Chris and the Littlefield family."
Follow @ogettell for movie news
---