No small feat: 'Ant-Man' wins over critics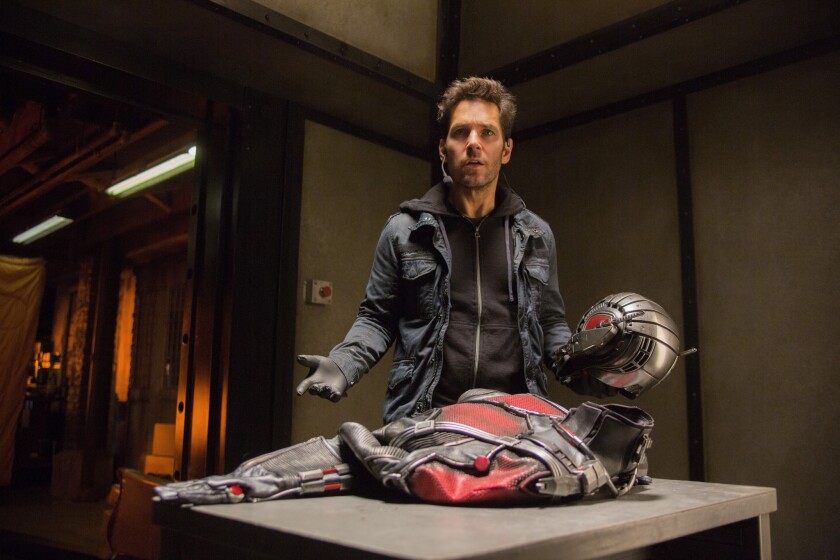 As perhaps befits a movie about a superhero who can shrink to insectoid scale and return to normal size in the blink of an eye, expectations for Marvel Studios' "Ant-Man" have shifted wildly during the course of its scrambled production process.
Originally developed by genre-savvy filmmaker Edgar Wright, who departed the project over creative differences with Marvel, "Ant-Man" was ultimately helmed by Peyton Reed, a director known for comedies like "Yes Man" and "Bring It On" but short on action bona fides.
For all the off-screen drama, though, "Ant-Man" has arrived in pretty good shape, at least according to film critics. Most agree that Reed's light touch — and leading man Paul Rudd's down-to-earth appeal — make for an enjoyable caper.
The Times' Kenneth Turan writes, "Playful in unexpected ways and graced with a genuinely off-center sense of humor, 'Ant-Man' (engagingly directed by Peyton Reed) is light on its feet the way the standard-issue Marvel behemoths never are. It's got a vintage science fiction feel and a climactic scene in which Thomas the Tank Engine rather than a crowd of interstellar invaders plays a major part. Business as usual this is not."
Turan goes on to say the movie benefits from the presence of Rudd (a "genial and charming everyman") and Michael Douglas (bringing "invaluable gravitas"), as well the "anarchic popular culture spirit" imprinted by the initial writing team of Wright and Joe Cornish.
Variety's Justin Chang calls "Ant-Man" a "winningly modest addition" to the Marvel canon and adds, "Though we can mourn the more stylish and inventive stand-alone caper we might have gotten from director Edgar Wright … this enjoyably off-the-cuff franchise starter takes a cue from its incredible shrinking protagonist … and emerges with a smaller-scaled, bigger-hearted origin story than most comicbook heroes are typically granted."
In some ways, Chang says, "'Ant-Man' feels less like a full-blown superhero spectacular than a goofily amusing, warmly sentimental family drama with a pleasing overlay of blockbuster elements." Chang also singles out Michael Pena, who plays Rudd's trusty sidekick, for his comedic chops.
USA Today's Brian Truitt says "Ant-Man" offers Marvel's "most distinctive solo character yet" and should appeal not only to superfans, but to "most anybody who can fathom a shrinking man."
Truitt concedes that "Tonally, 'Ant-Man' is a little all over the place — at times, it's a quirky comedy, heist film, trippy sci-fi project and family drama, never able to really blend everything in a cohesive fashion. … That said, when it's on its game, 'Ant-Man' does some of the best stuff ever in a Marvel movie."
Entertainment Weekly's Chris Nashawaty gives "Ant-Man" a B grade and says it "should uncock a lot of skeptically raised eyebrows. Watching Paul Rudd, reduced to the size of a dust mite, zipping around with his six-legged army of mind-controlled insects and sneaking into tight, top-secret spots, it suddenly makes sense why being tiny might be as advantageous as being the size of the Hulk. It helps, of course, that Rudd is the guy doing the selling."
As is typical of Marvel movies, this one "runs on far too long," Nashawaty says. But it also stands as "proof that no matter how silly some ideas sound at first, good things often do come in small packages."
Not all critics have been charmed by "Ant-Man," though. The Newark Star-Ledger's Stephen Whitty, for example, writes that "there's not much at stake here, emotionally. The truly great Marvel superheroes struggle with hubris. 'Ant-Man' mostly panics and yells and falls down a lot."
He continues: "Sometimes Rudd is just a little too cute and dimply, and sometimes Reed … pushes things a little too hard, particularly with Christophe Beck's comic, pastiche soundtrack, or some oh-those-funny-minorities! characters. … As hard as everyone here works, 'Ant-Man' emerges only as a minor hero – fine for occasional gags and cameos in upcoming Marvel ensembles, but undeserving of all this attention."
Follow @ogettell for movie news
---
From the Emmys to the Oscars.
Get our revamped Envelope newsletter, sent twice a week, for exclusive awards season coverage, behind-the-scenes insights and columnist Glenn Whipp's commentary.
You may occasionally receive promotional content from the Los Angeles Times.