How did 'Bachelorette' land cameo in Woody Allen's 'Blue Jasmine'?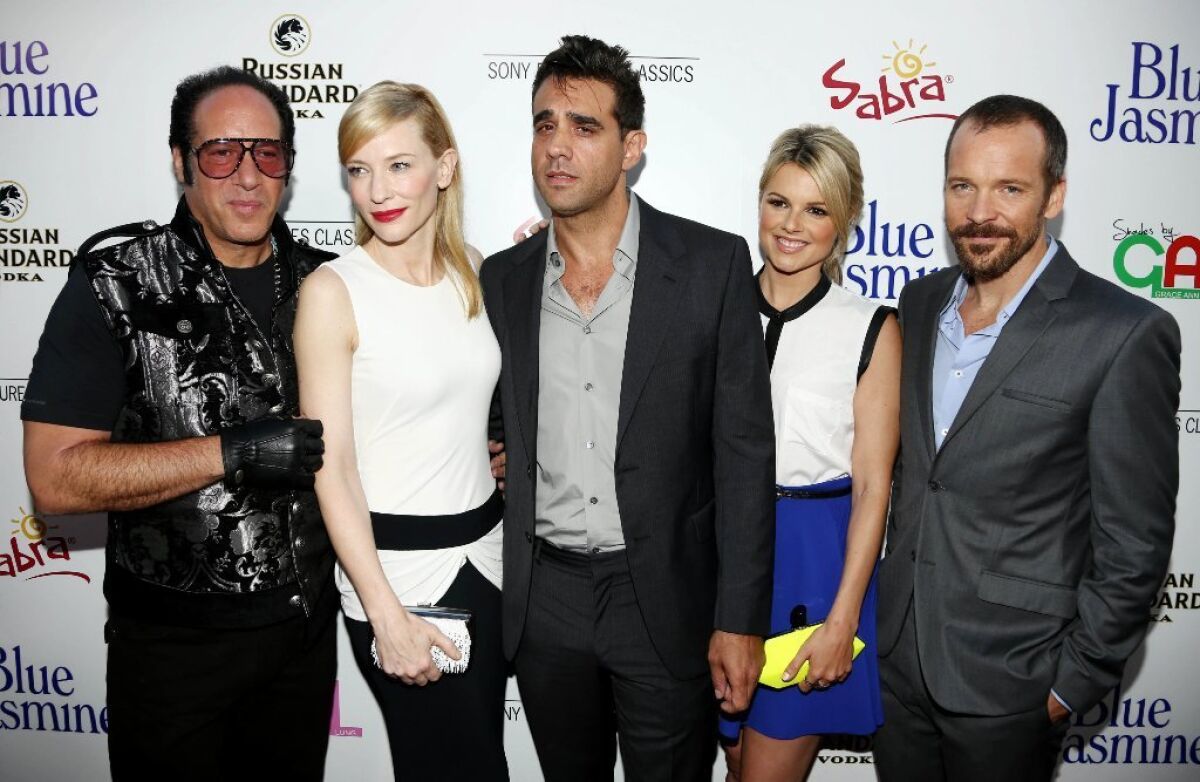 Flanked by a giant golden Oscar, Sony Pictures Classics co-president Michael Barker introduced the cast of Woody Allen's new film "Blue Jasmine" at the movie's premiere Wednesday night.
Slowly, the stars in attendance at the Samuel Goldwyn Theatre stood for recognition: Cate Blanchett, Peter Sarsgaard, Andrew Dice Clay, Ali Fedotowsky.
"Wait," one moviegoer whispered to her date, "isn't that the chick from 'The Bachelorette'?"
Indeed, there she was, Ali Fedotowsky -- the 28-year-old best known for dating 25 dudes on ABC's reality television show in 2010 -- standing alongside an Oscar-winning actress.
Since getting engaged to -- and subsequently breaking up with -- "Bachelorette" contestant Roberto Martinez, Fedotowsky has built a respectable career as a TV personality, often filling in for Giuliana Rancic on E! News and hosting her own travel show, NBC's "1st Look" -- a staple on the TVs in New York City cabs.
It was on the latter show that Allen's casting director, Patricia DiCerto, eyed the bubbly blond and thought of her for a role in "Blue Jasmine," which hits theaters in limited release Friday.
"She fit Woody's vision of the character both physically and personality-wise," DiCerto wrote in an email. "I knew he would think she was perfect for the role."
The term "role" may be a bit of a stretch when it comes to describing Fedotowsky's bit in the film, which follows a woman (Blanchett) on the verge of a nervous breakdown after the dissolution of her marriage to a wealthy con man (Alec Baldwin). Fedotowsky plays the couple's physical trainer, and Baldwin's character asks if she'd be interested in attending a Yankees game with him.
PHOTOS: The many movies of Woody Allen
"Absolutely," Fedotowsky's character Melanie replies enthusiastically. "If there's nobody else you want to take."
The whole scene lasts maybe 30 seconds, but filming it in the Hamptons last summer was nonetheless thrilling for the onetime reality-TV star.
"When Alec started reading his line, he was so good that I almost didn't realize we were starting," Fedotowsky recalled on the telephone Wednesday, hours before the L.A. premiere. "He and Cate were both so nice. After one take, she said, 'You and I gave each other a little look involuntarily. I liked how we did that. Let's try it again.' "
On set, Fedotowsky didn't mention to anyone that she'd been "The Bachelorette."
"I wanted them to think of me as a young actress who was getting her first little role," said the TV host, adding that she has no plans to pursue an acting career.
PHOTOS: Hollywood backlot moments
"I don't think I'm going to be winning an Oscar any time soon," she said with a laugh. "It's still mind-boggling to me -- I feel like I'm lying when I tell people that I have a cameo in a Woody Allen film. I'm going to get to buy the DVD and keep it forever."
Meanwhile, one big question remains: Is Allen a closet "Bachelorette" fan? The world may never know.
"As to Woody's awareness of the show," DiCerto wrote, "I can't speak to Woody's viewing habits but I suspect his TV is tuned to the Knicks more than reality television!"
ALSO:
'Blue Jasmine': Woody Allen on regrets - He's had a few
'Bachelorette' recap: Back adjustments, snow cones, cheap rings
'Blue Jasmine' trailer: Yo, Andrew Dice Clay in a Woody Allen film?
---
Get the Indie Focus newsletter, Mark Olsen's weekly guide to the world of cinema.
You may occasionally receive promotional content from the Los Angeles Times.