'The Secret Life of Walter Mitty,' and the public one of Ben Stiller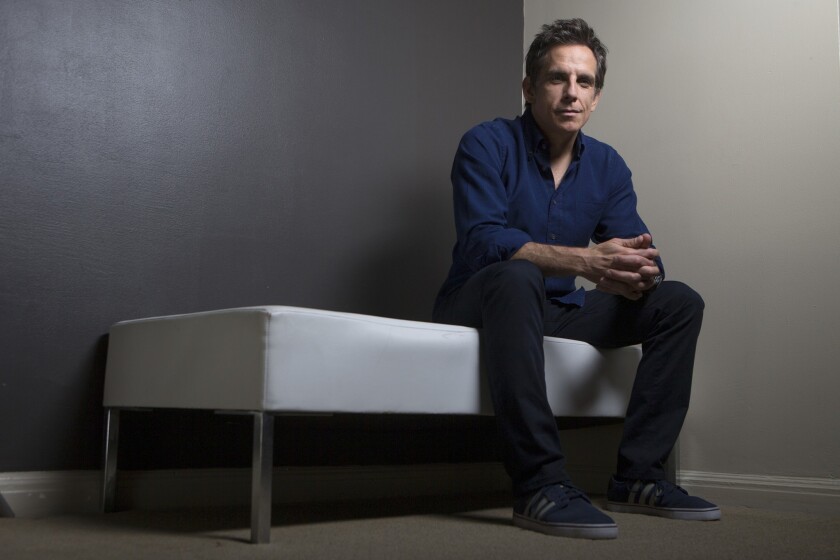 Ben Stiller was born and bred into comedy. His parents were buzzed-about comedians Jerry Stiller and Anne Meara, and they weren't shy about introducing the world of entertainment to their son. At a young age, Stiller and his sister Amy would dress up in her tights to perform Shakespeare renditions at home.
As Stiller grew older, he turned to the stage and studied the craft at UCLA School of Theater, Film and Television. He had always been a fan of Tom Cruise. Obsessed, even. At the time, he spoofed Cruise's role in sports drama "The Color of Money" (1986), which garnered the attention of "Saturday Night Live," and ultimately led to Stiller's year-long gig on the show.
Since then, the New York native has starred in a legion of comedy features -- romantic, crime and sports-driven. Here we recap a portion of Stiller's onscreen work through the years.
By Christy Khoshaba
(Robert Gauthier / Los Angeles Times)
Stiller makes his big screen debut in Steven Spielberg's war drama "Empire of the Sun," alongside a young Christian Bale, pictured. The tale dives into an English boy's struggle to survive under Japanese occupation circa World War II.
(Unknown Photographer / Unknown Photographer)
Stiller tries directing for the first time in the rom-com "Reality Bites" starring Winona Ryder, pictured. Ryder plays an aspiring filmmaker who documents the highs and lows of her friends during the '90s. Today, Stiller's film remains a cult classic among the '90s generation it portrayed.
(Van Redin / Universal Studios )
Teaming up with Patricia Arquette, Stiller plays the lead role in David O. Russell's comedy "Flirting With Disaster." The plot follows Stiller, a man determined to find his biological parents, who travels around America with his affectionate wife and his incompetent case worker.
(Barry Wether / Miramax films)
After "Reality Bites," Stiller lands his first big budget directing role in Jim Carrey's film "The Cable Guy." Stiller won the hearts of movie critics, but failed to impress Carrey fans.
(Melinda Sue Gordon / Universal)
"There's Something About Mary" tells the story of a shy man (Stiller) obsessed with his high school crush (Cameron Diaz), and his efforts to win her over. The film was declared one of funniest stories of the 20th century according to the American Film Institute.
(Glenn Watson / 20th Century Fox)
Based on the autobiography of American novelist Jerry Stahl, the film depicts Stiller as a heroin-addicted father climbing up the ranks to become a well-known television writer. The real Stahl makes a cameo in the film as a meth doctor.
(John P. Johnson / Artisan Entertainment)
In the romantic comedy "Keeping the Faith," Stiller plays the most eligible rabbi in New York, who is torn between his religious calling and his love for a non-Jewish girl, an old friend played by Jenna Elfman.
(Glen Wilson / Touchstone PicturesS)
Continuing to reach for comedies, Stiller plays a man in love with his girlfriend (Teri Polo), ready to propose. When he meets the woman's father, the tale changes for the worst.
(PCPhil Caruso / Universal Studios)
In "Zoolander" Stiller takes on the role of Derek Zoolander, a fashion model on the brink of being ousted, who is brainwashed into murdering the Prime Minister of Malaysia. Portraying the wacky charachter only further catapulted Stiller into the limelight.
(Melinda Sue Gordon / Paramount Pictures)
With Danny Glover, second from left, Gywneth Paltrow and Anjelica Huston, right, Stiller stars in the comedy drama "The Royal Tenenbaums" about a family of failed geniuses who think they may have a shot at an Oscar.
(Touchstone Pictures)
Swaying into another comedy, Stiller teams up with Drew Barrymore, pictured, in the film "Duplex." The pair play a young couple with a chance to move into a highly desirable duplex. But the only way to get in is to kick out the current resident.
(Darren Michaels / Miramax Films)
The newly married character of Stiller finds his organized life spinning when he meets an old classmate played by Jennifer Aniston, pictured. Stiller earned a Golden Raspberry Award nomination for Worst Actor for his performance in this film. He earned the same title for films that followed like "Anchorman: The Legend of Ron Burgundy," "Dodgeball: A True Underdog Story," "Envy" and "Starsky and Hutch."
(Tracy Bennett / Universal Studios)
Weaving in crime to his comedy, Stiller plays a streetsmart cop with Owen Wilson, pictured, who both fight crime with help of police snitch named Huggy Bear, played by Snoop Dogg.
(Elliot Marks / Warner Bros.)
The once close friendship between Stiller's character and that of Jack Black, pictured, subsides once Black's character strikes it rich, and Stiller's jealousy spirals out of control.
(Brian Hamill / DreamWorks Pictures)
Stiller plays a fitness guru entangled in a dodgeball competition in this sports comedy. The character he portrayed in this film was similar to the character in the film "Heavy Weights" (1995).
(Tracy Bennett / AP )
In the sequel to "Meet the Parents," this comedy illustrates the time the Focker family (Stiller and company) meets his wife's family (Teri Polo and company). The film was followed by "Little Fockers" in 2010.
(Tracy Bennett / Universal Studios)
From left, Melman the giraffe (David Schwimmer), Marty the zebra (Chris Rock), Alex the lion (Ben Stiller) and Gloria the hippo (Jada Pinkett Smtih) bundle together after they escape from a New York zoo. The comedy spawned "Madagascar: Escape 2 Africa" (2008) and "Madagascar 3: Europe's Most Wanted" (2012).
(DreamWorks Animation)
Based on a children's book by the same name, the tale centers around Stiller as a new night guard at the Museum of Natural History. When he discovers an ancient curse that turns the animals and exhibits on display into real life creatures, chaos soon emerges. The film generated a sequel titled "Night at the Museum: Battle of the Smithsonian" (2009).
(Donae Gregory / AP )
Stiller plays a newly wed man who is certain he's found the perfect woman (Malin Akerman). But when the pair venture off on their honeymoon, he realizes how mismatched they are for one another.
(Zade Rosenthal / Paramount Pictures)
In the action comedy "Tropic Thunder," a group of actors shoot a war movie, starring, from left, Kirk Lazarus (Robert Downey Jr.), an over-the-top Australian-born method actor who has gone to extremes to get into character; with Sandusky (Jay Baruchel), a novice thespian; Jeff Portnoy (Jack Black), a gross-out comedy star; Four Leaf Tayback (Nick Nolte), the real-life inspiration for the film; Tugg Speedman (Ben Stiller), pampered action superstar; and rap star Alpa Chino (Brandon T. Jackson).
(Merie Weismiller Wallace / PR Newswire )
Stiller plays an anxious man fresh from a nervous breakdown in the comedy "Greenberg." He vists his hometown of Los Angeles to house-sit for his brother, hoping to figure out his life. He soon sparks a relationship with his brother's assistant.
(Wilson Webb / Focus Features)
When a group of hard working employees (Ben Stiller, Casey Affleck and Enrique Devreaux) of an exclusive apartment building discover they've fallen victim to a wealthy businessman's Ponzi scheme, they work together to rob his high-rise residence, with help from an experienced criminal (Eddie Murphy, pictured).
(David Lee / Universal Pictures)
From left, Jonah Hill, Ben Stiller, Richard Ayoade and Vince Vaughn are part of a neighborhood watch group who discover aliens living in their neighborhood.
Ben Stiller along with Will Ferrell, Jack Black, Vince Vaughn, Steve Carell, Owen Wilson and Luke Wilson are often referred to as "The Frat Pack" because of the handful of films they've made together.
(Melinda Sue Gordon / 20th Century Fox)
Stiller plays an office worker who lives inside his own fantasy world. While dating his co-worker (Kristen Wiig, pictured), Stiller realizes that both of their jobs are threatened. To solve the issues, he treks on a global journey. This will be Stiller's fifth big feature directorial take.
(Wilson Webb / Twentieth Century Fox)
Stiller is honored with a hand and footprint ceremony at TCL Chinese Theatre on Dec. 3, 2013 in Hollywood.
(Kevin Winter / Getty Images)
NEW YORK — Over the last 15 years, much of Ben Stiller's work — "Zoolander," "Meet the Parents," "There's Something About Mary," "Tropic Thunder" — has turned not only into box-office gold but something bigger, zeitgeist-defining comedies that continue to play in our minds and on our cable-TV schedules. Love him, get annoyed by him or simply think he'll never top a certain hair-gel moment, Stiller is one of this era's most influential comic presences.
Or maybe was one of its most influential comedic presences.
In 10 days, Stiller will, in many ways, say goodbye to all that. That's when 20th Century Fox releases "The Secret Life of Walter Mitty," his fifth directorial effort, which he also produced and stars in. The movie doesn't pass up the occasional joke or fantasy sequence, but it has serious, even heartbreaking, stuff on its mind — big, meaning-of-life questions as a once-promising young man, now solidly in his 40s, stares into the chasm of squandered potential.
PHOTOS: Ben Stiller movies throughout the years
Older filmgoers will recall Danny Kaye's 1947 "Mitty," also based on James Thurber's 1939 New Yorker story. That film was a series of loosely connected sketch pieces about a henpecked suburban man. Not so here. As a former youth skateboard champion caught in a rut as a low-level Life magazine photo editor, Mitty 2.0 is pitched differently.
After a decades-long funk following the death of his father, Mitty decides to embark on a real-life quest to shake things up, pursuing a lost photograph halfway around the globe and slowly working up the courage to ask out a colleague (Kristen Wiig). Written by the dramatic-minded Steven Conrad ("The Pursuit of Happyness"), it's a movie that shows, with no small amount of melancholy, how bad breaks can negate hope and talent — and asks what, if anything, we can do about it.
If the film's mix of self-seriousness and whimsy has vexed some critics — Variety called it a "a feature-length 'Just Do It' ad for restless middle-aged auds" and noted its "mellow existential crisis of the sort Cameron Crowe characters routinely suffer" — it reflects a director himself struggling under the yoke of unrealized ambition and his encroaching AARP status.
"This movie relates to me personally," said Stiller, 48. "It's where I am in my life right now. When you're in the world of creating things you're constantly trying to get somewhere where you haven't been. And that's the dilemma Walter faces."
Stiller was looking out at the Manhattan skyline from a skyscraper astride Central Park, contemplating a career that has improbably taken him from quirky humorist to one of the world's most bankable comedy stars — his "Night at the Museum" and "Fockers" movies alone have grossed more than $2 billion.
Yet despite all that, a restlessness pervades. He wants to direct far more than he wants to act. He has a newfound inclination for historical tales, not the comedies he once seemed to crank out by the fistful as an actor, director and producer. One of Hollywood's most complex personalities — at once charming and irascible, performative and squirmy — stands at a threshold. And despite their places at opposite ends of the success spectrum, he and Mitty have more in common than you might expect.
Dedicated filmmaker
It was a cold day in Iceland, even by Iceland standards. It was even colder if you'd plunged into the sea, as Stiller had just done. He'd submerged himself to shoot multiple takes as Mitty, small watercraft buzzing around him. He emerged dripping and shivering and was hurried to an inflatable hot tub. Production assistants enrobed him in towels.
"Ben's teeth were chattering, and his whole body was rocking back and forth," said Jeff Mann, the film's production designer, recalling the shoot. "Most people would just try to warm up. But Ben asked for the handheld monitor and began studying it. Then he looked at it, gave some notes to the people around him and said, 'Let's go again.'" A few minutes later, he was back in the water.
A few weeks earlier, a similar scene played out in on the streets of midtown Manhattan, where Stiller and the actor Adam Scott, who co-stars as Mitty's smarmy boss, careened down Fifth Avenue on wooden boards at nearly 50 M.P.H. in a fantasy fight sequence. Nothing but thin wires tethered their bodies to the trucks hauling them; neither man held on to anything except the flimsy Stretch Armstrong doll they were fighting over.
When the trucks stopped, Stiller was quickly unhooked from the wires and ran up the street to look at the monitor.
"I remember thinking, 'There is no fear here,'" Scott said. "Just a laser-like focus."
On the two "Night at the Museum" films, director Shawn Levy had a similar encounter with what he calls Stiller's "fierce perfectionism," going through the script page by page with the actor as Stiller offered thoughts throughout. When they were finished, Levy took all the notes back to the writers for a new pass. He then took the revised draft back to Stiller and repeated the process all over again. "We'll do this 10-12 times," said Levy. "OK, 12 is the most we've done," he added and laughed. "But more than a half-dozen."
That pre-production meticulousness held on "Mitty." Stiller was initially set to only star in the film, which over 17 years in development had hit the shoals with several directors, including Steven Spielberg and Gore Verbinski, who couldn't find the right tone for an update. Shortly after reading Conrad's script as an actor, though, Stiller began writing elaborate notes in its margins. "It was not something you'd normally see an actor do," said John Goldwyn, the film's producer. "You could tell it spoke to him."
Soon after, Stiller decided to helm the movie too, despite the Kurtz-like efforts of those who came before ("It helped that I didn't think about it that way," he said dryly.)
As imagined by Stiller and Conrad, their movie would contain some comic nuggets. But it would largely reflect the frustration of middle-aged and middle-class males and the wages of loneliness, a bit like what "Falling Down" might look like if Michael Douglas had gone to a more lighter, more redemptive place. (The posters are eerily similar, with images of solitary men with ties and briefcases hovering over the world below.) "I felt that Steve made the movie about something more than just a daydreamer with incredible fantasies," Stiller said. "It became a story about a man willing to take a chance to connect."
PHOTOS: Billion-dollar movie club
So Stiller went to work. He wangled from Fox a budget of nearly $100 million, a gargantuan sum for a drama. He brought on a crack visual team, including Mann and the Oscar-nominated cinematographer Stuart Dryburgh. He began pushing the cast to enter the melancholy head space he wanted the film to occupy, sending them bunches of emo songs, like a track from the Oakland indie band Rogue Wave. And he honed the character into someone who, when he eventually responds to his circumstance, does so with surprising ferocity.
"It's almost pathological how many obstacles Ben chooses to put in front of himself," Mann said. "That makes some people daunted by him. But I find it exciting."
All of this doggedness hasn't exactly given Stiller a laid-back reputation. Over the years, stories have circulated about the precise demands he makes. Stiller has even nodded to this reputation in his work, playing a tantrum-prone loner in Noah Baumbach's "Greenberg" and an erratic hothead in a guest spot on a "Friends" episode titled "The One With the Screamer."
Levy said the stories of Stiller's demanding ways are accurate, but the attitude almost always serves the piece, and is fairly applied. "Ben wants to be surrounded by people who work as hard and worry as much as him. That's all he wants," said the director. "If you're that breed of crazy, as I tend to be, everything is good."
Stuart Cornfeld, Stiller's longtime producing partner, said, "I think that most everybody who's worked with him understands he is driven and he drives the people he works with, but it's ultimately about the thing that's external to himself." Cornfeld added, "What's the old phrase, pain is temporary but art is forever?"
In person, Stiller can be thoughtful and even playfully childlike; his text alert on his cellphone, for instance, is the voice of George Takei. He also can be confident and funny, especially in front of crowds; before a New York Film Festival screening of "Mitty," he quipped that "a lot of people think studios are bad and these faceless, greedy corporations." Pause. "And they are."
But there's also a rawness and nervousness, a sense that certain questions can set him on edge.
Asked whether it matters that awards tastemakers haven't been kind to "Mitty," he tightly shook his head before attempting a joke that he faced similar expectations on "Dodgeball." He also seemed to take offense at the idea that he, Vince Vaughn, Jack Black and others had once formed a comedy "frat pack," the mid-2000's journalistic shorthand for the group after they collaborated on a string of hits. "I have no idea where it came from," he said. "Some website came up with it. I would venture to say none of us in this so-called thing — I don't even say the name — ever felt that."
Introspective pause
It's a little hard to remember, after the barrage of "Along Came Polly," "Meet the Fockers" and numerous other commercial comedies, but Stiller's early career — particularly his first two feature directing efforts, the generational touchstone "Reality Bites" and "The Cable Guy," along with his short-lived television sketch series "The Ben Stiller Show" — was marked by a darker brand of introspection, a commercial gloss hiding existential themes.
Back then, before he had chiseled out the nice-guy archetype that has proved so lucrative, we witnessed a man worried about the big questions and coping with them through his comedy, a Gen-X Woody Allen of sorts.
Stiller said that, while the instinct may have lain a little dormant, it hasn't gone away. In fact, he sees this picture as a bookend to his first film.
"With 'Reality Bites' I also was looking at my life. I had a different perspective. I was looking forward all the time, thinking about the next step, and the movie was about that," he said. "At this point it's wanting to put the brakes on and enjoy where I am and who I am right now, which is what this movie is about."
His personal life is at a different place than it was in the mid-90's, a period when he dated a number of tabloid-friendly actresses. Married since 2000 to the lower-profile performer Christine Taylor, Stiller and his wife have a son, 8, and a daughter, 11. Around 2010, after two decades in Los Angeles, he and his family decided to move to New York, a prodigal return of sorts for Stiller, who had a showbiz upbringing in the city himself as the son of Jerry Stiller and Anne Meara.
Stiller made the choice, he said, out of a sense that he wanted to hold on to something past--"I want to give my children the East Coast experience I had"—which is a sensibility that's also embedded in "Mitty." Much of the film centers on the soon-to-be-obsolete Life magazine as it's about to be shuttered and Mitty's job as an analog photo editor is set to be phased out.
"This movie is about capturing what could soon be lost," Stiller said. "There's something about holding a Life magazine in your hands from 1944 and knowing it was around in 1944. My kids will never have that experience."
Slowing down also means taking a look at his career, which has him feeling a little restless. Stiller has just finishing shooting "While We're Young" as an actor, reuniting with Baumbach for a movie in which he plays a filmmaker locked into an established style.
PHOTOS: Celebrities by The Times
The actor says he found himself identifying with that character's dilemma. "I love making comedies. I just think it's what you find in the moment, and for me now it's more dramatic," he said. "I'd love to find ways to historical stories that don't feel like a biopic on the History channel." (One such project is "CivilWarLand in Bad Decline," a movie he's long been developing based on George Saunders' surrealist story collection.)
Stiller is making an exception for a new "Night at the Museum," the series' third picture, which is set to begin shooting in a few months. But Levy notes there's good reason for it. "This new phase with Ben is real. 'Night At the Museum 3' is basically a farewell," both to the franchise and to the kinds of movie Stiller has been making.) Mann says he sees Stiller as inhabiting "a new chapter of wanting to do something memorable that goes beyond the weekend numbers."
Stiller takes a rueful tone about his career.
"In my head I've been thinking of myself as making all these different kind of movies. But the reality is that up to this point is these are the movies I've made," he said. "As a director I feel a lot more connection with wanting to explore different kinds of movies."
Stiller also said that to expand he'd very much like to direct films he doesn't star in, which will allow him to handle a wider range of characters and subjects. (On this he could face a bit of a Catch-22, since when it comes to hyphenates who are box-office draws as actors, studios will often hinge a greenlight for a directorial effort on the person's commitment to star.)
Stiller's switch may also be a recognition that some of the comedy ground he tilled has been overtaken by Judd Apatow and Todd Philips, who, despite some of their own travails, have found more success in the past few years than Stiller, whose previous two acting comedies, "Tower Heist" and "The Watch," were box-office disappointments.
In fact, many of the actors from the don't-call-it-a-frat pack have found their comedy getting a little long in the tooth — which may be why Vince Vaughn tried to go more heartfelt in "Delivery Man" and Jack Black and Owen Wilson are at their own crossroads.
Stiller said that he sees his own shift as more about his own tastes than a cultural cycle — those are, after all, turns he can't control.
"The last few years I've had a realization: that things happens for no reason whatsoever. Good stuff happens and horrible stuff happens," he said. "When I was younger I thought there was some way of figuring stuff out, that, you know, if you just eat well you'll be OK. But it doesn't. And life just keeps coming at you and time starts to pass quicker, and you just start to see how temporary it all is. So I want to seize the moment and try to find the right balance of what I want to do creatively.
He paused. "I told you I related to Walter Mitty."
---
Inside the business of entertainment
The Wide Shot brings you news, analysis and insights on everything from streaming wars to production — and what it all means for the future.
You may occasionally receive promotional content from the Los Angeles Times.