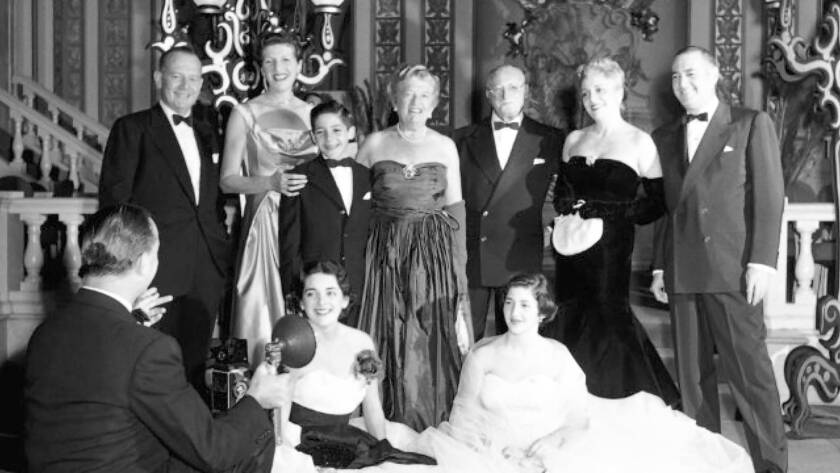 If fashion is a religion, one of its sacred shrines is an emporium that takes up a whole city block on Manhattan's Fifth Avenue, a store so venerated by devotees that a celebrated New Yorker cartoon had one matron confess to another, "I want my ashes scattered over Bergdorf's."
Still overseen by the descendants of the same family that began it in 1901, Bergdorf Goodman, to give the place its official name, is the kind of store both its shoppers and the designers whose clothes sell there view as next door to addictive.
The epitome of luxury and priced to match, Bergdorf's has been called everything from a hymn to consumer capitalism to the store with the most discerning clientele in the world, the kind of place where a $6,000 pair of heels is so in demand the shoe salon can't keep them in stock. More than all that, as portrayed in the sparkling documentary "Scatter My Ashes at Bergdorf's," its story is an engaging one.
Though partly funded by one of the descendants of the store's founder, director Matthew Miele has made a lively, clever, fast-moving film that isn't overly reverential about its subject. It examines such matters as the store's legendary personal shoppers and display windows so significant that Giorgio Armani claims when he comes to New York "the first thing I want to know is what's in the window."
Armani is far from the only big-name designer Miele counts among his more than 175 interviews. Karl Lagerfeld, shoe king Manolo Blahnik, Marc Jacobs, the twins Ashley and Mary-Kate Olsen and Michelle Obama favorite Jason Wu add weight to Isaac Mizrahi's statement that clothes that are not at Bergdorf's are clothes without a future.
Given how many celebrities have made Bergdorf's their home away from home, it's not surprising that we hear stories about them. Like the time Elizabeth Taylor ordered custom-made mink earmuffs for her entire Christmas list. Or the day John Lennon and Yoko Ono ordered 70 fur coats for their Christmas giving, a splurge that would have cost them $2.5 million at today's prices.
Andrew Goodman, who inherited the store from his father and engineered its rise to prominence, considers the people who shopped there to be clients, not customers. One of the store's trademarks is its use of personal shoppers, a team of crack salespeople who can earn comfortable six-figure incomes helping the rich and famous decide what to buy.
Lest you think this is a job for sycophants, the film introduces the tart-tongued "honest to a fault" Betty Halbreich, who takes charge of your buying experience in the most no-nonsense way. "I don't hate," she says, dismissing rumors to that effect. "Dislike? Yes."
Also explored are the roles played by the store's fashion directors, the gatekeepers who decide which designers are ready for BG prime time. The by-now hugely successful Michael Kors, for example, was discovered by fashion director Dawn Mello, who spied him dressing a window right across the street from the Bergdorf block.
We see Mello's successor, Linda Fargo, managing to be charming, approachable and decisive as she weighs whether young designer Ally Hilfiger, the daughter of the celebrated Tommy, is ready for the store. "It's like a marriage," Fargo says. "You don't enter into it lightly."
Though filmmaker Miele races all over the Bergdorf experience, the heart of the film, the narrative thread he returns to over and over, is the overwhelming amount of work put into the store's signature moment, its Christmas windows.
Focusing on the 2011 windows, all created around a "Carnival of the Animals" theme, the film follows designer David Hoey as he visits artists' showrooms and pulls all the elements together. Hoey's idea for his work is to satisfy everyone, from children to sophisticates. "I want the windows to be perceived as hallucinations," Hoey says, the ideal entry point for a store that is the center of so many fashion dreams.
'Scatter My Ashes at Bergdorf's'
MPAA rating: PG-13 for a brief sexual reference
Running time: 1 hour, 33 minutes
Playing: At the ArcLight, Hollywood
---