Critic's Notebook: Bob Hoskins appreciation: Missing the actor's mischief-making smile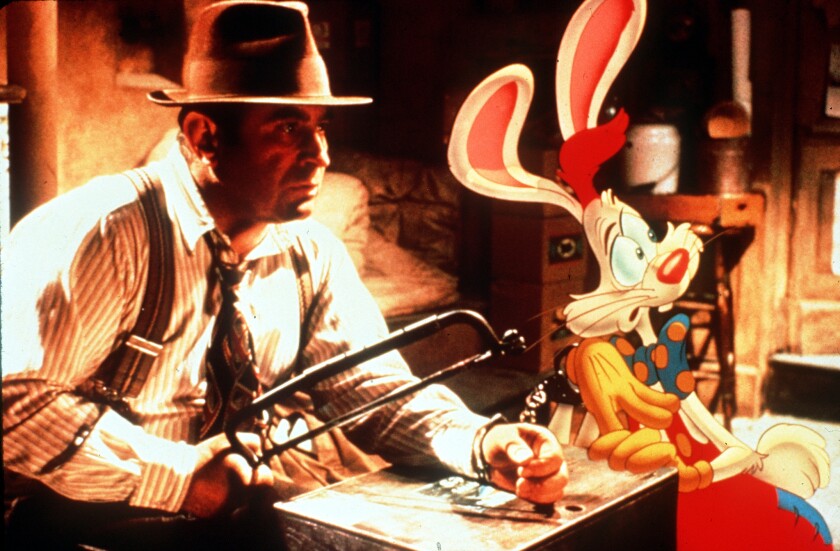 Los Angeles Times Film Critic
I've been missing the wonderfully warm mischief that British character actor Bob Hoskins brought to the big screen since a Parkinson's diagnosis sidelined him in 2012.
His passing at 71 on Tuesday reminded me yet again of the light we've lost.
For all the bad guys Hoskins made grumble and growl, and we'll get to those in a minute, it was his charm that made me a fast fan. A smile was forever tugging at the corner of his mouth. His eyes twinkled and danced under those caterpillar brows. There was an ease he had on screen that was playful, along with an invitation to come along for the ride.
PHOTOS: Bob Hoskins | 1942 - 2014
Quite simply, Hoskins wore whimsy more comfortably than just about anyone.
He grounded it. Milking and making silly flights of fancy unforgettable, as he did squabbling over a nudie revue so deliciously with Judi Dench in 2005's "Mrs. Henderson Presents" and as the shopkeeper wooing Cher in 1990's "Mermaids." His private eye rocked a fedora and suspenders and made the live-action and animation mash-up of 1988's "Who Framed Roger Rabbit" more believable and entertaining in the process.
Perhaps it was those years growing up in a working-class family with few opportunities that brought such effervescence to his 1978 breakout as a sheet-music salesman in Dennis Potter's TV miniseries "Pennies From Heaven." Bob Hoskins could bubble, beautifully.
As much as Hoskins loved acting -- and he did, hanging around the London theater scene until it finally let him in –- he struck me as someone who would have survived even if fate in the form of a confused casting director hadn't shoved a script into his hand and said, "You're next." He carried the sturdy surety of someone who never forgot the lessons of that earlier hard-knocks life.
Still I'm forever grateful for that twist of fate.
I can't imagine anyone else in so many of his roles. Whether fully bearded as the silly Smee, assisting Dustin Hoffman's Capt. Hook in 1991's "Hook," or the rough-around-the-edges ex-con tangling with and tempted by a hooker in Neil Jordan's haunting romantic drama "Mona Lisa."
It is somewhat ironic that "Mona Lisa" would be the role to earn the actor an Oscar nomination in 1987. It is by far his grittiest performance and arguably his straightest. No mischief slipped in; the twinkling eyes became pools of anger and hurt. If you've never seen the film, do so. It will introduce you to the depths of his talent.
Even when the roles weren't as weighty, the actor somehow gave his characters more character. The tiny details meant that Hoskins stood out whether or not he was the leading man.
There was an undercurrent of menace in his Eddie Mannix, a villainous movie producer implicated in George Reeves' death 2006's "Hollywoodland." He put the right amount of mince in J. Edgar Hoover's step in Oliver Stone's 1995 movie "Nixon." He was an emphatic, jowl-wagging Churchill in the 1994 NBC miniseries "World War II: When Lions Roared." And absolutely delightful as Sancho Panza helping John Lithgow tilt windmills in 2000's TV movie "Don Quixote."
Hoskins ranged widely across entertainment, distinguishing himself in every medium -- film, TV, theater. Rarely did a year go by that the actor didn't grace a project; he worked at his craft until he couldn't.
In his last film, 2012's "Snow White and the Huntsman," his beard gone gray, he was stirring as Muir, the wise old dwarf counseling the Huntsman, though the film long will be remembered for the scandal surrounding the director and its star, Kristen Stewart.
The later-day Hoskins turn I favor was as Albert Passingham in 2010's "Made in Dagenham." He was the one always in Rita O'Grady's (Sally Hawkins) corner as she fought sexual discrimination in the workplace in 1960s era Britain.
On screen, Bob Hoskins was always a good one to have in your corner, and I suspect that was true in real life as well. That smile and its sense of mischief -- he seemed to bring it with him everywhere. It and the man who wore it so well will be sorely missed.

---
Inside the business of entertainment
The Wide Shot brings you news, analysis and insights on everything from streaming wars to production — and what it all means for the future.
You may occasionally receive promotional content from the Los Angeles Times.