Angelina Jolie breaks the curse of 'Unbroken'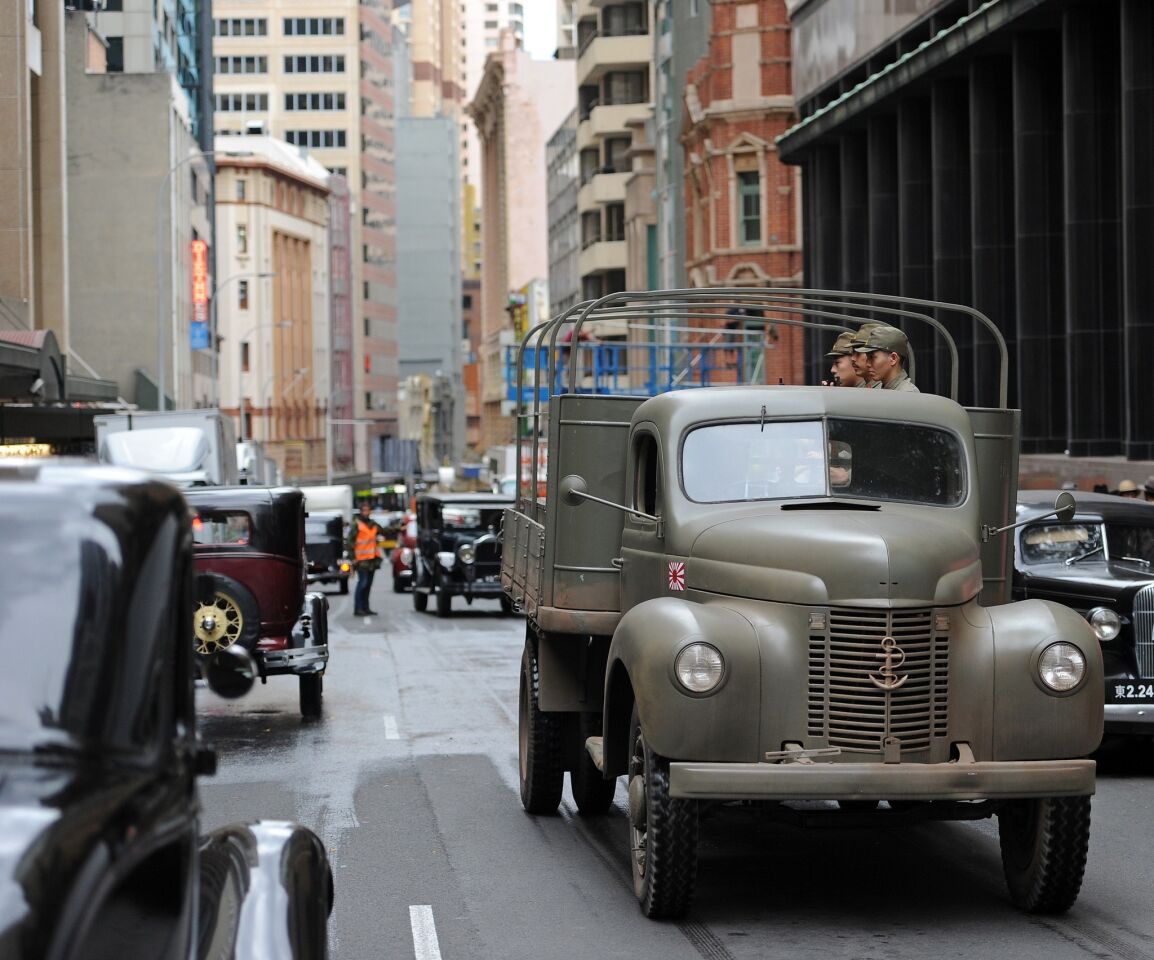 Crews set up to film using vintage 1930's-era cars in Sydney's central business district.
(Greg Wood / AFP/Getty Images)
Extras take part in filming for the new Angelina Jolie movie "Unbroken."
(Greg Wood / AFP/Getty Images)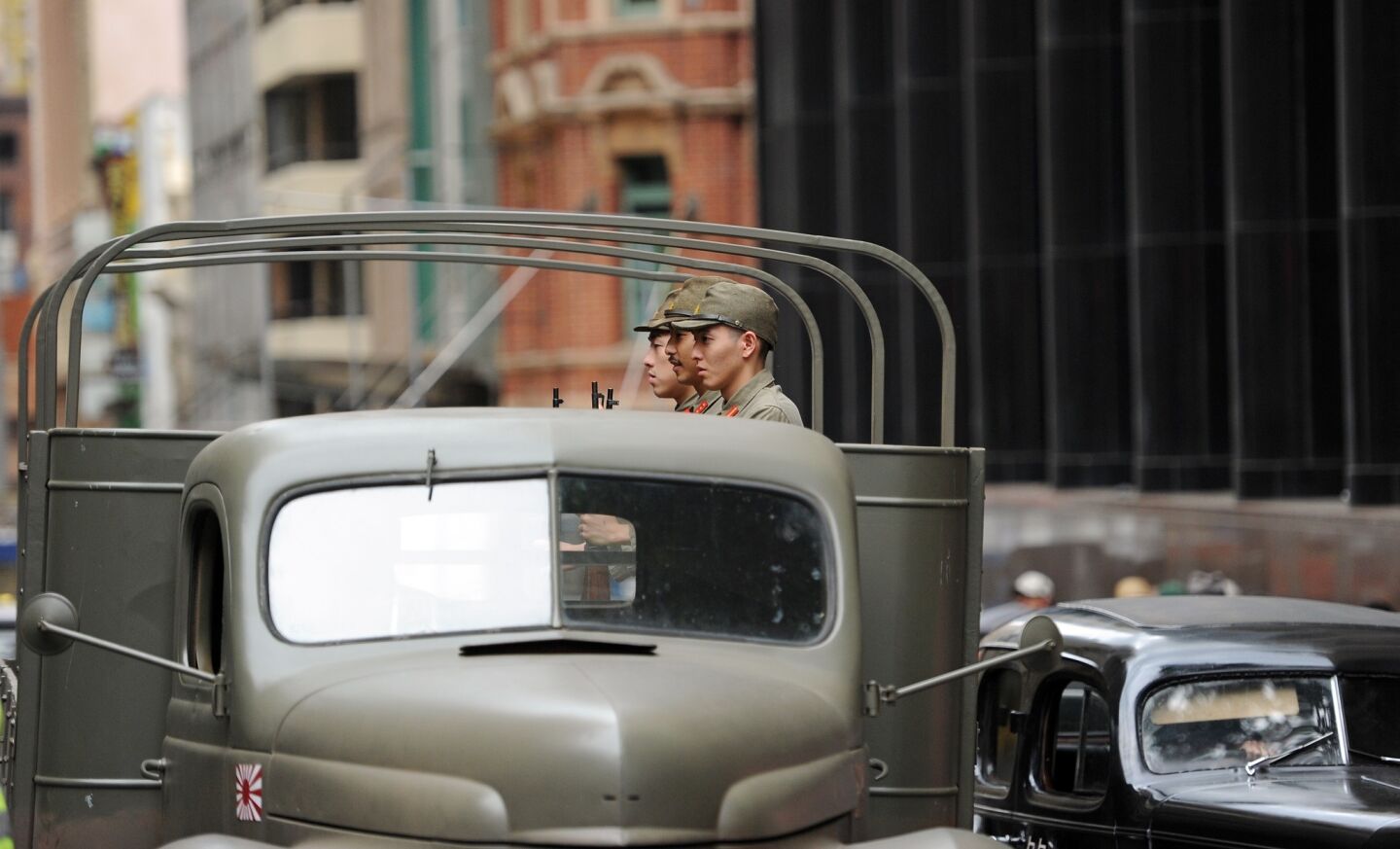 Extras take part in filming for the new Angelina Jolie movie "Unbroken" in Sydney's central business district.
(Greg Wood / AFP/Getty Images)
OXENFORD, Australia — Angelina Jolie was ready to step behind the cameras again. Her directing debut, "In the Land of Blood and Honey," hadn't been a box-office or critical hit, but making the 2011 Bosnian war drama had fueled her desire to become a filmmaker. So Jolie started looking for a follow-up movie, knowing she had to choose carefully.
"I was very nervous," Jolie said about transitioning from acting into directing. "It was like starting over. All of the things that were in your favor before are no longer there."
Finally, in late 2012, she stumbled on a talent agency's log line for "Unbroken," a feature adaptation of the Laura Hillenbrand blockbuster bestseller about the Olympic runner turned World War II bombardier Louis Zamperini, who survived 47 days in a life raft only to be tortured for more than two years as a Japanese prisoner of war.
PHOTOS: Images from Angelina Jolie's 'Unbroken'
Jolie hurriedly took the idea to Brad Pitt.
"Oh, honey," her longtime partner told her, "that's been around forever."
And then some.
Hollywood history is filled with tales of movies that have taken decades to coalesce. Screenwriter Craig Borten started working on last year's "Dallas Buyers Club" in 1992, and a sequel to 1988's "Who Framed Roger Rabbit" is still little more than a thwarted idea.
Yet those delays are just a blink of an eye compared to Zamperini's story — an epic tale of survival, despair, heroism and redemption — that has been kicking around Universal Pictures for more than half a century. The studio bought the rights to his memoir, "Devil at My Heels," in 1956, and penciled in Tony Curtis to star. But the actor signed on to "Spartacus" instead, and like Zamperini himself the movie was cast adrift.
It was not until one especially determined producer decided in 1998 that bringing Zamperini's true-life drama to the screen would be his crusade that the movie was revived. And yet for all of the producer's resolve, the movie still died countless deaths, its fate likely doomed until a writer battling chronic fatigue syndrome made the transformative choice to select Zamperini as the subject of her next book.
PHOTOS: Louis Zamperini - Subject of an 'Unbroken' book and movie
Re-create B-24 crash
Inside a cavernous soundstage at Village Roadshow Studios near Australia's Gold Coast in January, scores of people looked on — costume designers, prop assistants, extras — as Jolie's production team prepared to re-create the crash of Zamperini's ungainly B-24, known to all the people who dreaded flying in it as the Green Hornet.
With Zamperini (newcomer Jack O'Connell) and crewmates Russell Allen "Phil" Phillips (Domhnall Gleeson) and Francis "Mac" McNamara (Finn Wittrock) braced for impact inside the mocked-up bomber, the "Unbroken" effects team rocked the plane violently, filling its fuselage with an explosion of seawater. After checking to make sure all of the cast members were uninjured, the cast and crew applauded loudly, Jolie accepted congratulations and an assistant director called for a lunch break. As everyone filed out, one straggler hung back, beaming. It was producer Matthew Baer, finally witnessing his dream materializing.
Baer knew for years that he had been the butt of Hollywood jokes.
Matthew Baer's on the line again. I wonder if it's about "Unbroken"?
When are you finally going to give up and do something else?
Is he still talking about Zamperini?
"It was embarrassing," Baer said. For 11 years, he didn't make a film, his last producer credit coming with Gwyneth Paltrow's quickly forgotten 2003 comedy "View From the Top." His wife, studio executive and producer Amy Baer, was the one cranking out movies. "Every producer has his or her passion project," said Baer, a quiet and thoughtful 49-year-old father of two. "And they may be laughed at for having it so long."
PHOTOS: Box office top 10 of 2013
The ribbing might have stung, but Baer knew that abandoning the movie altogether would have been far more painful. "I never considered stopping," he said. "Never."
Baer first encountered Zamperini through a CBS documentary assembled for the 1998 Olympics in Nagano, Japan. The circumstances carried particular relevance, because Zamperini had competed in the 1936 Games in Berlin, where he ran but did not medal in the 5,000 meters. His promising track career was cut short by the war when Zamperini enlisted in the Army Air Corps.
His malfunctioning plane crashed into the Pacific Ocean in 1943 miles from land, killing eight of its 11-man crew. Zamperini, Phillips and McNamara — with no meaningful rations or supplies in their raft — had to subsist on rainwater and raw birds, fish and shark liver. McNamara died at sea, and after 47 days in their boat Phillips and Zamperini became prisoners of war, with the former track star singled out for torture by the particularly sadistic guard Mutsuhiro Watanabe, nicknamed by his captors "The Bird." Zamperini's story seemingly had everything Hollywood wanted: an extraordinary hero, a contemptible villain, epic scope, war action and rich parts for an array of young actors.
Zamperini's son-in-law, television writer and director Mick Garris, sent the documentary to his talent agent, who forwarded it to Baer, then the head of Brillstein-Grey Films. Given that relatively few people at the time knew Zamperini's story and that studios in that era were not afraid to make serious war dramas like "The Thin Red Line" and "Saving Private Ryan," the source material generated immediate enthusiasm. Baer met with Zamperini and Garris, told them how impressed he was by Zamperini's life journey, and the movie rights were soon in Baer's hands. "We knew immediately he was the right guy — you could sense his passion," Garris said.
FULL COVERAGE: Oscars 2014 | Complete list of winners
Having bought Zamperini's memoir more than 30 years earlier, Universal still controlled Zamperini's life rights for a movie, and Brillstein-Grey had a deal there. Nicolas Cage, then a recent Oscar winner for "Leaving Las Vegas" and hot off the hits "Con Air" and "Face/Off," was attached as a star. The search for a director and screenwriter commenced.
In short order, though, Baer and everybody else involved in what was called "Untitled Louis Zamperini Project" came to recognize that the story was as vast as the ocean waters in which Zamperini had floated for nearly two months: They simply had too much material, and no one could figure out precisely which parts of his story to tell and which to leave behind.
Zamperini's chapters
Inside the Hollywood Hills home where he has lived since 1957 — he bought the house with Universal's original $8,000 book purchase a year earlier — Zamperini, 97, is as sharp as some people decades younger. While he is less active than in recent years, he still makes the occasional motivational speech and answers a steady stream of fan mail.
There are distinct chapters to Zamperini's life — running as a young man at Torrance High and USC, competing in Hitler's Olympics, surviving the war and his tormentor, and his religious conversion after becoming an alcoholic when he returned home.
Even today, Zamperini can surprise family and friends with stories he hadn't shared before, such as how Watanabe loosened a molar by cuffing Zamperini in the jaw. "He hit me just like that," Zamperini demonstrated. "And after I was finally rescued the doctors said they needed to replace the tooth."
PHOTOS: Best films of 2013 | Kenneth Turan
Given the rich details and broad sweep of his experiences, it's not surprising that screenwriters who tried to squeeze his life into a two-hour movie struggled mightily. In 1999, playwright Robert Schenkkan ("The Kentucky Cycle") wrote a draft, calling it "Iron Man," which covered most of Zamperini's life, including after the war. Universal wanted to hire an A-list director, but Steven Spielberg, Ridley Scott, Ron Howard, Robert Zemeckis and Mel Gibson all passed. "It was probably too broad of an approach," Kevin Misher, Universal's production chief at the time, said of Schenkkan's draft.
Antoine Fuqua ("Training Day") briefly joined the project in 2002 but left to direct "King Arthur," and Tom Shadyac ("Bruce Almighty") subsequently flirted with the project but ultimately left. Neil Tolkin ("The Emperor's Club") rewrote the script in 2004, and even though it landed on Hollywood's coveted "Black List" of the best unproduced scripts, Universal couldn't land the director it wanted. By then Cage was too old, and Ashton Kutcher was mentioned as a possible star.
"The story is undeniable, but these kind of films need the right author, the right stewardship," said Scott Stuber, Misher's successor at Universal.
Thousands of miles from Hollywood, in a 1,500-square-foot row house in Washington, D.C., that very person was about to change the course of the movie's history.
Subject of book
When Laura Hillenbrand was researching her previous book, "Seabiscuit: An American Legend," she would stumble on Zamperini's name as she pored over sports pages chronicling the thoroughbred's races. She decided to make him the subject of her next book, and news of her decision reached Baer.
Celebrity portraits by the Times

Around the same time, in 2003, Universal was putting out its movie adaptation of Hillenbrand's bestseller; "Seabiscuit" pleased critics and moviegoers alike, grossing more than $120 million in domestic release. Whether the author's decision gave Baer's Zamperini movie any noticeable impetus was unclear.
"There was no evidence when the book would come out," Baer said. Having left Brillstein-Grey, he tried to raise financing for the project. Every possible suitor passed, worrying that it would be a costly, hard-to-cast period drama.
Owing both to Hillenbrand's debilitating chronic fatigue syndrome and meticulous research, it would take her until 2010 to complete the manuscript for "Unbroken: A World War II Story of Survival, Resilience, and Redemption."
When the book was finally released it became a publishing phenomenon (it's still on the best-seller charts nearly four years later and has yet to be released in paperback), Baer's "Untitled Louis Zamperini Project" immediately became "Unbroken." Its journey to the screen would still take several more detours.
In 2010, Francis Lawrence ("Water for Elephants") was briefly attached to direct but left to helm the "Hunger Games" sequels. Working with even more source material than Zamperini's memoir (Hillenbrand's encyclopedic book is 496 pages), several more screenwriters, including Richard LaGravanese ("The Fisher King") and William Nicholson ("Gladiator"), tried to adapt the book but again struggled with what to include, with one draft even incorporating the 1998 CBS documentary and a non-existent meeting between Zamperini and Watanabe, which Zamperini's family objected to strenuously.
ON THE SET: Movies and TV shows in production
The challenges were understandable. Unlike "Captain America" or "Inglourious Basterds," the story was going to be a serious World War II drama that dealt with unimaginable suffering and Japan's inhumane treatment of its prisoners — nearly one in three Americans died in Japanese captivity. For all of Hillenbrand's exhaustive and exhausting reporting, Zamperini does not come across as particularly reflective. Finally, with hundreds of thousands of "Unbroken" books in print, every material departure from Hillenbrand's book potentially would spark complaints.
After her 2012 conversation with Pitt, Jolie read the latest screenplay draft and realized, like many before her, that it didn't quite work. But she picked up Hillenbrand's book and, in a home not more than a few hundred yards from Zamperini's — "If he looked out his window, he would have seen me devouring it," Jolie said — she lost herself in the tale.
"I wasn't really looking for something of this size," noted the 38-year-old star. "But the way Laura writes about him is the way I like to read about people. It was like I was witnessing the birth of a man — it was something I wanted to tell my sons about."
A few weeks later, at 2 a.m. while in Cambodia, Jolie awoke with the movie suddenly and clearly in her mind. She asked to meet with Donna Langley, chairman of Universal Pictures, to pitch her take on the movie, which would end with Zamperini's liberation but not include his bout with alcoholism and Billy Graham-inspired religious conversion. Jolie arrived at the studio lot with a garbage bag full of "ridiculous" charts outlining her plan — "They still laugh at me about it" — and "pitched it as hard as I could," Jolie said.
"She was really impressive — thoughtful and thorough," Langley said. The studio had been considering hiring a veteran filmmaker, and giving him (no women were on the list) a $120-million budget. Atfer meeting wih Jolie, Universal changed its mind, scaled down its investment to $65 million and took a leap with an unproven director. "It wasn't an immediate and obvious choice for everybody," Langley said. "But she won the day. She earned it."
PHOTOS: Images from Angelina Jolie's 'Unbroken'
Joel and Ethan Coen, who share Jolie's talent agent, UTA's Rich Klubeck, and had a rare opening in their work schedule, loved Hillenbrand's book and were soon hired to collaborate with Jolie to revise the screenplay. By summer 2013, even after co-financier Walden Media dropped out at the last minute and was replaced by Legendary Pictures, all of the pieces finally fell into place.
Fifteen years after Baer saw the CBS documentary, and 56 years after Universal bought Zamperini's memoir, "Unbroken" had a green light.
Deep respect
From even a quick visit to her Australia set, it's obvious that Jolie has a deep respect, if not reverence, for Zamperini — Pitt even commissioned an oil painting of him for a Christmas present to Jolie — and Hillenbrand. The author is a consultant on the movie, has read many screenplay drafts, and frequently talks to Jolie.
"It's a huge responsibility," Jolie said. "And I'm constantly asking questions. 'How do you really catch a shark? What does the liver look like? How do you eat an albatross? How do you sink a plane?'"
To bring her ideas to life, Jolie hired some of Hollywood's top department heads, including "No Country for Old Men" cinematographer Roger Deakins and "Life of Pi" editor Tim Squyres as collaborators. Last month, at a convention for theater owners in Las Vegas, Jolie showed several minutes from the film, which suggested "Unbroken" will have both a glowing, Americana feel — particularly in its depictions of Zamperini's youth — and a much darker rendering of the prison camps, which call to mind Sebastião Salgado's grimy photographs of Brazilian gold miners.
"In the end, its message is one we all need now more than ever — the journey of a man finding his way through the darkness and into the light," the filmmaker told the exhibitors, adding that the film had particular modern resonance as Zamperini is "someone who helps to remind us all what each of us is capable of."
In hindsight, it's clear even to Baer that Hillenbrand's book was needed to make the movie. "One could argue before the book came out that I was one of the leading experts on Louis' life," Baer said. "But what Laura did made me seem like I knew nothing. Absolutely, positively 100% Laura is the reason for 'Unbroken' finally happening."
As the movie approaches its Dec. 25 release, Baer looks back at all of the false starts and believes that all of the frustration and heartache was ultimately worth it. Had he somehow been able to make the movie earlier, it wouldn't have been to his mind as good as it is today.
"Everybody used to tell me, 'Why are you still talking about Zamperini?'" Baer said of all the doubters over the years. "And I said, 'Because I believe in it. And it's an amazing story.'"
---
Get our L.A. Goes Out newsletter, with the week's best events, to help you explore and experience our city.
You may occasionally receive promotional content from the Los Angeles Times.