'Case Against 8,' about overturn of Proposition 8, headed to theaters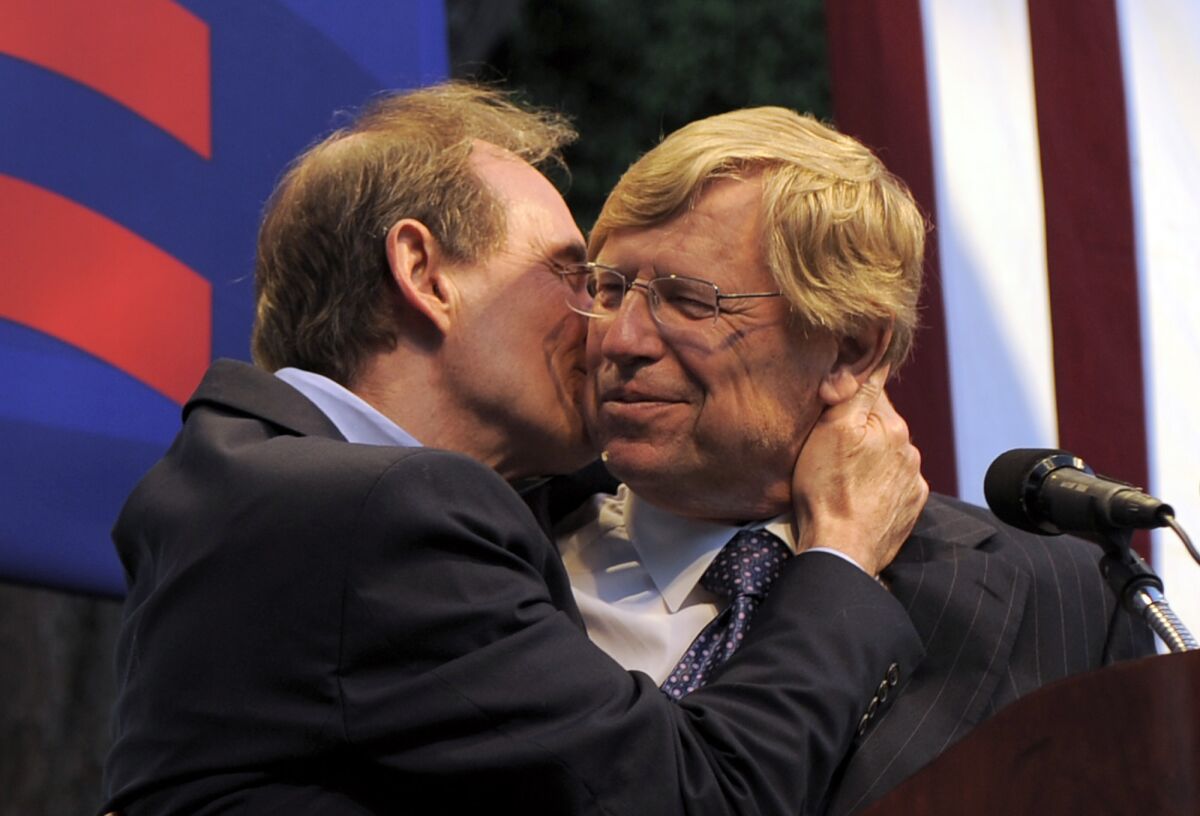 Documentaries in this age of Netflix and VOD don't often get a theatrical release, but HBO is betting that "The Case Against 8," its Sundance-decorated documentary about the legal battle to overturn Proposition 8, can buck the trend.
The network has scheduled a limited theatrical run in June for Ben Cotner and Ryan White's movie, which examines the legal battle, ultimately successful, to overturn California's same-sex marriage ban that passed in 2008. HBO will put the movie in Los Angeles and New York theaters on June 6, expand it on June 13, and then air it on June 23, which is close to the anniversary of the Supreme Court's historic ruling on the federal Defense of Marriage Act last year.
"We feel it's important to bring the story of the men and women behind this roller-coaster battle to screens across the country, and we're extremely proud to bring attention to a fundamental civil rights issue that faces the country today," HBO Documentary Films President Sheila Nevins said by way of explanation.
RELATED: 10 best documentaries of 2013, and a new crop for 2014
"Case Against 8" follows the legal efforts, spearheaded improbably by conservative Ted Olson, as he and David Boies embark on the effort to overturn the law. Though the film covers ground known to many newshounds, its access lends it a perspective shorter segments don't.
At Sundance, the Hollywood Reporter noted: "Exhaustively tracking the five-year battle to overthrow California's ban on same-sex marriage, the [filmmakers] distill the dense legal process into a lucid narrative while illuminating the human drama of the plaintiffs, and by extension, the countless gay men and lesbians they represent." The effort, it adds, leads to a "stirring civil rights film that is both cogent and emotionally charged."
The movie pleased audiences at Sundance, where it won a directing award, and audiences at SXSW, where it won an audience award. Many audience members described the satisfaction of seeing it with an audience, a factor that no doubt will help HBO in its bid to draw moviegoers to theaters.
ALSO:
'Muppets Most Wanted' review: Fun with the fuzz
Darren Aronofsky floats a fuller version of biblical Noah story
Stellan Skarsgard says 'nothing' controversial in Lars von Trier's 'Nymphomaniac'
---
Get our L.A. Goes Out newsletter, with the week's best events, to help you explore and experience our city.
You may occasionally receive promotional content from the Los Angeles Times.