Conservative radio hosts: 'Frozen' promotes gay agenda, bestiality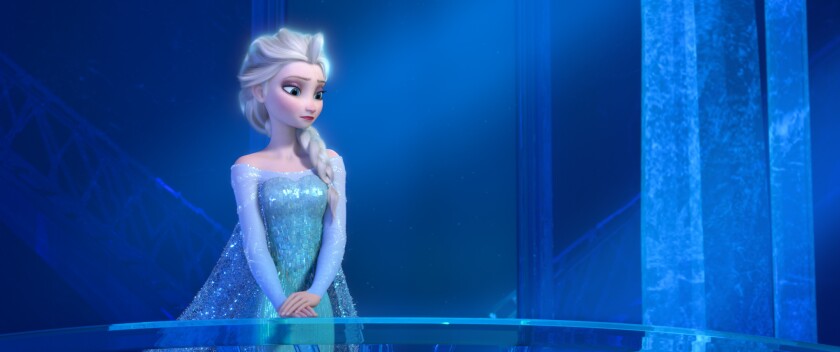 "Frozen," the hit Disney animated musical about a girl who tries to save her kingdom and her ice-powered sister, has become the latest Hollywood movie to rile conservative commentators, with one pastor criticizing the film for indoctrinating homosexuality and bestiality in children.
On the talk show Generations Radio, Kevin Swanson and his co-host, Steve Vaughn, took Disney to task for "leading the charge" in promoting a "pro-homosexual" agenda in "Frozen."
Swanson and Vaughn referred to posts by Steven D. Greydanus for the National Catholic Register and Gina Luttrell for the liberal PolicyMic -- the former of which critiques "Frozen's" alleged gay message (the commentators agree with this one) and the latter of which celebrates the movie's progressiveness (the commentators use as further evidence of the film's messaging). Neither Swanson nor Vaughn has seen the movie.
PHOTOS: Movie scenes from Disney's 'Frozen'
As the posts note and Swanson and Vaughn reiterated, the character of Elsa is born different from other people -- in this case with cryokinetic powers -- but ultimately accepts who she is. Further, Elsa doesn't have any male suitors (as her sister does), and elsewhere in the film there is a very brief moment, involving a male character saying "Hi, family" to a male adult and several children, that some viewers have interpreted as a reference to a pair of gay parents.
"I'm not a tinfoil hat conspiratorialist," Swanson said on the show, "but you wonder sometimes if maybe there's something very evil happening here. If I was the devil, what would I do to really foul up an entire social system and do something really, really, really evil to 5- and 6- and 7-year-olds in Christian families around America? … "I would buy Disney. If I was the devil, I would buy Disney in 1984, that's what I would have done."
The co-hosts also suggested that the film promotes bestiality, since the character Kristoff has an "unnatural" relationship with his pet reindeer.
Last week, in an interview with Big Issue, "Frozen" directors Chris Buck and Jennifer Lee were asked about the film's purported gay undertones (no mention of bestiality), but they left it open to interpretation.
"We know what we made," Lee said. "But at the same time I feel like once we hand the film over, it belongs to the world, so I don't like to say anything, and let the fans talk. I think it's up to them."
PHOTOS: Box office top 10 of 2013 | Biggest flops of 2013
She added: "Disney films were made in different eras, different times, and we celebrate them all for different reasons, but this one was made in 2013 and it's going to have a 2013 point of view."
The "Frozen" controversy is the latest incident demonstrating the fraught relationship between Hollywood and conservative Christian audiences. In recent weeks, some in the faith-based community have expressed skepticism about the upcoming Paramount movie "Noah," based on the biblical story of Noah's ark.
In February, producers of the movie "Son of God," based on the History Channel miniseries "The Bible," acknowledged that they edited out scenes with the devil to avoid a controversy about the actor who plays Satan resembling President Obama.
And in January, the Academy of Motion Picture Arts and Sciences drew criticism after disqualifying the Oscar-nominated song "Alone Yet Not Alone," from the little-seen faith-based film of the same name, over violating rules about campaigning. The winner? "Let It Go," from "Frozen."
ALSO:
'Muppets Most Wanted' a wanting sequel, early reviews say
Chris McKay is critical piece, will direct 'Lego Movie' sequel
President Obama zings Zach Galifianakis over 'Hangover' movies
---
Inside the business of entertainment
The Wide Shot brings you news, analysis and insights on everything from streaming wars to production — and what it all means for the future.
You may occasionally receive promotional content from the Los Angeles Times.