Gabriel Garcia Marquez dies: Author inspired many films, to mixed results
"One Hundred Years of Solitude," by Colombian writer and Nobel Prize in literature recipient Gabriel Garcia Marquez, popularized the emerging Latin American literary genre known as magic realism.
(Mario Guzman / EPA)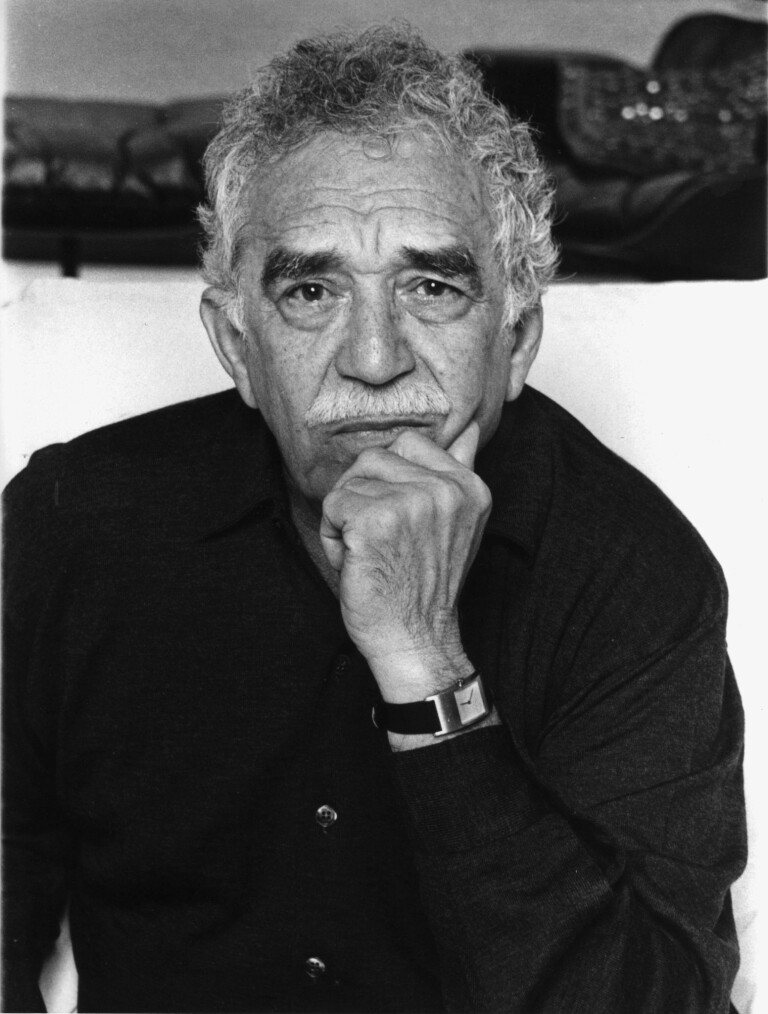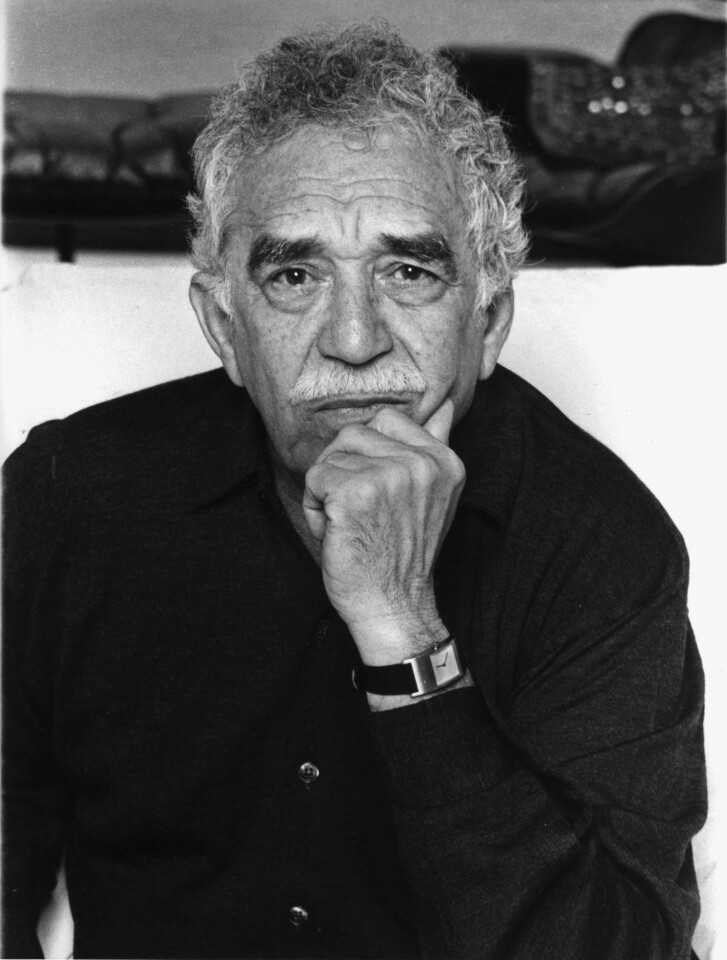 Gabriel Garcia Marquez, shown in 1999, was a powerful public intellectual whose opinions on Cuba, military dictatorship and Latin American cultural autonomy made front-page news.
(GARA Archive / Knopf)
Gabriel Garcia Marquez salutes his admirers, who knew him simply as "Gabo," in the Jorge Eliecer Gaitan Theatre in Bogata in 1992.
(GARAArchive / Knopf)
Gabriel Garcia Marquez gestures as he arrives on a train to Aracataca, Colombia, the first time he returned to his hometown after winning the Nobel Prize in literature in 1982.
(Jairo Castilla / Associated Press)
Gabriel Garcia Marquez, left, signs the visitors' book at Ernest Hemingway's former home in Havana, Cuba, with American writer Arthur Miller, right, as part of a 2000 trip aimed at promoting contacts between intellectuals of the U.S. and Cuba.
(Jose Goitia / Associated Press)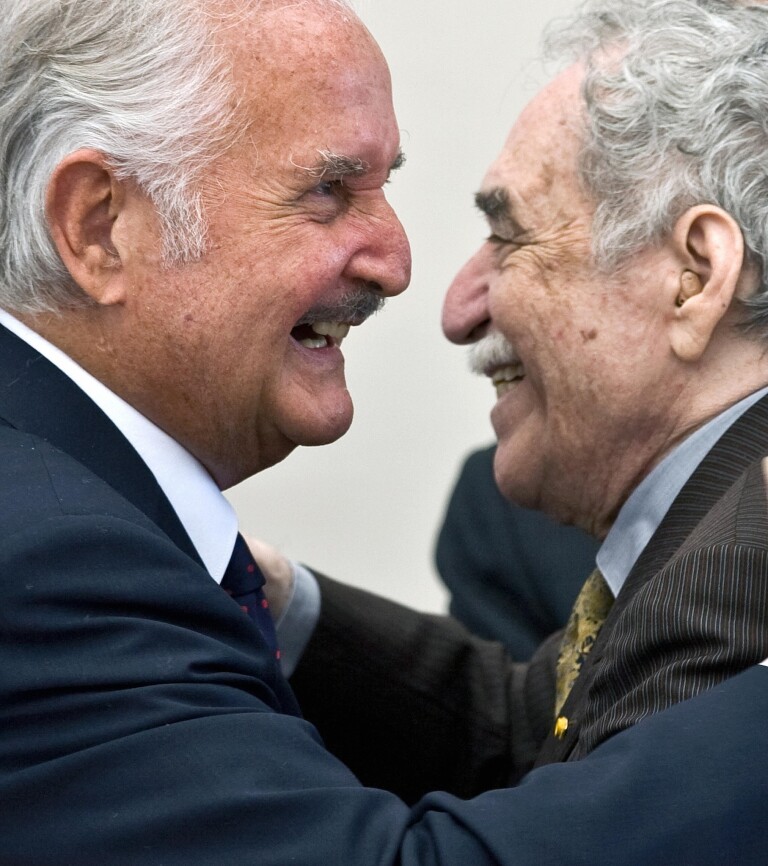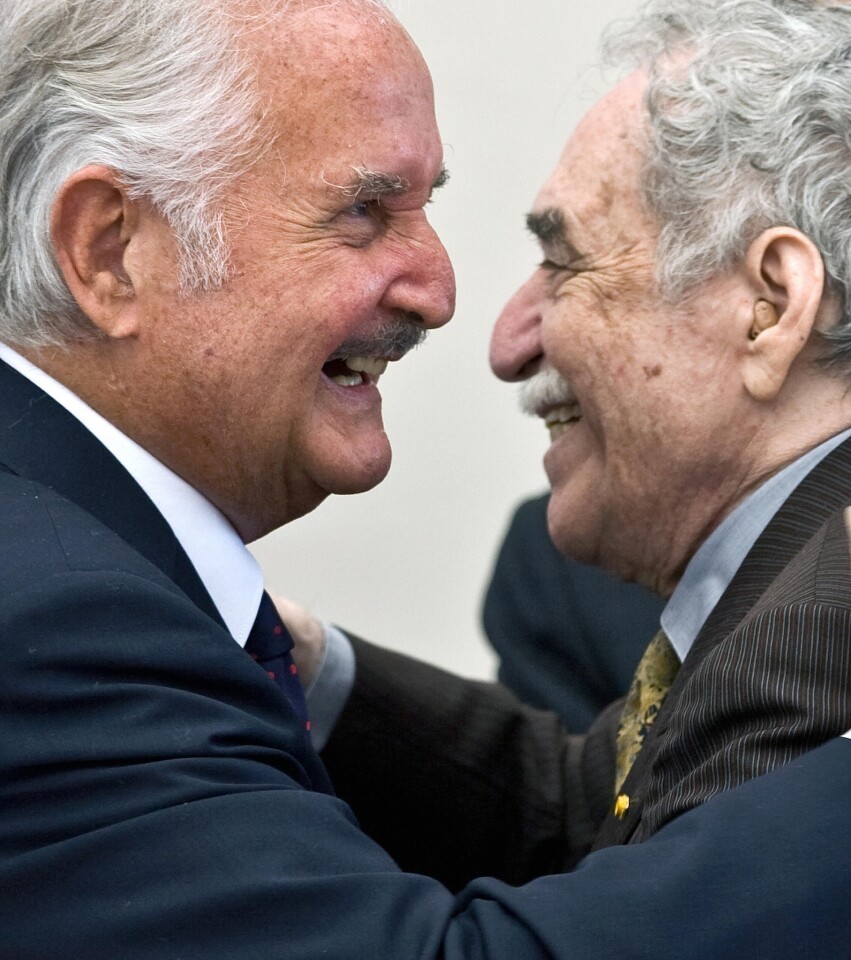 Gabriel Garcia Marquez, right, congratulates Mexican writer Carlos Fuentes during a celebration for Fuentes' 80th birthday in Mexico City.
(Ronaldo Schemidt / AFPGetty Images)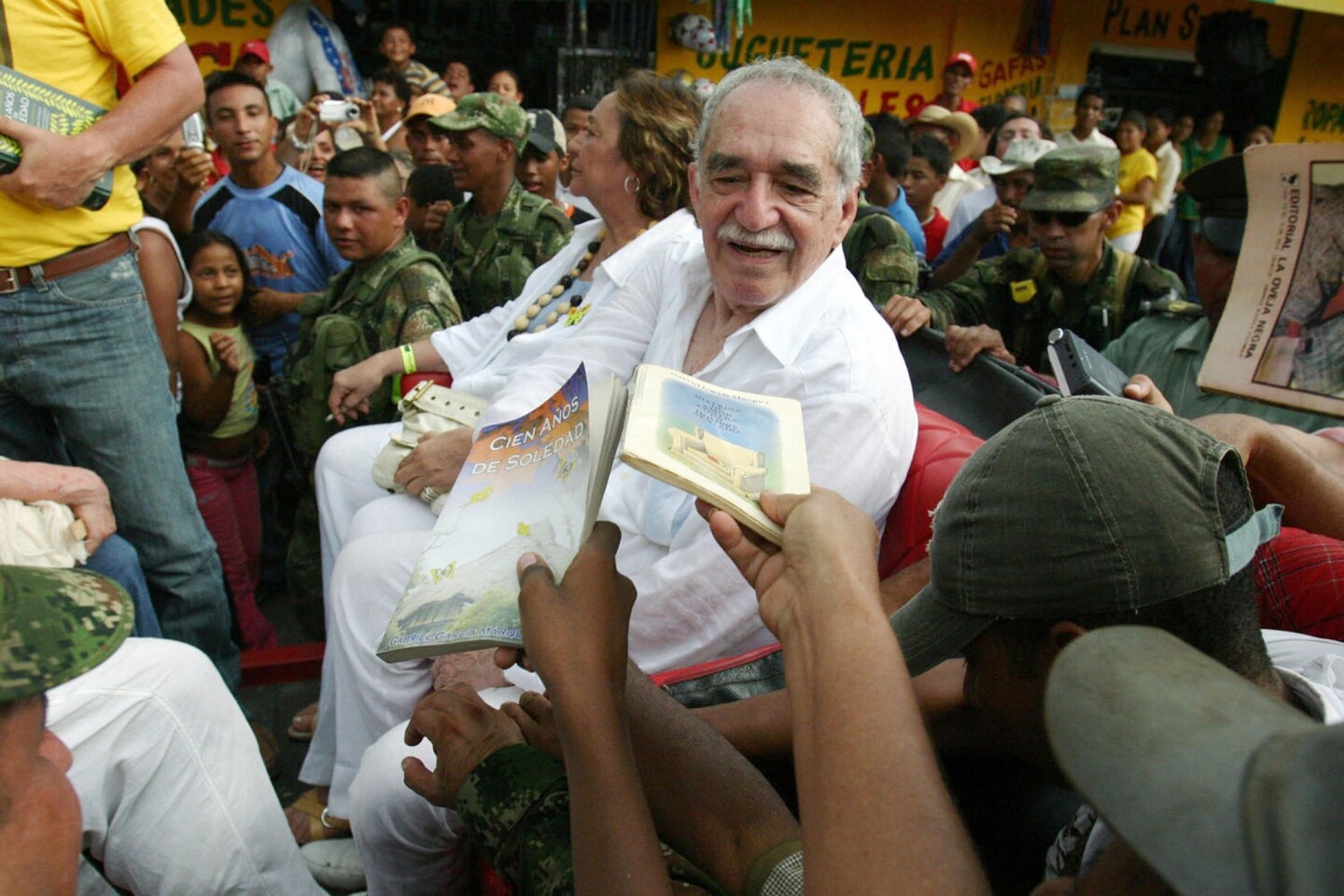 Gabriel Garcia Marquez, sitting with his wife, Mercedes Barcha, is asked by admirers to dedicate their books before boarding the train to visit his hometown of Aracataca, Colombia, for the first time in 20 years.
(Alejandra Vega / AFP/Getty Images)
Even though Gabriel Garcia Marquez's blending of fantasy and outrageous facts "told with a straight face," as he once put it, was pioneered by Cuban writer Alejo Carpentier, Mexico's Juan Rulfo and Argentina's Jorge Luis Borges, he lifted the technique from obscurity with the publication of "One Hundred Years of Solitude" in 1967.
(Ronaldo Schemidt / AFP/Getty Images)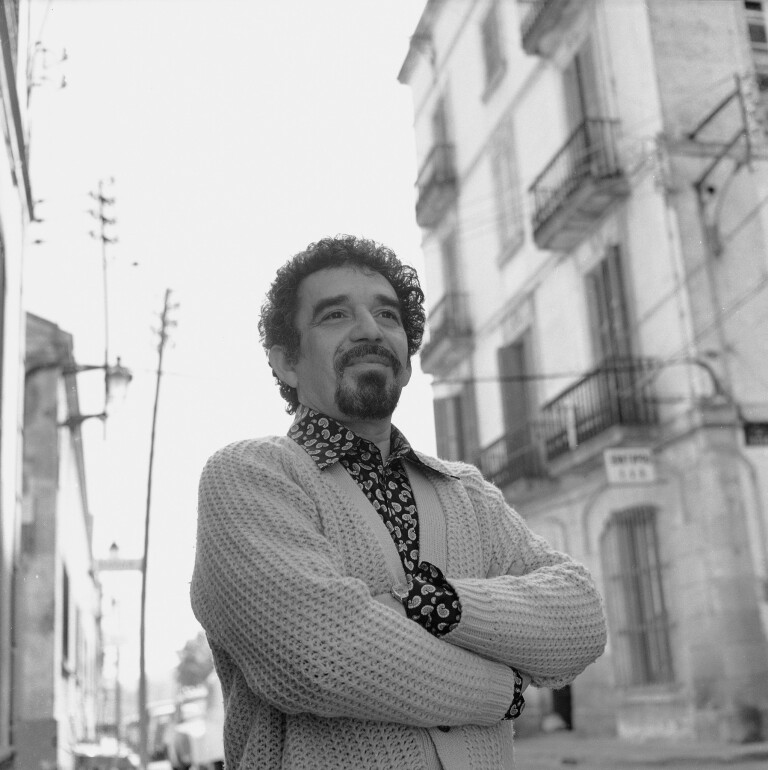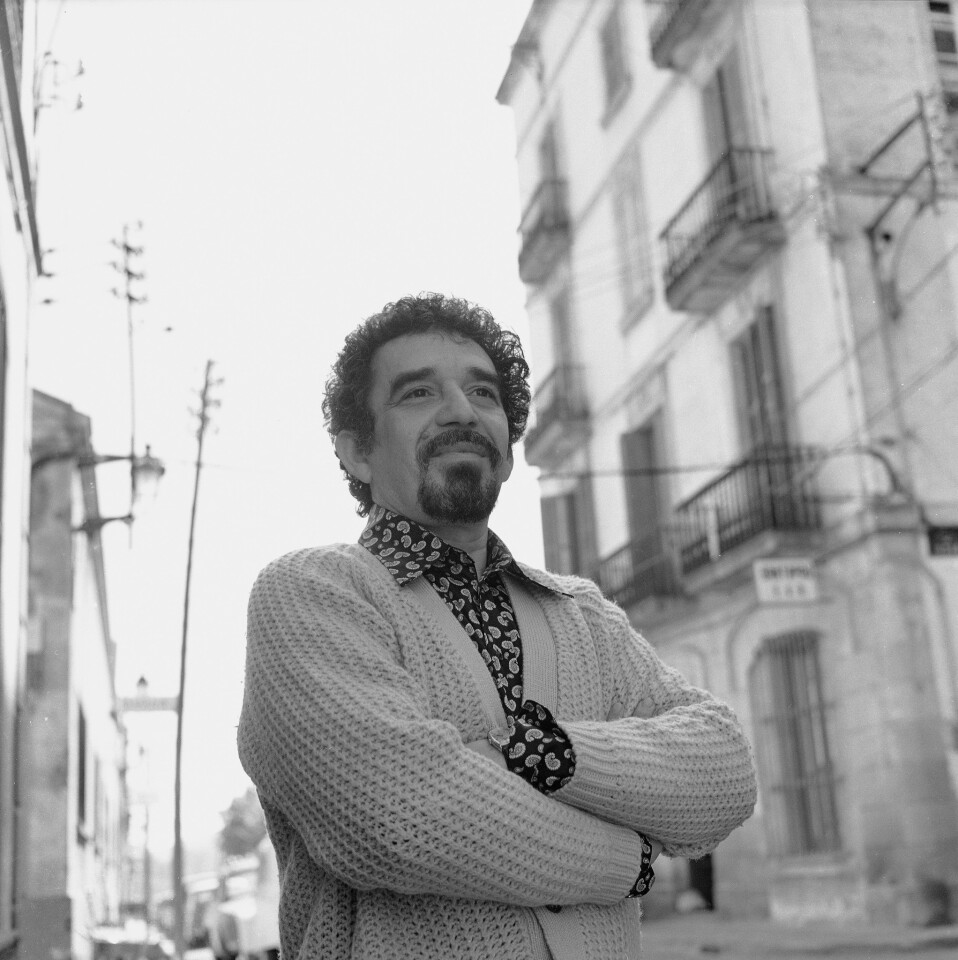 Known for his opinions on Cuba, military dictatorship and Latin American cultural autonomy, Gabriel Garcia Marquez counted among his friends Bill Clinton, French President Francois Mitterrand and the dictators Omar Torrijos of Panama and Fidel Castro of Cuba.
(Katherine Young / Getty Images)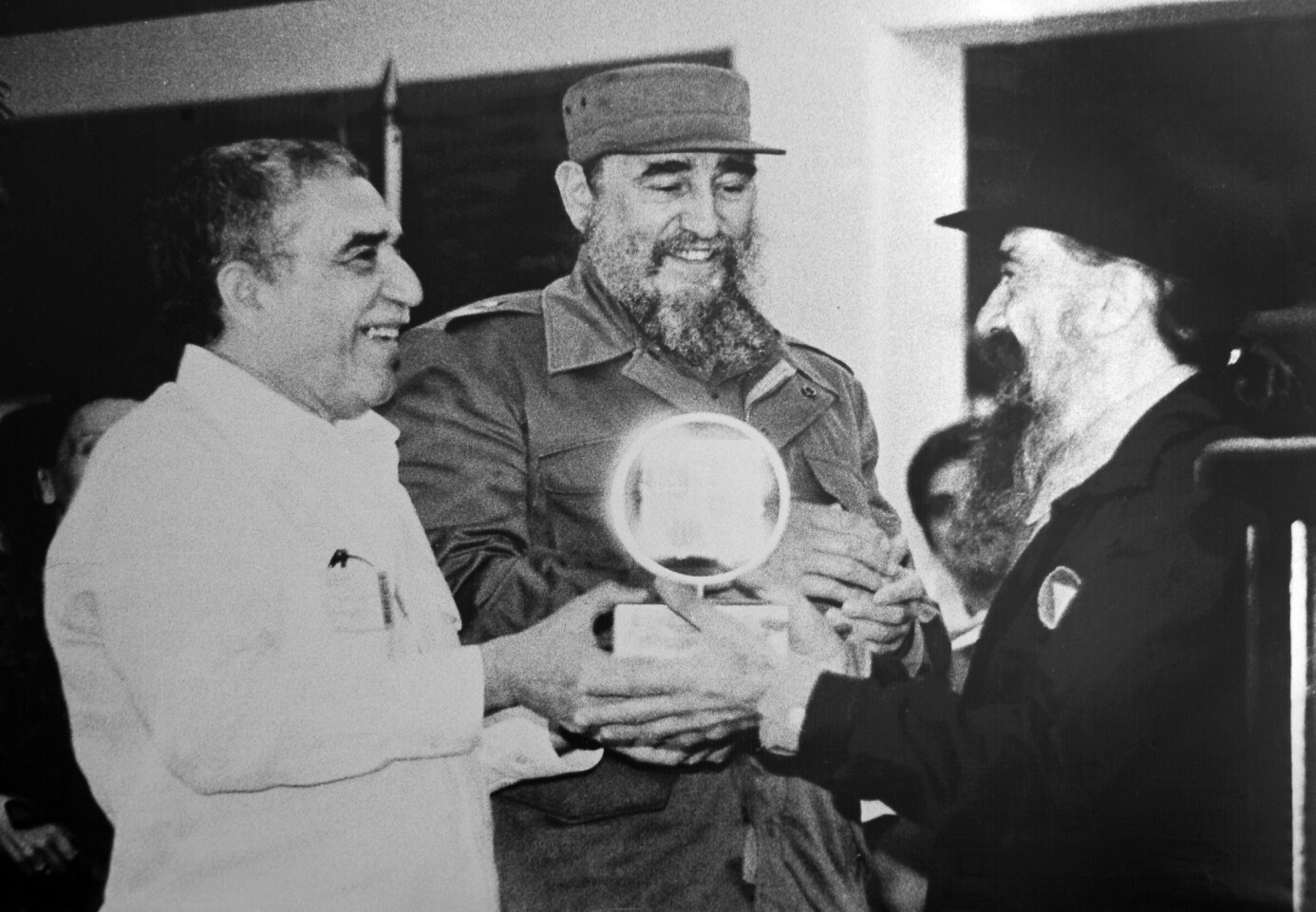 Gabriel Garcia Marquez, left, is shown with former Cuban President Fidel Castro and movie director Fernando Birri during the inauguration of the International School of Cinema in San Antonio de los Banos, Havana.
(Adalberto Roque / AFP/Getty Images)
The late author Gabriel Garcia Marquez, who died Thursday at age 87, was best known as a Nobel Prize-winning novelist and pioneer of the genre known as magical realism. But the prolific Colombian writer also had ties to the movies.
Marquez's work inspired numerous film adaptations, and he wrote a handful of screenplays as well. The onetime journalist even penned movie reviews.
Somewhat ironically for an author known for his vivid, visual prose, Marquez's work often proved difficult to translate to the big screen, with resulting films rarely living up to their source material.
In a 1981 interview in the Paris Review, Marquez was asked if he thought any books could be successfully translated to the screen. "I can't think of any one film that improved on a good novel, but I can think of many good films that came from very bad novels," he replied.
RELATED: Gabriel Garcia Marquez was more than magical realism
Adding that he once wanted to be a movie director, Marquez said, "I felt that cinema was a medium which had no limitations and in which everything was possible. … But there's a big limitation in cinema in that it's an industrial art, a whole industry. It's very difficult to express in cinema what you really want to say.
Here's a look at some movies made from his books and how they fared.
"Erendira": Marquez wrote the original screenplay for this 1983 film years before and published a novella version in 1972. The original screenplay was lost, but Marquez re-created it from memory for director Ruy Guerra. The film tells the story of a teenage girl exploited by her imperious grandmother.
In a New York Times review, Vincent Canby wrote, "'Erendira' has a kind of dreamy if monotonous charm to it. Unlike the Surrealist comedies of the late Luis Bunuel, the 'magical realist' comedy of Mr. Garcia Marquez's screenplay never abruptly shocks or surprises us. It's sometimes funny, but everything is presented in the same hallucinatory manner that is essentially soothing, even when it comes to murder."
PHOTOS: Gabriel Garcia Marquez through the years
"Chronicle of a Death Foretold": In 1987, Italian filmmaker Francesco Rosi directed this drama adapted by Tonino Guerra from Marquez's about a murder in a small Colombian town. The movie opened the Cannes Film Festival.
In a review for Empire, Gavin Bainbridge wrote, "Making a film of one of Gabriel Garcia Marquez's novels was never going to be easy" and went on to describe "Chronicle" as "an ambitious and uncompromising project but essentially too far up its own creak and without a paddle."
"No One Writes to the Colonel": Another Marquez adaptation to screen at Cannes was Arturo Ripstein's 1999 film "No One Writes to the Colonel," based on the story of an impoverished, retired military leader who served in the Thousand Days' War.
In a Variety review, Leonardo Garcia Tsao declared it "a deeply moving adaptation of one of Nobel Prize winner Gabriel Garcia Marquez's finest works."
RELATED: Gabriel Garcia Marquez, Nobel Prize-winning author, dies at 87
"Love in the Time of Cholera": In 2007, one of Marquez's books was finally adapted into a Hollywood movie, directed by Mike Newell, written by Ronald Harwood and starring Javier Bardem, Benjamin Bratt and Giovanna Mezzogiorno. The film fizzled at the box office, taking in $4.6 million in the U.S., and it received poor reviews.
In The Times, Carina Chocano called the movie "a plodding, tone-deaf, overripe, overheated Oscar-baiting telenovela." She added, "Doubtless it's an enormously daunting task to adapt a book at once so sweeping and internal, so swooningly romantic and philosophical, but it takes a lighter touch and a more expansive view than Newell and Harwood seem to bring."
"Of Love and Other Demons": Writer-director Hilda Hidalgo had better luck with her 2010 debut, Costa Rica's submission for the Oscar for best foreign-language film in 2010.
Variety's Andrew Barker wrote that Hidalgo had "seemingly unlocked the key to translating the cerebral sensuality of Gabriel Garcia Marquez's writing into film, providing one of the few screen adaptations worthy of the Colombian novelist's source material."
ALSO:
'Mrs. Doubtfire' sequel is in the works; Robin Williams to return
'Transcendence': Can Johnny Depp rise above his recent misfires?
Cannes 2014: Watch trailers for 'Homesman,' 'Foxcatcher' and more
---
The complete guide to home viewing
Get Screen Gab for weekly recommendations, analysis, interviews and irreverent discussion of the TV and streaming movies everyone's talking about.
You may occasionally receive promotional content from the Los Angeles Times.