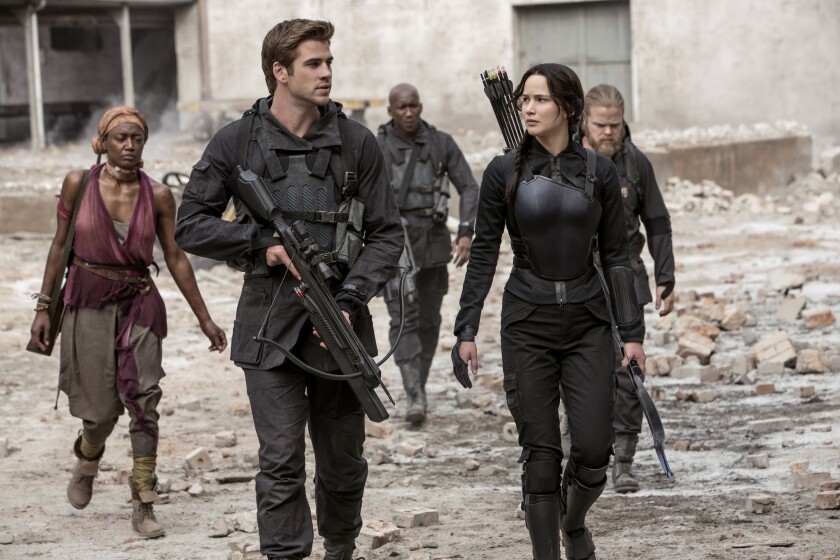 Following in the franchise footsteps of the "Harry Potter" and "Twilight" movies, the final installment of "The Hunger Games" has been split into two parts. While that doubles the box-office potential, it also means that a single book — in this case, Suzanne Collins' "Mockingjay" — has to be stretched to fill two feature films.
Moviegoers will have to wait until next week to judge for themselves whether director Francis Lawrence and star Jennifer Lawrence pulled off the tricky transition of "The Hunger Games: Mockingjay — Part 1," which shifts focus from televised teen battles to a dystopian uprising. Until then, the first reviews are in, and many film critics agree that "Part 1" is an effective if not always inspired lead-in.
Variety's Justin Chang says that for fans of the books, "the only real source of suspense here lies in the crucial question of where exactly Collins' story has been cleaved in two. Rest assured, the decision has been made with near-Solomonic wisdom, allowing for just enough incident to sustain this relatively trim two-hour setup until its quasi-cliffhanger of an ending." On the other hand, "Audiences coming to this film with no prior knowledge of the material … may feel their patience squeezed and their appetite for action a bit neglected."
As for the cast, Chang says Jennifer Lawrence "feels like more of a natural than ever," Donald Sutherland is "marvelously menacing" and series newcomer Julianne Moore "emerges as the ensemble's MVP." (The cast also includes the late Philip Seymour Hoffman, in one of his final roles. The film is dedicated to Hoffman, who will appear in "Part 2.")
The Wrap's Alonso Duralde writes, "Suffice it to say that while 'Mockingjay — Part 1' might not be as consistently thrilling as 'Catching Fire' — the second movie always has the luxury of being all PB&J and no crust — it's the movie equivalent of a page-turner, consistently suspenseful and filled with surprises and illuminating character moments." Duralde adds, "even if 'Mockingjay — Part 1' leaves us wanting more, it's not just two hours of build-up. Think of it as an amuse-bouche for a final course that manages to satisfy on its own."
Total Film's Kevin Harley says, "Even with the odds against him, returning director Francis Lawrence joins sturdy-handed writers Peter Craig ('The Town') and Danny Strong ('The Butler') to mount a rich, punchy, well-paced treatment of a tricky novel."
Harley continues, "'Part 1' holds up, mostly, with Jennifer Lawrence doing some proper heavy lifting." The actress "tugs us in to Katniss' fraught humanity" and delivers "a reluctant hero we can engage with, not a superhero: qualities rare enough in some A fiction, let alone YA fiction."
Screen Daily's Mark Adams also gives a positive review, writing, "While this Part 1 is light on old-fashioned adventure it does offer up a tough — and at times moving — transition for its lead character." Jennifer Lawrence "has really grown into the [role] of Katniss … She is the charismatic presence that holds this rather flailing film together."
Adams adds, "It may disappoint young fans who relished the sheer fantasy verve that drove the first parts, but as a thoughtful and at times moving preamble to a tough climax, 'The Hunger Games: Mockingjay Part 1' delivers."
Other critics, however, are complaining that the two-part approach to the "Hunger Games" finale feels like a cheap cash-in.
Take the Hollywood Reporter's Todd McCarthy, who writes, "Like an overgrown and bloated trailer for a film yet to come, Francis Lawrence's The 'Hunger Games: Mockingjay — Part 1' spreads perhaps 45 minutes of dramatic material across two far-too-leisurely hours."
McCarthy continues, "It isn't that it's disagreeable to be reunited with the resourceful, resilient and attractive characters in this series … Unfortunately, 'Mockingjay — Part 1' has all the personality of an industrial film. There's not a drop of insolence, insubordination or insurrection running through its veins; it feels like a manufactured product through and through, ironic and sad given its revolutionary theme."
The Guardian's Henry Barnes similarly calls "Mockingjay — Part 1" a "multimillion dollar stopgap." He writes, "Rebel Katniss is somehow less fun than the woman Stanley Tucci's TV host labelled The Girl on Fire. Yet she must fight on against the Capitol. Panem demands it. The franchise demands it more. 'Mockingjay — Part 2' will round out the action this time next year. In the meantime 'Part 1' is a likeable preamble, a moment to let the flames die down before adding more fuel. 'Fire is catching!' yells Katniss. Yes, but it's taking its time."
Follow @ogettell for movie news
---