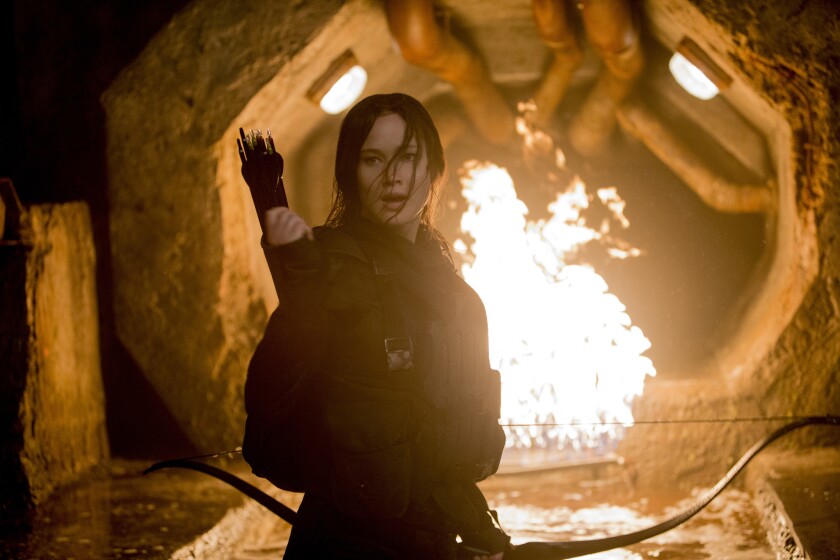 "The Hunger Games" has always been Katniss Everdeen's story, and "Mockingjay — Part 2" sees the young protagonist complete her transformation into the leader she has reluctantly played since first manipulating the Capitol's rules and earning its ire during the 74th Hunger Games.
Based on Suzanne Collins' trilogy of dystopian YA novels, "The Hunger Games: Mockingjay — Part 2," directed by Francis Lawrence, covers the events of the latter half of the final book. The film sees Katniss, played by Jennifer Lawrence, lead a group of rebel fighters into the Capitol on a mission to take out the villainous President Snow.
See the most-read stories in Entertainment this hour >>
Reviews for this fourth and final "Hunger Games" film have been mixed, with most attributing the film's missteps to Lionsgate's decision to stretch the final book into two films. However, as the overall score of 70% on review aggregate site Rotten Tomatoes indicates, most reviews have skewed positive, saying that franchise fans will not be disappointed with the film.
The Times' Kenneth Turan was among those who felt that "The Hunger Games" deserved a better send-off than "Mockingjay — Part 2."
The Los Angeles Times' Kenneth Turan reviews "The Hunger Games: Mockingjay -- Part 2," starring Jennifer Lawrence, Josh Hutcherson and Liam Hemsworth.
"'The Hunger Games: Mockingjay — Part 2' is exactly what you would expect from its ungainly title," Turan writes. "And that turns out to be not quite enough."
For Turan "what made the best of the 'Hunger Games' movies so effective was the emotional connection its shrewd plotting created by combining a coming-of-age saga, romantic rivalry and broader concerns about violent spectacle used to manipulate public opinion."
Unfortunately, this was lost through "the aesthetically misguided idea of breaking the final book into two films" which "has ended up making the dragged-out proceedings feel anti-climactic and emotionally static," he says.
Andrew Lapin at NPR agrees that "this 'Hunger Game' is one too many ... more akin to a stern-faced curtain call than a fleshed-out story with a beginning, middle and end," and although "this film professes a new level of darkness, and some key characters die" he ultimately felt that "the film is going nowhere."
"The franchise fought so hard to keep itself alive that it couldn't go out the way it was always meant to," Lapin says.
Many other reviewers, however, found the film to be a satisfying conclusion to the "Hunger Games" series.
For the New York Times' Manohla Dargis, "Mockingjay — Part 2's" strengths lies with Katniss — "a great character on the page and a transcendent one on the screen."
"'The Hunger Games' has triumphed partly because it means so many different things to so many people," Darigs writes. And at the heart of it all is Katniss.
Even after four films, "what makes the material still feel personal — other than the yearslong investment and love that transform entertainments into fan communities — is the combination of Katniss and Ms. Lawrence, who have become a perfect fit," Dargis says.
Michael O'Sullivan of the Washington Post also says that "most of the pleasure of 'Mockingjay — Part 2' comes from watching Lawrence."
And although O'Sullivan is not as impressed with how "slow going" the story is overall, he says that "as the dystopian epic's emotional, moral and physical heart, Lawrence once again delivers the best reason to stick with it."
"[Mockingjay — Part 2'] has the best action sequences of all four chapters," writes USA Today's Brian Truitt.
And although he notes that "it's only in a few of the more exceptional set pieces ... where 'Mockingjay' kicks into a nice gear," Truitt insists "Lawrence gets to stretch her acting chops in the 'Hunger Games' climax."
"Every journey has to come to a close at some point, and while it's not a perfect exit for Katniss, it's one where she gets to put her bow, arrow and big heart to good use," Truitt says.
As the Boston Globe's Ty Burr says, "if you've followed 'The Hunger Games' this far, the fourth and final installment brings the story to a brutal but satisfying conclusion."
Twitter: @tracycbrown
MORE:
The Katniss factor: What the 'Hunger Games' movies say about feminism, and war
'Hunger Games' director reveals the one thing he refused to put in 'Mockingjay Part 2,' despite fan requests
Jennifer Lawrence and the cast of 'Hunger Games' deserved a better ending than ''Mockingjay Part 2'
---