Review: 'Insidious: Chapter 2' adds nothing to the story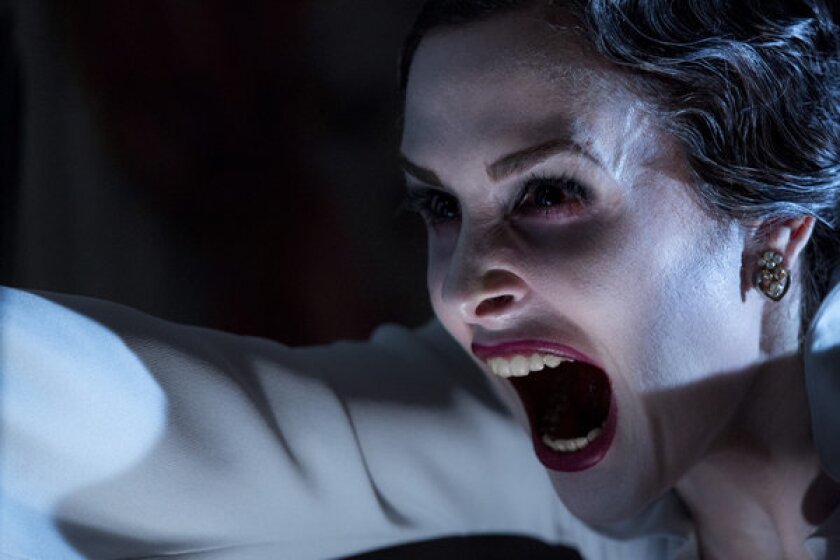 If "The Conjuring" and "Insidious" director James Wan ever made a romantic comedy, one imagines he'd still set it in a creaky old two-story with dark corners and foreboding armoires. For his latest hauntfest "Insidious: Chapter 2," we're back with the possession-afflicted Lambert family — nervous mom Renai (Rose Byrne) and astral-projecting dad Josh (Patrick Wilson) — trying to regroup from the spirit realm trauma that almost took their son Dalton.
But there's still the unresolved matter of what happened to supernatural whisperer Elise (Lin Shaye) at the end of the first film, and that decamping to Josh's childhood Victorian home — filmed from the trademark Bates House low angle of maximum ominousness — might not be such a good idea. Also, why is Daddy suddenly acting so strange? Wan and co-writer Leigh Whannell (also back as one half of the comic-relief ghost-hunting duo) confidently line up their ducks in a row for more of the same half-shocks, fraught wanderings, horror-repurposed items (toys, piano, baby monitor, Patrick Wilson) and garish PG-13 apparitions.
But after the pleasurable free fall into old-fashioned nightmare artistry that was last summer's "The Conjuring," this busy-yet-dull sequel feels like Wan robotically flexing his manipulation of fright-film signposts, an exercise more silly than sinister.
---------------------------
"Insidious: Chapter 2"
MPAA rating: PG-13 for intense sequences of terror and violence, and thematic elements.
Running time: 1 hour, 46 minutes.
Playing: In general release.
---
The complete guide to home viewing
Get Screen Gab for weekly recommendations, analysis, interviews and irreverent discussion of the TV and streaming movies everyone's talking about.
You may occasionally receive promotional content from the Los Angeles Times.