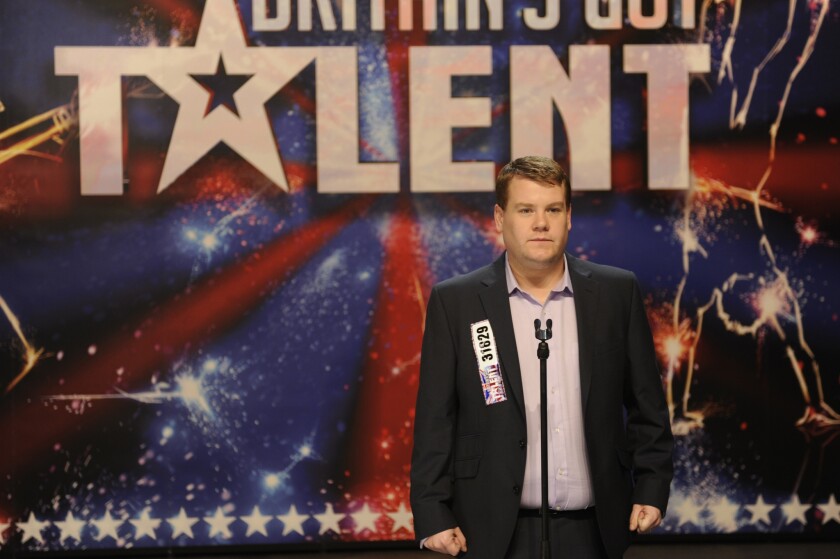 Reports that the British writer, actor and comedian James Corden could replace Craig Ferguson as the host of CBS' "Late Late Show" might have left you wondering … James who? Although the 35-year-old multihyphenate is a star in Britain and boasts a strong social media following, he's relatively unknown in the U.S.
Relatively, but not totally — in fact, movie aficionados might well recognize Corden from his surprisingly robust body of work on the big screen. Here are five notable movies he's starred in (or will star in, in one instance).
"All or Nothing" (2002): One of Corden's early roles came in this Mike Leigh drama, which captures a long weekend in the lives of a working-class family of four and some of their neighbors in a drab London housing project. Corden plays Rory, a selfish layabout who constantly picks fights with everyone around him.
In a review for the Los Angeles Times, Michael Wilmington wrote that "the acting in 'All or Nothing' is superb" and declared the movie "a triumph."
"The History Boys" (2006): After starring in the original stage production of Alan Bennett's play about a group of grammar school students preparing for entrance examinations, Corden reprised his role in the film adaptation, which was directed by Nicholas Hytner. Corden played Timms, the wisecracking class clown.
The film earned generally favorable reviews thanks to the cast's easy chemistry.
"One Chance" (2013): Corden took center stage in David Frankel's biopic about Paul Potts, a schlubby Welsh car-phone salesman and amateur opera singer who won the first season of "Britain's Got Talent" with his rendition of Puccini's "Nessun dorma."
"One Chance" garnered mixed notices, although a Times review by Anlee Ellingson called it "a sweet, funny, heartfelt film."
"Begin Again" (2014): Corden can currently be seen on the big screen opposite Keira Knightley and Mark Ruffalo in "Begin Again," another music-themed movie. Written and directed by John Carney ("Once"), the film stars Knightley as a young songwriter whose music catches the ear of Ruffalo's struggling record exec. Corden plays Knightley's best friend, a fellow musician who helps her cut an album.
"Begin Again" has earned generally positive reviews and performed well at the specialty box office, grossing $21 million worldwide to date.
"Into the Woods" (2014): Corden's highest-profile movie yet arrives this Christmas in the form of "Into the Woods," Disney's adaptation of the Tony-winning Stephen Sondheim musical.
Corden joins a star-studded cast — including Meryl Streep, Anna Kendrick, Johnny Depp and Emily Blunt — in the film, which combines classic Brothers Grimm fairy tales with an original story about a baker (Corden) and his wife (Blunt) trying to break a witch's curse so they can have a child. (Watch the trailer, above right).
The one-two punch of a high-profile movie and a network late-night gig could vault Corden to a new level of stardom. In other words, if you don't know him yet, you probably will soon.
Follow @ogettell for movie news
---