J.J. Abrams says he wanted to turn the genre mash-up machine to 11 in '10 Cloverfield Lane'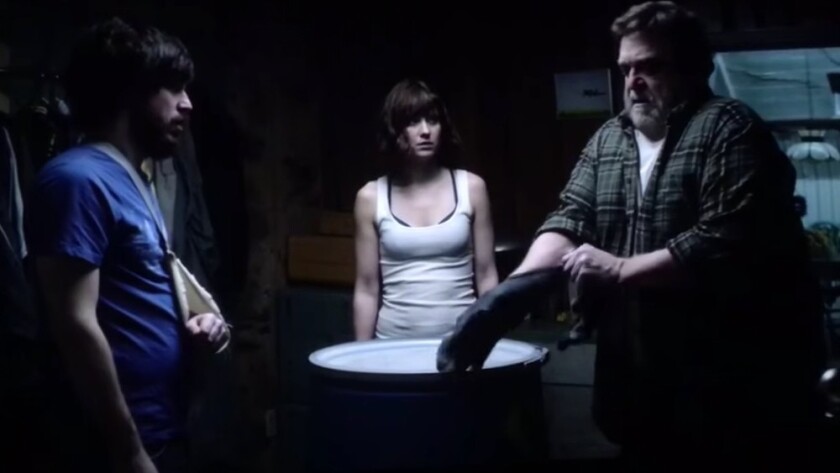 Reporting from NEW YORK —
The pop-culture generator that is Bad Robot, the production company led by J.J. Abrams, has over the course of its history not exactly been averse to mixing and matching genres. This is the outfit, after all, that gave us "Lost" and "Alias."
But its creative free-for-all may have never been so willfully anarchic as in "10 Cloverfield Lane," a not-quite-sequel to its low-budget monster hit "Cloverfield" of eight years ago. Abrams and Bad Robot again produced this film, part of a larger "Cloverfield" anthology series that the filmmaker hopes to push forward.
The new movie, which held its premiere here Tuesday night ahead of its Paramount release this weekend, is alternatively an abduction thriller, monster flick, science-fiction reverie, character comedy, horror pinprick, apocalyptic drama, duct-tape-and-chewing-gum chamber piece and alien-invasion movie. And I might have forgotten a genre or two. Ever wonder what would happen if "Misery," "MacGyver" "Room," "Close Encounters" and a Guillermo del Toro creature feature had a giant love party and produced a baby? You might after seeing this movie.
"We knew it was a fever dream from an insane idea," Abrams said, with a small smile, when I asked him at the after-party about the mash-up. "It was a thing that made us laugh. What if the bow was pulled back so far that when it finally shoots, it goes into insane territory?" he said, referring to a third-act shift we won't give away here.
That secrecy is for good reason. Or your own protection. "10 Cloverfield Lane," directed by Dan Trachtenberg, a feature first-timer (and former entertainment journalist; you can now feel a little less bad about bending his ear with a question), is packed with the kinds of surprises that are best enjoyed with as little foreknowledge as possible.
The movie began as a script called "The Cellar," written by Josh Campbell and Matthew Stucken. It centered on a young woman who was held captive by a gruff and volatile, but not altogether uncaring, older man . The movie follows that same path, the woman, Michelle (Mary Elizabeth Winstead), and the man, Howard (John Goodman), playing out a the kind of small-scale dramatic thriller that comes along all too rarely.
Howard is a Navy man-turned-survivalist, and even as he seems to be holding Michelle captive he also says he is protecting her from a cataclysm outside. This is a film with a great moral conceit—is a main character a savior or an aggressor? Or could he even be, in a seeming cinematic impossibility, both at the same time?
The film's elements lend it a big boost. There's the superb talent of Sundance staple Winstead, finally given a more commercial showcase. And there's John Goodman, offering a performance that headlines an already studded and underappreciated career. John Gallagher Jr. is here too, solid and in a different guise from that of his "Newsroom" days.
The "Whiplash" filmmaker Damian Chazelle also did a script pass, which appears to have increased both the sharpness of the dialogue and the tautness of the pacing.
And all the years of Trachtenberg studying the art of others has paid off; he has a knack for shot-making.
He didn't say, in our ear-bend, whether his consumption of so many different kinds of movies resulted in the pastiche we see here. But that mix is what makes it work — a chamber piece is fun enough, but when other genres start to enter with gleeful insanity, it (mostly) adds an another dimension rather than throwing the viewer.
Certainly that's what Abrams thought would happen.
"I love it when movies are kind of a cocktail and there's a Venn diagram of various genres," he said. The filmmaker, incidentally, was making "Star Wars" during production of the film, but he was very involved in both script development and the edit room.
"What I loved about that approach here," he added, "is it allowed the idea of a 'Cloverfield' movie to be something unexpected and weird."
Abrams' citation of the 'Cloverfield' brand is no accident. He and his Bad Robot compatriots have a larger idea for an anthology. Basically, they believe "Cloverfield" is a means of exploring stories with different characters all in a similar key — "an umbrella like 'The Twilight Zone,' " as he put it.
Winstead's Michelle character, meanwhile, could be developed separately with her own movie, with "10 Cloverfield" serving as a kind of "origin story for a warrior that could be fun to pursue," he said.
Abrams was in good spirits despite his "Star Wars: The Force Awakens" being upset for the VFX Oscar a few weeks ago by a far smaller movie, Alex Garland's "Ex Machina."
Asked how he felt about the loss, he said, "it would have been nice to see the guys win. But I was really happy about 'Ex Machina,' which is spectacular. I watched it with my son. It's such a great movie," he added.
Abrams met Garland he said through Oscar Isaac, who acted in both "Force Awakens" and "Ex Machina." "And I was really happy to see those two actors together," he said, referring to Domhnall Gleeson, who also overlapped between the two films.
A few minutes later, Abrams stepped away and over to the bar to chat with a guest and "Force Awakens" collaborator who had swung by to say hello. It was Lin-Manuel Miranda, another creator who knows a little about unlikely mash-ups.
You Might Also Like:
'Hamilton,' American history with a hip-hop beat
'Whiplash' director Damian Chazelle's wild, crazy ride to the Oscars
J.J. Abrams on going old-school and how 'Star Wars' differs from 'Star Trek'
---
Get the Indie Focus newsletter, Mark Olsen's weekly guide to the world of cinema.
You may occasionally receive promotional content from the Los Angeles Times.