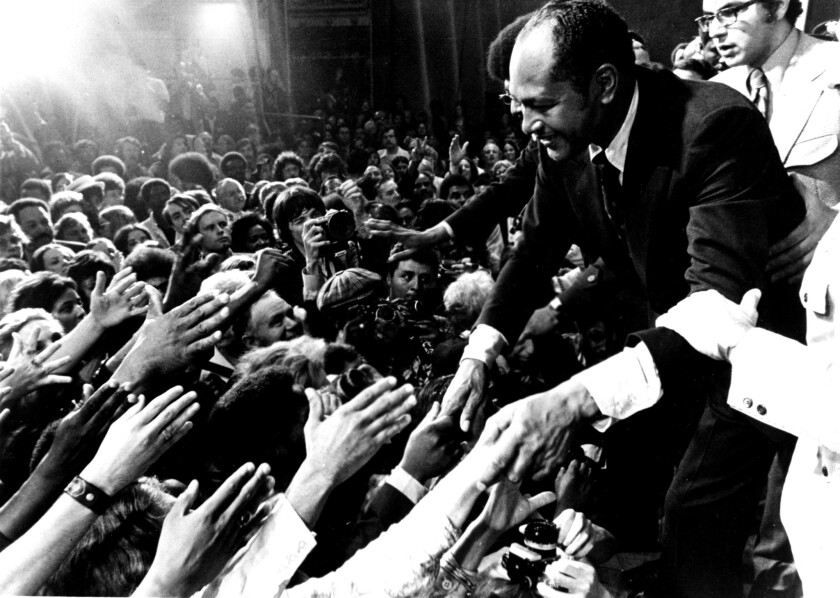 During his groundbreaking 20-year mayorship of Los Angeles, Tom Bradley was known for his quiet resolve, some would even say his inscrutability. One of his nicknames, after all, was "the Sphinx of City Hall."
It's perhaps oddly fitting, then, that Bradley's remarkable story — that of a grandson of slaves who became the first African American mayor of Los Angeles and presided over the rapidly changing metropolis for five terms — is not particularly well known. Until recently there had never been a documentary about him, a benchmark that has now been cleared by "Bridging the Divide: Tom Bradley and the Politics of Race," a one-hour documentary making its world premiere at the Los Angeles Film Festival this weekend.
Directed by Lyn Goldfarb, who cowrote and coproduced with Alison Sotomayor, "Bridging the Divide" chronicles Bradley's rise from sharecropper's son to LAPD officer to city councilman to mayor. Connecting his legacy to the present day, the film makes the case that Bradley, in gathering broad support from blacks, Jews, Latinos, Asian Americans and other groups, paved the way for Barack Obama.
"Tom Bradley laid the foundation for the kind of coalition politics that allowed President Obama to be elected," Goldfarb said in a recent phone interview. "When he won [the mayoral election] in 1973, his victory enabled other candidates or potential candidates from around the country to see that, yes, it can be done."
The parallels between Bradley and Obama aren't the only aspect of "Bridging the Divide" that feels timely: The documentary also looks at Bradley's long and complicated relationship with the LAPD.
Though he served 21 years on the force, Bradley was often frustrated — as an officer and later as a politician — by a department that "operated as an autonomous, almost paramilitary force," in Goldfarb's words.
When the filmmakers began the project in 2008, "We thought that the link to this story, the resonance, would be the first black president and building coalitions," Goldfarb said. Seven years later, amid racially charged protests against alleged police brutality in places like New York, Baltimore and Ferguson, Mo., the film's exploration of Bradley's struggles to bring civilian control and reform to the LAPD have come to the fore.
"The film kind of grew into the times, but all the elements were there," Goldfarb said. "We always felt that the story of Tom Bradley was a story about the police."
"Bridging the Divide" will screen Sunday at 1:30 p.m. (standby seating only) and Tuesday at 4 p.m. at the Regal Cinemas at L.A. Live.
The Sunday screening will be followed by a panel discussion with the filmmakers and Lorraine Bradley, Bradley's daughter, moderated by Los Angeles Times columnist Patt Morrison. The Tuesday screening will be followed by a Q&A with the filmmakers and subjects interviewed for the film.
Follow @ogettell for movie news
---