Louisiana theater shooting: Will it have a chilling effect on moviegoing?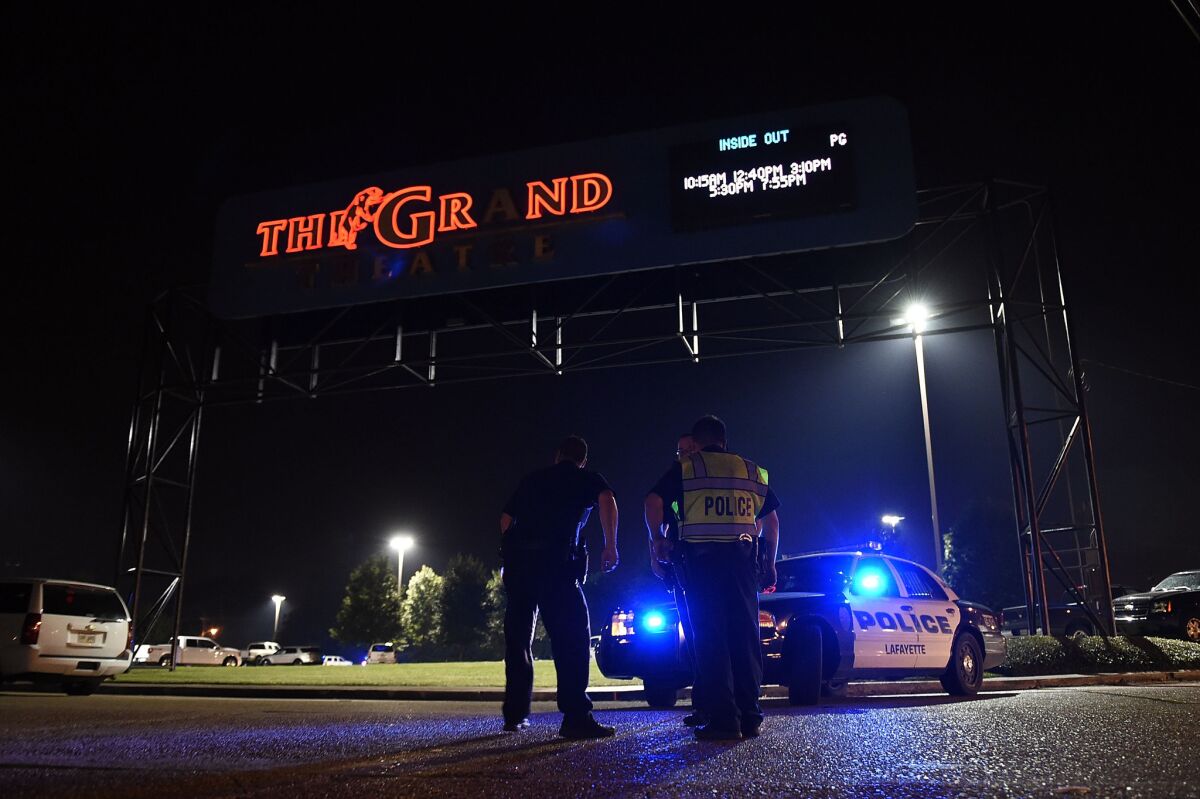 The deadly shooting at a "Trainwreck" screening Thursday night in Lafayette, La., sadly called to mind another mass shooting in a U.S. movie theater: the killing of 12 people at a showing of "The Dark Knight Rises" in Aurora, Col. three years ago.
That tragedy also took place on a Thursday night during the busy summer moviegoing season — on July 20, nearly the identical date as the "Trainwreck" incident — and it may have impacted moviegoing attendance later that weekend. "The Dark Knight Rises" took in $161 million for the weekend, a barely perceptible jump over the $158 million opening of its predecessor, "The Dark Knight," four years before, and a smaller increase than might have been expected given the intense anticipation for the film.
But the situations are somewhat different. In the Aurora case, the film itself was filled with violence, and shooter James Eagan Holmes had cited the Batman movies, apparently choosing "The Dark Knight Rises" as his locale for specific thematic reasons.
FULL COVERAGE: Louisiana theater shooting
That cast a pall over the film's release that may not be present in this case; it is not clear that "Trainwreck," a bawdy romantic comedy, was targeted for any particular purpose.
From a box office standpoint, "Trainwreck" is also both a smaller-scaled movie and is entering its second weekend, both of which lower the stakes for the film.
The Amy Schumer vehicle opened to $30 million last week, and a drop of under 50% would be considered strong, especially given the solid word of mouth. (Earlier this year, for instance, the R-rated comedy "Spy" dropped 46% in its second weekend.) Anything above 60% would be weak, with percentages in-between a more murky indicator.
Paul Dergarabedian, a media analyst for research firm Rentrak, said in an interview Friday that he doesn't expect the shooting to have a significant impact on moviegoing attendance, either this weekend or in the long term.
"I don't know what the conventional wisdom is, but I've been doing this for over 20 years, and I've seen everything from the Aurora shooting to 9/11 to the Olympic bombing [in Atlanta]," Dergarabedian said. "People, the American public or just moviegoers around the world, are very resilient."
It's hard to quantify what effect, if any, tragedies in public places have on moviegoing, Dergarabedian added. "It's all anecdotal or it's speculative."
But, he said, "If someone right now is watching this on TV or reading about it and they wanted to see 'Trainwreck' this weekend, are they not going to go see it? I don't think so; I think they're still going to go."
Follow @ZeitchikLAT and @ogettell for movie news
SIGN UP FOR OUR ENTERTAINMENT NEWSLETTERS:
Indie Focus: Your field guide to only good movies
Classic Hollywood: A weekly email celebrating the Golden Age of Hollywood
Essential Arts & Culture: A curated look at SoCal's wonderfully vast and complex arts world
---
Get our L.A. Goes Out newsletter, with the week's best events, to help you explore and experience our city.
You may occasionally receive promotional content from the Los Angeles Times.