Marvel diversifies with 'Black Panther,' female-led 'Captain Marvel'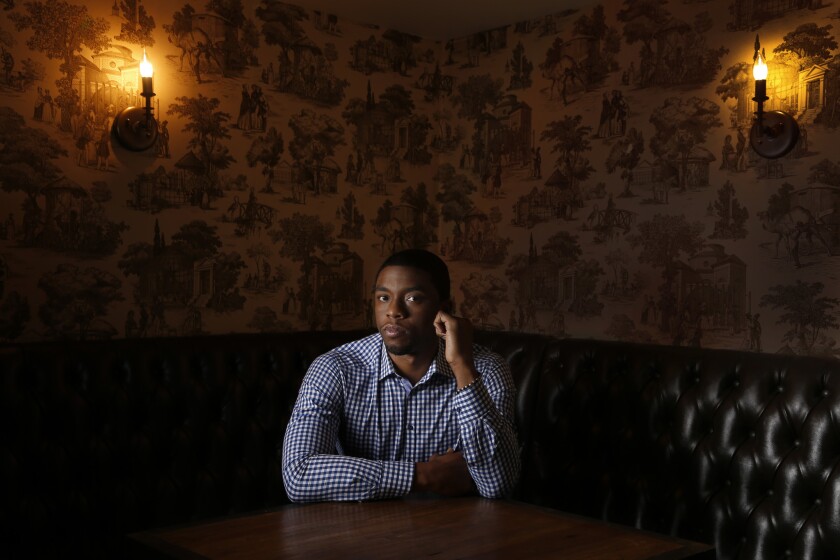 Marvel Studios has injected some diversity into its lineup, announcing "Black Panther" and "Captain Marvel" films, its first big-screen superhero projects anchored by a nonwhite actor and a female actor, respectively.
Marvel movie chief Kevin Feige revealed plans for the films, and others in the company's third wave of comic-book blockbusters, in Hollywood on Tuesday.
The actor Chadwick Boseman, who garnered strong reviews for his performances as Jackie Robinson in "42" and James Brown in "Get on Up," will play the title role in "Black Panther," slated for release Nov. 3, 2017.
Introduced in 1966, Black Panther (a.k.a. T'Challa) is Marvel's first black superhero, the warrior king of a scientifically advanced and hidden African kingdom called Wakanda.
Captain Marvel, meanwhile, is a name that has been used by multiple characters over the years, but Feige clarified which one the film will center on when it opens July 6, 2018.
"This Captain Marvel's name is Carol Danvers," Feige said of the cosmic-powered hero, adding that the movie has been in the works for years. Danvers is an Air Force-pilot-turned-alien-powered-superhero.
As Marvel has continued to churn out big-budget hits, the company has increasingly come under fire for focusing on white male heroes. Among the flagship "Avengers" team, for example, Samuel L. Jackson's Nick Fury is the only person of color (not counting Mark Ruffalo's Bruce Banner/Hulk, who's occasionally green), and Scarlett Johansson's Black Widow is the sole woman. (Neither Fury nor Widow have headlined their own films.)
With "Black Panther" and "Captain Marvel" in the works, Marvel now regains some ground against rival Warner Bros., which recently announced multiple DC Comics-themed movies featuring nonwhite actors (Jason Momoa in "Aquaman," Dwayne Johnson in "Shazam" and Ray Fisher in "Cyborg") and one led by a woman (Gal Gadot in "Wonder Woman").
For more coverage of the Marvel event, check out our sister blog Hero Complex.
Follow @ogettell for movie news
---
Get the Indie Focus newsletter, Mark Olsen's weekly guide to the world of cinema.
You may occasionally receive promotional content from the Los Angeles Times.