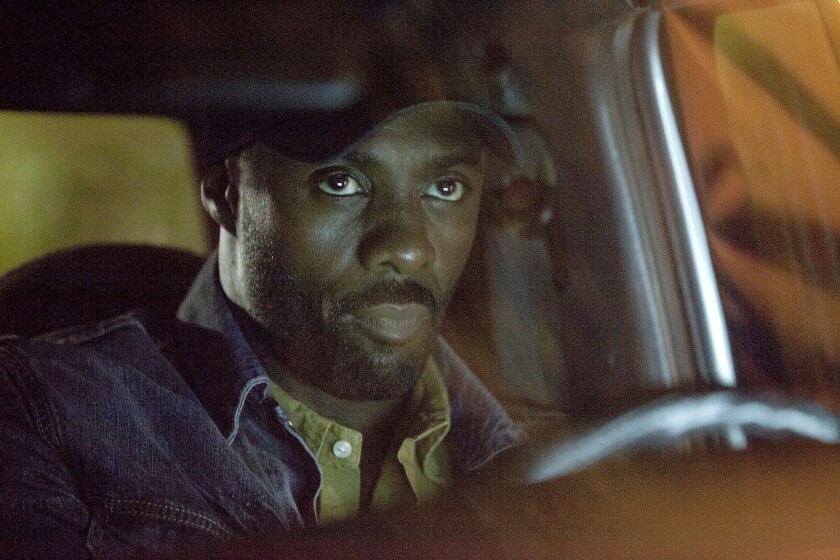 "No Good Deed" didn't just go unpunished this weekend — it thrived, topping the box office with an estimated $24.2-million opening and outpacing Sony's prediction that the Screen Gems thriller would gross in the mid-to-high teens.
It's understandable that expectations were measured for the home-invasion drama, which stars Idris Elba as an escaped convict who charms his way into the home of a wife and mother (Taraji P. Henson): After all, the release date of "No Good Deed" was pushed multiple times and critics' screenings were abruptly canceled at the last minute, neither of which tends to bode well for a film's box-office prospects.
So how did "No Good Deed" pull off its surprising debut? Here are five factors.
An A-plus date for a B-movie: "No Good Deed" bounced around the calendar quite a bit but ultimately landed two weeks past Labor Day, on a frame that comes after the summer blockbuster season and before the prestige pictures of fall start rolling in. It's generally the last weekend of the year in which a genre movie has a chance to top the box office. The horror movie "Insidious: Chapter 2" did so last year, and the sci-fi action flick "Resident Evil: Retribution" pulled off the feat in 2012.
Social media savvy: Screen Gems built buzz for "No Good Deed" online with a popular Twitter-based choose-your-own-adventure game called #TweetToEscape. The game comprised a series of short video clips, each one culminating in a choice of two different actions, which would then lead to the next clip. The movie's Instagram account, meanwhile, featured copious promotional videos and behind-the-scenes photos. Rory Bruer, distribution president for Sony Pictures, told The Times that the film's social media team "kept the suspense going and got everyone to become active participants."
Finding its audience: "No Good Deed" connected with two underserved demographics that have powered recent films to box-office success: women and African Americans. With an audience that was 60% female, "No Good Deed" followed in the footsteps of "Maleficent," "Lucy" and "The Fault in Our Stars" by attracting women to the multiplex. The film was also popular with African American moviegoers and performed especially well in large cities including New York, Los Angeles, Dallas, Chicago and Atlanta.
The Idris Elba factor: Elba may not be a huge box-office draw, but he does have a considerable following from his fine work on HBO's "The Wire" and the BBC's "Luther." In addition to those starring roles, the 42-year-old British actor has had supporting turns in such high-profile films as "Prometheus," "Pacific Rim" and the "Thor" movies, and he's lending his pipes to Disney's upcoming live-action "Jungle Book" adaptation. Elba also starred in the Screen Gems thriller "Obsessed" back in 2009, which topped the box office with a similar $28.6-million opening weekend.
Open waters: There's no doubt that "No Good Deed" also benefited from a lack of stiff competition. The weekend's other wide release was the family film "Dolphin Tale 2," which didn't overlap much with the core audience of "Deed." Other than that, there's been a dearth of mainstream hits in recent weeks, with the most recent examples, "Guardians of the Galaxy" and "Teenage Mutant Ninja Turtles," now winding down after being released in the first half of August.
Follow @ogettell for movie news
---